Location: Costa Mesa, California
Mileage: 27,500
Price: Auction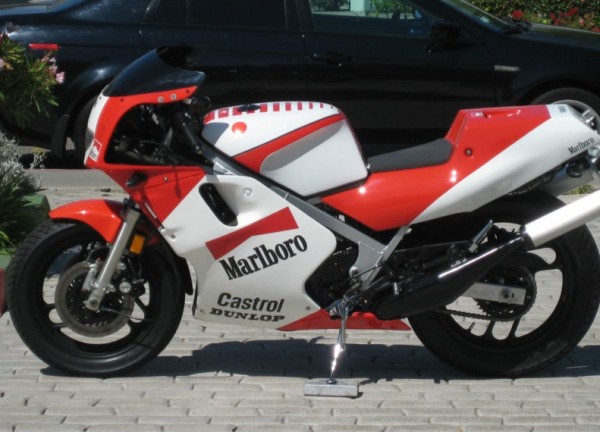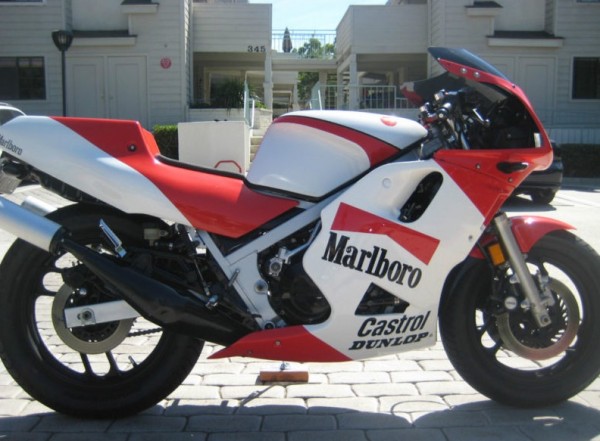 The two stroke 500 is gone forever. Once the staple of Grand Prix racing, and available to the general public, these bikes will never come back. They are an amazing combination of barely controllable power and, by design, light weight. The sportbike equivalent of a monkey with a handgun. So if you have ever wanted to experience what they have to offer, better start planning your moves soon. They aren't gonna make any more.
From the seller-
You are bidding on a stunning 1985 Yamaha RZ500 with only 27500 Km's (17300 Miles), it is in excellent condition and as you can see it has been updated with  Marlboro Yamaha TZR 250 fairings and an Airtech tail piece, these are standard TZR fairing that have been fitted with custom brackets so if you ever need to replace one it is just a matter or taking off the old and screwing on the new, I have disabled the auto lube as I prefer to pre mix the oil myself but all of the standard auto lube components are still on the bike so reconnecting it is fast and easy,  the bike has been fitted with custom air filters and with longer bottom suspension arms to raise the back of the bike up by 1" to give it a more modern look, (the original arms will be included).

No expense has been spared on the up keep and maintenance of this RZ500 and it starts and runs great, it has no oil, coolant, brake fluid or fuel leaks of any kind, the RZ has fairly new Bridgestone BT45 tires and as you can see from the pictures many of the parts have been powder coated, the wheels are flat black and all of the other parts have been powder coated satin black

The good

Very reliable.

All of the electrical system works perfectly (lights, signals, power valves, charging etc, etc etc).

Amazing condition for year.

Lots of recently powder coated part (including wheels).

Pink slip in hand and current CA tags.

Original matching numbers engine and frame.

Many new parts, Dyna coils, fairings, wheel bearings, cables, etc, etc, etc, etc.

The bad

Disabled auto lube (the auto lube works great, I just don't trust it on such an expensive bike).

The clear coat on the front forks has seen better days (good for it's age but not perfect).

Could use some minor paint touch-up here and there, brake calipers, very small scratches on frame, that sort of thing.

Disclaimer

Please be aware before bidding that this is a 27 year old classic two stroke motorcycle and although it is very reliable, it is essentially a very expensive weekend toy, it requires time, money and lots of love to keep it running at it's best, yes it could be used every day but that's not really what it's all about.
Photos-
The seller highlights the change in the fairings to the bike and says that it can be put back to stock without issue. This may be important to you folks out there who want a fully stock bike. The seller also states that "no expense has been spared" in maintaining the bike. That should be good news to any potential buyer. The seller also says the auto lube has been disabled and many parts have been powder coated.
The RZ500 is a popular bike here on RSBFS. This bike has some changes that you may or may not like. But it sounds like it has been very well cared for. And as I said above, Yamaha ain't gonna make any more. So if you have the desire and the cash, you may want to give this one a look.
-RN