Forgoing the elegance and class of the European sportbikes, Kawasaki's unabashedly garish ZX-7R, or ZXR-750 as it was known in other markets, is splashed with jagged graphics in vivid green, white, and blue. Not a modern, metallic, beetle-green, of course. Kawasaki's impossibly green green, with the un-self-consciously adolescent "Ninja" in fluorescent lettering splashed across the tank, along with a pair of HVAC air tubes that don't actually feed a pressurized airbox, just direct cooling air at the cylinder head… I hated these bikes when I was younger. But I'd buy one in a heartbeat now, since I could ride a Ninja with a sense of humor about the name, and not be worried that people might think I had a pair of tabi boots in my closet and some shuriken in my sock drawer next to a pair of nunchaku…
The ZX-7R was Kawasaki's entry into the hotly-contested 750cc superbike class in racing and on the street, their answer to the Suzuki GSX-R750, Yamaha's YZF-750R, and Honda's RC30. At the time, the 750cc inline four was the go-to configuration in World Superbike competition, unless you were Ducati. Of course, each manufacturer built limited-production homologation specials to help create the very best foundation for their World Superbike entries, except for Honda, whose RC30 was basically an homologation special to begin with.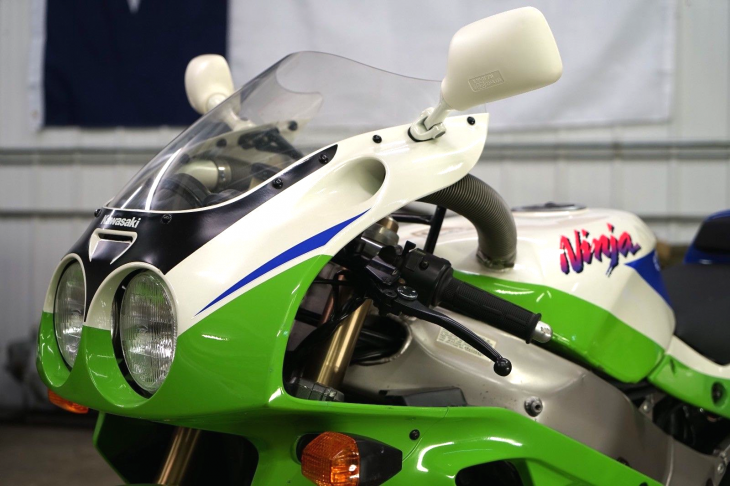 The ZX-7R sold in 1991 is generally known as the "J1," so what's going on here with what the seller claims is a "K1"? Although they provided a wide range of tuning parts for their ZX-7/ZXR-750 that allowed them to compete successfully, Kawasaki didn't really create an homologation special until the 1991 model year's ZX-7R K1. The K1's solo seat and aluminum tank meant it was was lighter, while flat-slide carbs and higher compression meant the engine made a bit more power and could rev a bit higher. Different ratios with a taller first gear were better for the track, but made stoplight getaways a clutch-slipping pain. Price was nearly double the stock bike, but worth it if you wanted to be competitive.
From the original eBay listing: 1991 Kawasaki ZX-7R K1 for Sale
Some of the most exotic motorcycles ever sold to the public were built during the 1990s, the golden era for homologation Superbikes.  For sale is a rare and wonderful example of such a motorcycle – a limited edition 1991 Kawasaki ZX-7R K1 production-based race bike.  

The Kawasaki Ninja ZX-7R K1 was a special limited edition of Kawi's ZX-7R used in AMA Superbike. Kawasaki enjoyed tremendous success in competitive racing with this bike, and plenty of that tech made it to the 'civilian' version. Required to produce 500 examples for homologation purposes, Kawi packed this bike full of features like 39mm Keihin flat-slide carbs, an aluminum gas tank, and a close ratio six speed transmission with an exceedingly tall first gear. All these goodies nearly doubled the MSRP compared to a base ZX-7R, but for the lucky 142 riders in the US who got to buy one, it was well worth it.  Weighing 10 pounds less than a base ZX-7R, the K1 had a tweaked engine with higher compression and a redline that was 500 rpm higher. This powerplant produced 120 horsepower at the crank, leading to a top speed of just under 160 miles per hour. (from the website bike-urious).
This particular model has only 3,100 miles and starts, runs and rides beautifully…and sounds great with Muzzy exhaust.  The upper fairing near the right side mirror has a couple small cracks (don't ask), but the bike is in remarkably nice shape overall and shows no sign of having been down.  A new lithium battery is included, as well.

Please Note:  I'm listing this bike for a friend who has an exceptionally nice collection of motorcycles for sale, including other homologation bikes (Honda VFR750R RC30, Yamaha FZR750R OW01, numerous rare Ducati's), a Vincent Black Shadow, an Ariel Square Four, two BSA Gold Stars, a 1937 UL Flathead Harley Davidson, etc. (additional photos included above).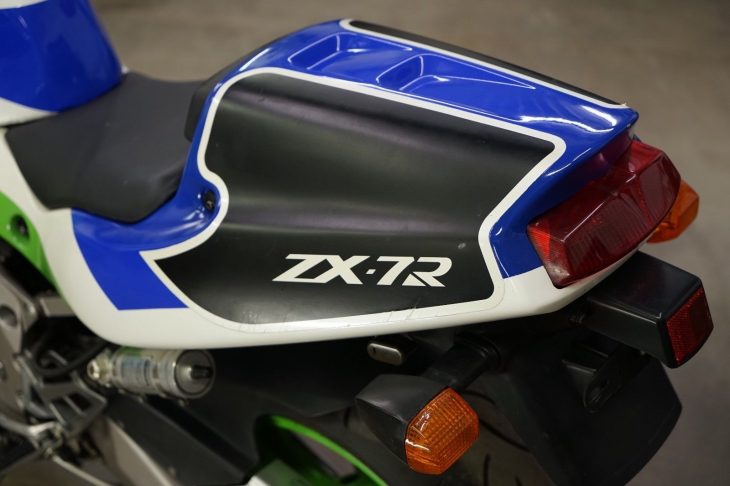 These are very rare and were extremely expensive when new, and there's been plenty of interest in sportbikes of the late 1980s and early 1990s recently. The starting bid for this ZX-7R K1 is $18,000 with no takers yet and several days left on the auction. The last one we featured sold for $14,500 back in 2015, so $18,000 seems like a fair price for this very clean, low-mileage example but maybe a bit high for a starting bid?
-tad