This 1989 Honda Interceptor 250 VTR is proof that Kawasaki is not the only manufacturer to sell a 250cc 4-stroke sportbike in the US – albeit, only for three years. This particular example only has 4,783 miles and is currently offered on .
I don't have any firsthand knowledge of these motorcycles so I turned to Wikipedia:
The Honda Interceptor VTR 250 was sold only in the United States from 1988 to 1990, with moderate changes occurring over the three model years. With a 249cc 4-stroke liquid-cooled DOHC V-twin engine and a 6-speed transmission, VTR 250 was the smallest of Honda's Interceptor line of motorcycles.

It was originally available in two color schemes, black with blue and white, and white with blue. The 1989 model was no longer called "Interceptor" and was available in only white with two shades of blue.

The 1990 model was produced in white and blue with stripes and "VTR" decal in blue and magenta. The front wheel was 17″ and the front disc brakes were external.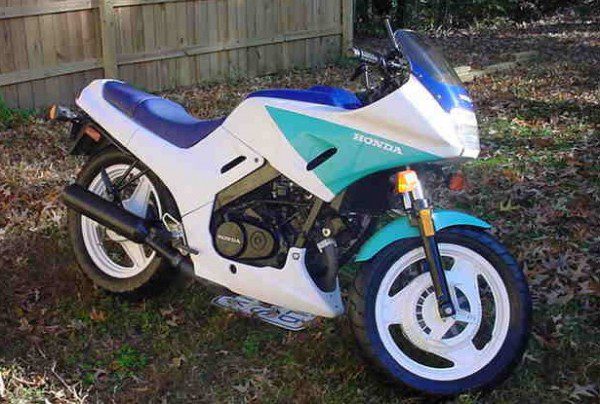 The ebay description adds a few more details:
1989 Honda 250 VTR Interceptor with low milage of only 4,783 miles.
This 1989 Honda 250 VTR has a brand new set of tires and a new battery.
The carbs have been rebuilt in the last month and all fluids have been changed.
This bike runs great & would be a good starter bike for anyone.
There are some scratches on plastics and a light dent on the gas tank.
This appears to be a very clean, low mileage example and the relatively inexpensive price makes it a perfect starter or commuter bike.
SG