The term "barn find" pretty much says it all: the collectible car or motorcycle in question was found sitting in an actual barn, where the previous owner stored it when it stopped running. Possibly hidden under a layer of dust, old blankets, back issues of Playboy, and mold. The implication is that it is in complete, original condition, but has been somewhat neglected cosmetically and mechanically. The term gets thrown around regularly as a sort of shorthand for "original, low-miles, and in need of restoration," but seems to be exactly the case for this Suzuki GSX-R1100K "Slingshot."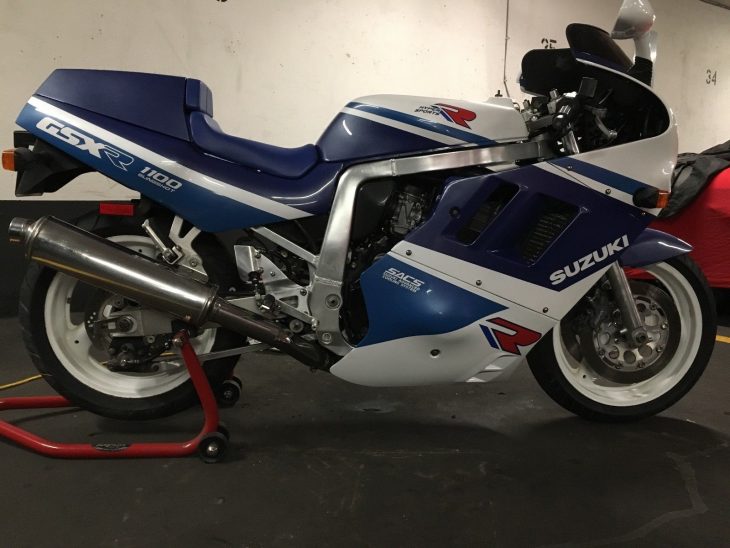 The second generation GSX-R1100's nickname came from the quartet of 38mm semi-flatslide Mikuni "Slingshot" carburetors that fed the dual overhead cam, four-valve, inline four engine. It actually displaced 1127cc, up a bit from the original's 1052cc, but still featured Suzuki's Advanced Cooling System or "SACS" to keep things within optimal temperatures. SACS used a multi-chamber oil pump to effectively cool and circulate the oil, with circuits in the cylinder head and jets directed at the pistons. Later GSX-R1100s adopted a more conventional set up with a radiator and coolant, but here Suzuki stuck with the concept that simpler was better and lighter, although the Big K isn't exactly a flyweight. Mass continued to creep up throughout the 1100's successive generations and the new frame used here was both stiffer and heavier than the one found on the Slabbie. With a dry weight of 462lbs, the "K" version was never going to be particularly agile, so it was more of a GT than an actual sportbike, something that Suzuki tried to rectify the following year when they made changes to the suspension.
Unfortunately, the GSX-R1100K never really matched up with expectations: I have an old issue of SuperBike magazine that describes it as "... quite pretty. To look at, sure, but never to ride." But it's really the beefy engine that defines the GSX-R1100 experience anyway. It was a powerhouse, the Small Block Chevy of the time: endlessly tunable with a wealth of performance parts available. People set them up for drag racing, and even created road-race hybrids by squeezing the 1100 engine into the GSX-R750, which is pretty much the same idea Bimota had when they built their lightweight and extremely quick SB6, although it was a very tight fit in both cases...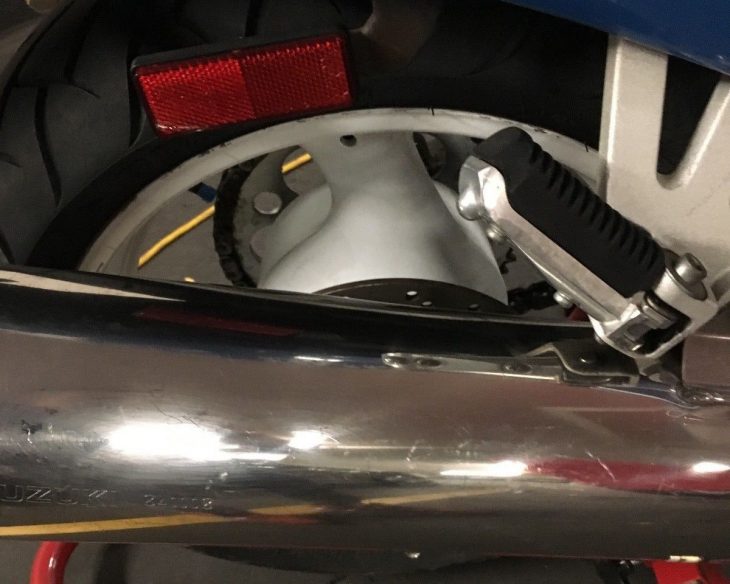 Of course, a GSX-R1100 by its very nature isn't necessarily all that uncommon, but ones in this kind of condition are very rare these days: the powerful engine, reasonable ergonomics, and good wind protection meant they got used as intended, racking up huge miles, battle scars, and less-than-tasteful aesthetic "upgrades" popular at the time. People looking to make them into the corner-carvers the looks advertised tried all manner of fixes that worked or didn't in varying degrees, but the end result was very few remain as delivered by Suzuki, and even fewer have covered so few miles. With just 722 miles on the odometer, I doubt you'll find a less used example anywhere outside a museum.
From the original eBay listing: 1989 Suzuki GSX-R1100 for Sale
1989 Suzuki GSXR 1100 perfect condition with 722 miles,  was a barn find been stored since 1991 but not climate control storage literally in a barn. The bike was redone but didn't need much as the miles are so low. The body was completely done to perfect factory spec's no cracks or any problems, the wheels are original but do have a bit of chips,  bike runs great and needs nothing. Full tune tires everything done including carbs. This one for collection beautiful bike and super rare. Also comes with passenger seat parts. Bike will sell no matter what
The seller's opening bit is set at $7,000 which seems pretty fair considering the condition and low miles, but there are no takers yet with very little time left on the auction. It's a shame the pictures aren't better lit, since I think this is the very best-looking version of the long-running GSX-R series, especially in classic Suzuki blue-and-white. If you're looking to actually ride it, I'd expect there are plenty of shops out there who can recommend suspension changes to make a Slingshot handle, probably using off-the-shelf Suzuki components, along with brake upgrades and weight saving measures. At the very least, you can probably swap the original 2-into-2 exhaust for a 4-into-1 and save 20 pounds. But honestly, the original bike offered plenty of stability, even if it lacked agility, and this one should probably be enjoyed for what it is: a freeway blaster par excellence or a great two-up weekend rider. Given the low mileage though, I'd bet it might end up stored away in a collection somewhere.
-tad