Location: Whitby, Ontario, Canada
Mileage: 499 kilometers, but it's been raced
Price: Auction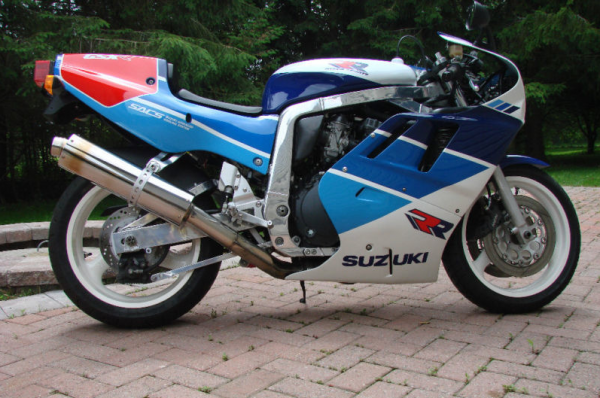 Okay, we've seen some bikes from this seller before and they have been some great machines (RC30, GSX-R 750LE). This beauty in no exception. Being a big fan of the GSX-R in general, especially from this era, this bike for me is pure, unadulterated, awesomeness. A purpose built machine that was apparently campaigned and won many a race in Canada. And while that's impressive, to me this bike is great on it's looks alone.
Behold-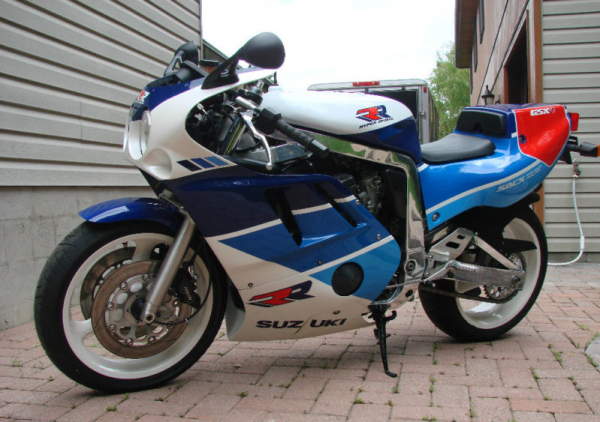 The seller gives quite a bit of detail and history on the bike along with shipping info-
Don't mind the low feedback – I trade commercially as loudbikesteve on eBay and enjoy an excellent reputation.  I set this account up to keep my personal stuff separate from my business stuff.. 

I'm listing this 1989 Suzuki GSX-R 750R ('Double R') for a very good friend who's not very computer savvy. I've personally seen the machine and took the listing photos a few weeks ago. The luscious and expensive limited edition GSX-R750R was released to Japanese market with a return to the long-stroke motor of the F/G/H models. The RR had exotic internals, 40 mm carbs and produced around 120 hp and weighted 187 kg. 500 limited edition (some claim 1000) GSX-R750R (the 'Double R') serving as ready-to-race platform was released to Japanese market. The newly redesigned engine reverted to the original long stroke (70 x 48.7mm) configuration. Crankcase, crankshaft connecting rods and clutch were among the critical areas receiving more attention necessary for the race duty. The 'Double R' also received new 40mm Slingshot carburetor and 4-into-1 exhaust pipe as well as close ratio gearbox, rear swing arm with sub frame, new aerodynamic fiber with large air intake duct, solo seating with race number box and 19 liter aluminum fuel tank as standard equipment. The dry weight measured, 187kg. 

This example is one of five allocated to the Canadian Factory Team and was raced to a Canadian National Production 750 Championship by Steve Dick back in 1989. In 1990, the motor was rebuild by Suzuki Canada and the bike then went to a privateer for the following season where it won the National Jr Superbike and Production Championships. The machine then went to Canadian racer Kemp Archibauld; who overhauled the engine and chassis in '93 and performed the cosmetic restoration in 1998. Changes to the stock specification include the polished frame and Marchesini wheels. The current owner decommissioned the bike and put it on display in his climate-controlled facility. Although there are 499km showing on the clock, this should not be considered to be true milage as the instrument was disconnected while the machie was being raced. As noted in the detailed pics, the windshield purchased was for the standard GSX-R and as such, the holes do not line up.

Detailed pics are available on my Flickr set HERE.

Please check out my other listings for more vintage machines for sale!

If you have zero feedback, please contact me before submitting a bid. Any questions, feel free to email me at steve@loudbike.com  (I'll gladly give you my phone number if you need to chat).

USA Shipping:
We've sent quite a few machines south of the border. For shipment to the USA, there are a few companies I know of: 

TFX International 
Specialized Vehicle Transport,
11 City View Drive, Etobicoke, ON.
Canada. M9W 5A5
Phone: 416.243.8531
adam@tfxinternational.com 
Jacqui@tfxinternational.com

JC Motors
16591 Noyes Avenue 
Irvine, CA 92606
(800)730-3151
international@jcmotors.com

US CANADA Auto Transport
Address: 7968 Arjons Drive, Suite 111
San Diego, CA 92126
(800) 466-6935
info@uscanadaautotransport.com

International Shipping & Crating:
Inter-Par Logistics Inc. 
3845 Nashua Drive
Mississauga, ON L4V 1R3
Tel.: 905-678-1288
Fax: 905-678-1289
hr@inter-par.com

Good luck with your bid!
As with other bikes listed from the seller, this bike seems to have been in a private collection and not in running condition for quite some time. Depending on what your intentions are, this may be an issue (I would just put in the living room and be done). For those who live by the blue and white, this may be just the bike to finish off or maybe start your collection. Make the jump here to begin your pursuit of Suzuki awesomeness.
-RN