Since many if not most GP teams have embraced the V4's intrinsic balance and mass centralization, Honda may have been ( way ) ahead of the power curve with their 1980's VF collection.  Here's a very sharp classic with original looks and single-year rarity.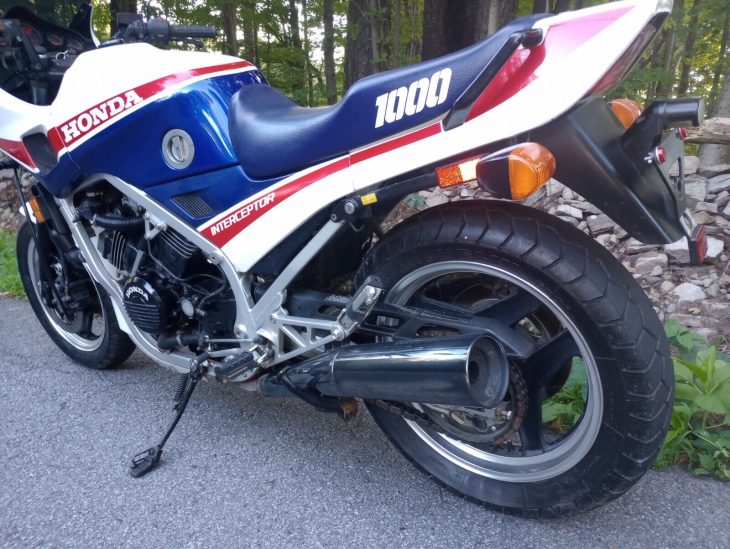 The capstone on the 750 and 500cc Interceptors, the 1000 was the big wheel, with 122 hp and period 16-inch front / 17-inch rear rubber.  Reviews said the torque made downshifting optional, and the 550 lbs. half-full weight lent stability to unusual situations.  Brakes seem optimistic with triple 276mm disks, but TRAC anti-dive forks slide on 41mm tubes.  FJ and GPz models scored a little higher on the sportiness scale, but even then the Honda name counted for a lot.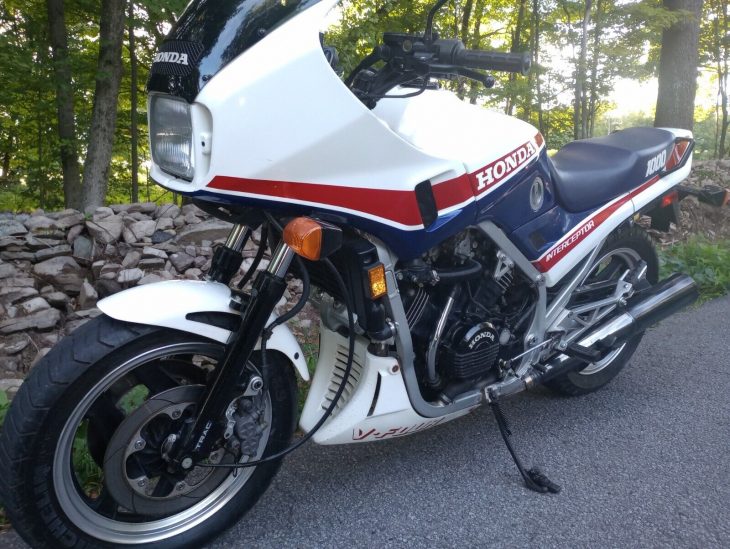 Offered by a northeast PA dealer, this looks like a really nice survivor, with original black chrome pipes and the easier maintenance done.  Sure an effort to give the carburetors an ultrasonic bath could be mounted, but one could get started with a carb cleaning fuel additive and address a few rusty fasteners.  Honda fans of a certain age are waiting for the next owner to lean back on that blue seat and chat.  Part of the comments from the eBay auction –
13,000 original miles, 1000cc, V-4. As far as I can tell this machine is an Original, number's matching, iconic survivor from the the golden era of sport bikes.  This rare bike looks, rides, and runs great. This was purchased along with another just like it at auction and was part of a 43 bike collection displayed in a climate controlled setting.  The stunning Shasta White, Candy Aleutian Blue and Candy Bourgogne Red paint is basically perfect, I see no scrapes, scratches, chips, fading, or dents, shines like new. Seat is perfect, no rips, tears, or discoloration. Aluminum is not corroded, plastics are smooth and glossy, gauges are clear, colors are bright, all rubber components are soft with no cracking, inside of tank is clean, exhaust has no scrapes, dents, etc, windshield is clear with no scratches. All lights, headlight, hi-lo, instrument lights, indicator lights, tail light, brake lights, horn and blinkers work. Inside of tank is rust free and this bike has not been modified in any way that I can see.
Slain by many darts rather than a single arrow, the VF1000F was pestered by association with an earlier model's camshaft metallurgy, design quirks, a dearth of racing success, and new competitive bikes with aggressive pricing.  The updated VF1000F2 succeeded it, but only for a couple of years.  The -84's classic Interceptor styling continues to look good, and the GT performance makes for a great street ride.  Bids are coming in on this auction, which shows a buy-it-now which isn't that far away.
-donn