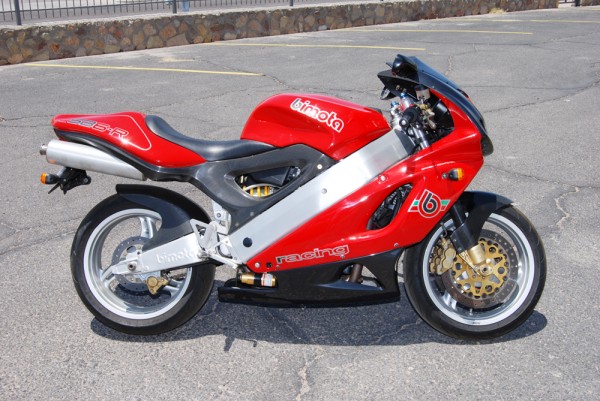 When a Japanese-engined Italian exotic shows up at an El Paso Harley Davidson dealership, you begin to wonder if perhaps Bimotas are not that rare after all. The truth is that you would be both right AND wrong. These are hand crafted motorcycles from a very low-volume manufacturer, but they made a few more of some models than others. This particular model, the SB6, is just such a bike – and is probably the most frequently listed of the Bimota line up.
Consisting of a GSX-R 1100 engine and transmission wrapped in a Bimota-designed twin spar frame and topped liberally with top-shelf components such as wheels, brakes and suspension, this SB6 follows the standard Bimota mold. To say that it offers carbon fiber bits is a bit like mentioning in passing that the Pope might have visited Rome once. In short, this is classic Bimota execution – the best of Japanese with the best of everything else. As a result, these were (and are) very expensive when new.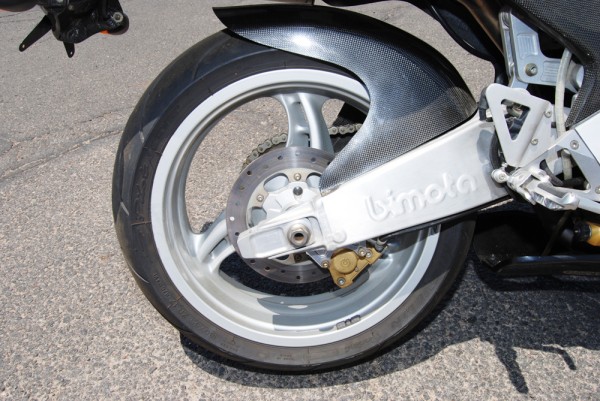 From the seller:
Great example of Bimota's famous Suzuki GSXR1100-engined exotic. Just gone through, fresh oil, new battery, new air filter, etc. Runs out perfectly, no known problems, very good cosmetics. I've had three of these off and on throughout the years. The Suzuki engine is super reliable and the bike turns heads wherever it goes, the red paint really lights up in the sunlight so these bikes are always much brighter when viewed in person. Clean examples of these Bimotas are getting harder and harder to find, I end up paying more each time I get one. This one runs very smoothly, seems to be a really good one. I got it with a bound copy of an owners manual and nice brochure.
Bimota has come a long way from motorcycle frame kits that the buyer had to assemble (after sourcing parts like engine, tranny, wheels, brakes, electrical and gauges). In doing so, they might have also lost a bit of the fanatical exclusivity that they once enjoyed. But moving motorcycles is what ultimately puts food on the table (pasta, sushi or steak, depending upon your region), and while this SB6R is undeniably a Bimota, it may not be the ultimate rare machine.
Pricing on these models has come down to more reasonable levels these days. When new this was a $30k plus machine. This auction is currently up to $5,100 with reserve still in place. We have seen some SB6 examples struggle to pull in $8k, and I would top this range out at $10k (to be kind). Click on the link to jump over to the auction on this one – it is a good looking example of the breed, and worthy of consideration if Bimota is your thing. What's your favorite bike from Rimini? Hit the comments section and let us know!
MI