The successor of the NC30 was sold only in Japan. Hence this model, found in Germany, was imported from there. The seller, in the first picture below, mentions that the garage has become too small now and he needs to move on, one of his sport bikes. The good thing is, he didn't fit a "super bike lenker" (as they are called over here) on the RVF400R: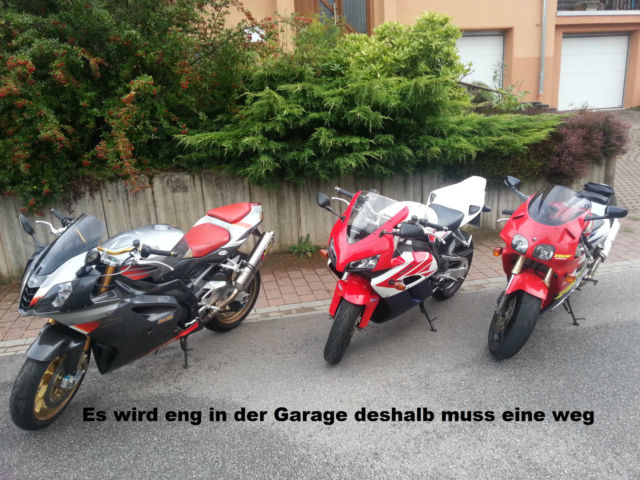 The small capacity RVF shares the same V4 engine configuration with the 750cc RC45. Given the pistons on the NC are almost half the size, this motor won't have much power at low rpm, but it will scream even more than the RC when pushed hard. These Honda engines are very reliable and, provided they are well maintained, they actually "want" to be ridden hard.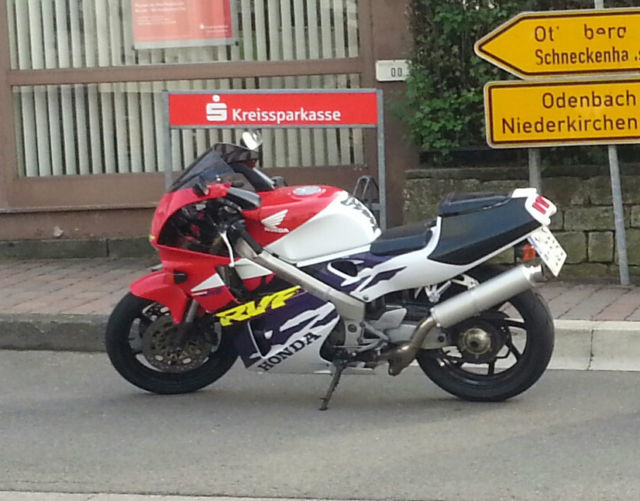 If you are a sporty type of rider, the one that at any occasion will look for the fastest line through a corner,…always…and will use the gearbox, not only to keep the optimum rpm, but also because you you have a sort of sexual pleasure when shifting down while blipping the throttle, then there is hardly anything better than a NC series.
I don't know about you, but the speed limit enforcements over here, do put a certain pressure on me and I enjoy more and more pushing hard a 500cc Staurno or an RD350 than a big and very fast 888. The NC35 is perhaps a little less beautiful then its NC30 predecessor, but it comes with a 17″ rear rim which is a good thing, as you will have much more choice when looking for fresh rubber. And you will need fresh rubber fairly often. Despite the mere 50+ HP, the NC series are fantastic handling bikes. You will need to change tyres because you will consume the front one fairly fast if you will ride the little RVF as it is meant to be.
Here a few more words from the seller (translated with Google):
I offer the RVF only because the first image is right!!
The bike is an absolute piece of cake the little RC45 A technical Highligt and simply a great bike the hell makes spas.
there were just € 2,200 invested in workshop ausschlieslisch for maintenance and repairs not care! 24000km incl the inspection.
It is a motorcycle that is driven and has traces of course use
Look at them, absolutely suitable as an investment because they only had one previous owner and was the first in Japan to let times in 2001.
Japanese papers are available as a copy.
In the German letter is a previous owner, the bike has gone five years, after which we came.
If you buy you get even mounted a new set of EBC brake discs and new pads front because the top are no longer 100%.
Shipping within Germany without islands free of charge.
Private sale without warranty and return policy.
The starting price of 7499 EUR will have our readers in the UK raise their eyebrows, and some might even fall of a chair…The thing is, that finding a NC in Europe's mainland is really hard as the grey importers that flooded England in the early nineties simply didn't exist elsewhere.   What is also pretty difficult these days, is finding a good quality NC that didn't have 25 previous owners, was ridden in the rain most of time and hit a few times the gravel on the unlucky odd track day.
Claudio