Most buyers' guides advise to purchase the latest edition of a particular model, capitalizing on improvements and technical advances.  First built in 1986, the GSX-R1100 spanned twelve great sportbike years, and those interested in the model can choose from very different rides depending on the letter code.  This late model has been hidden away with under 2,000 miles and despite 20-plus years appears complete and undamaged.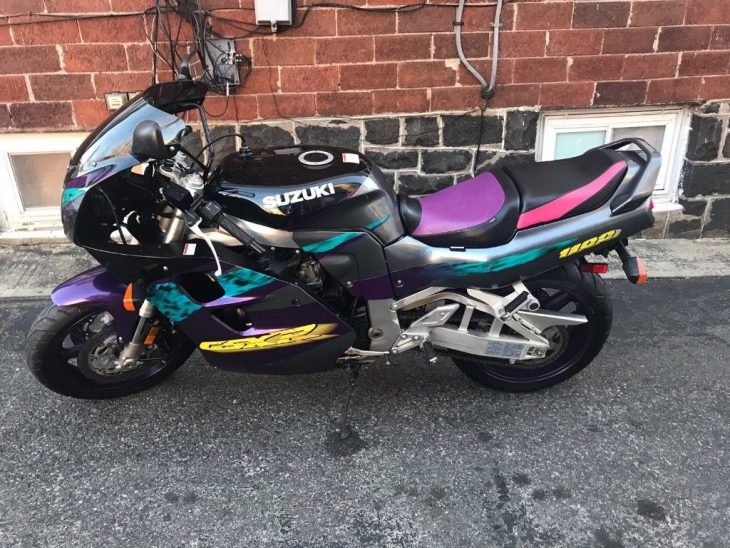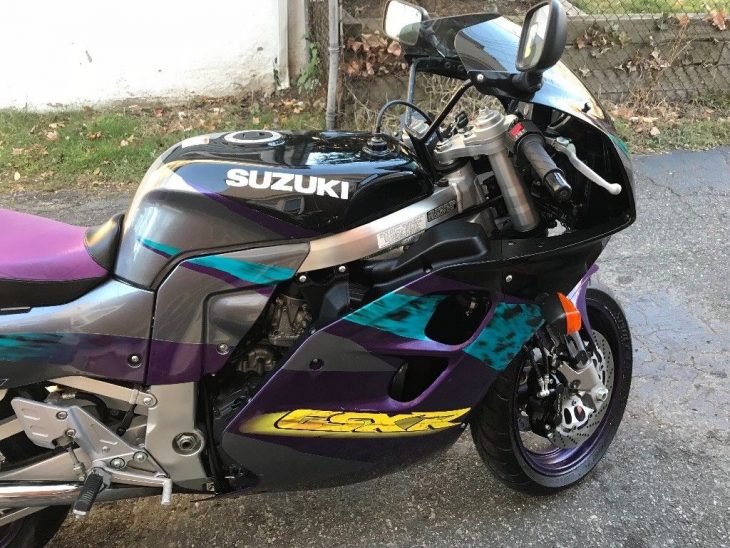 Always a speed demon's machine, the 1986 model came with 137 hp and after a major engine re-design in 1989 and the adoption of water cooling in 1993, the 1996 machine had 156 hp on tap.  Frame stiffness advanced as well with the use of 5-sided tubing, and an earlier banana swingarm was superceded by a fabricated and braced swingarm for 1995.  More sculpted than the earlier endurance racing derived bodies, the 1996 model streamlined its way to nearly 170 mph.  As ever, weight increased as the model grew up, cresting 500 lbs. dry for the 1996 year.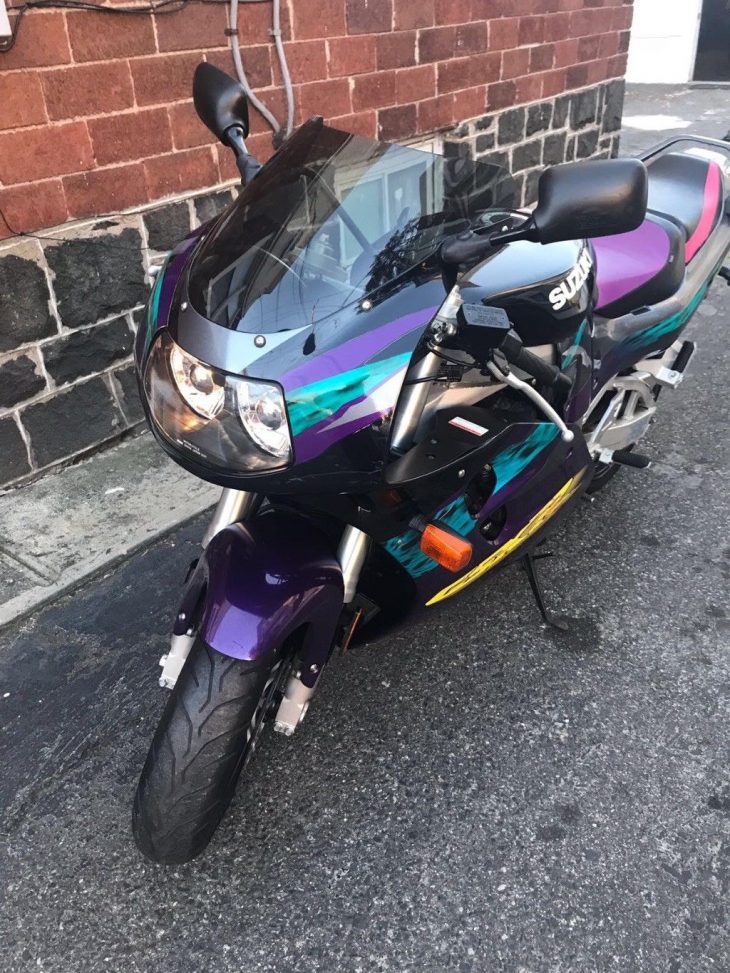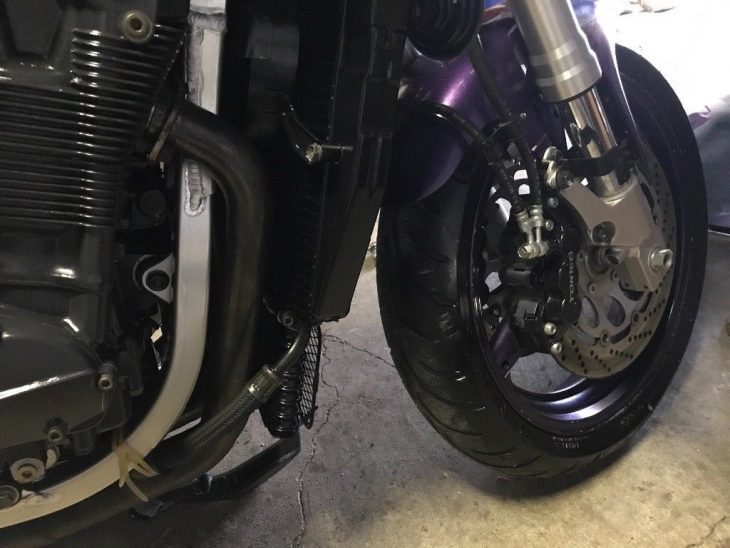 No word in the auction about how this GT came to have so few miles, but does give an unfaired peek-a-boo.  Just a monthly ride up the Palisade Parkway from Englewood to Bear Mountain would have put a lot more on the odometer than its 1,675 miles.  Freshly detailed with a fancy Corbin saddle, it has somehow outsmarted the garage elves, except for the left rear turn signal.  From the eBay auction:
1996 Suzuki GSXR 1100 

1674 ORIGINAL MILES 

VERY LOW MILES FOR ITS YEAR AND IT'S IN PERFECT CONDITION

1 OWNER 

CLEAN TITLE

D&D EXHAUST

OFFERS ACCEPTED TOO

I would trade for a supermoto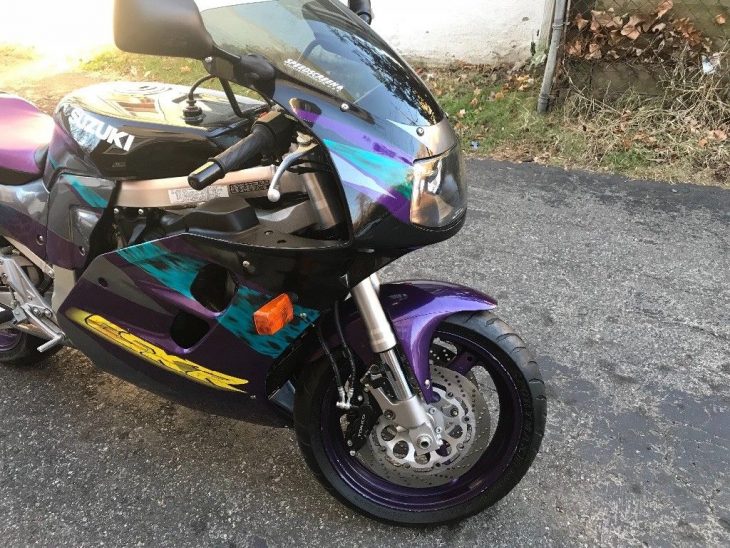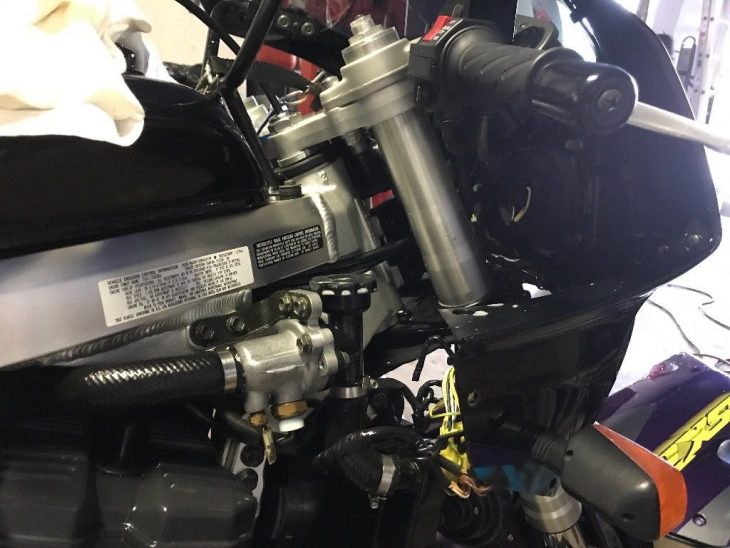 As always, I defer to sharper-eyed experts and welcome the model year and graphics debate.  Pictures can fib, so until a real inspection is made, condition is an open question.  New fluids, seals, rubber, four carburetor rebuilds, and some tuning are all on the menu for returning this GSX-R to the road.  What can't be denied is a 156 hp superbike without advanced electronics, and the way time will slow for the next owner on some late summer day...
-donn