Woodbine, Maryland – 32,350 miles – Reserve not met
With turbo wars in full effect during the early 80's, the big four Japanese manufactures all brought weapons to the fight. However, it was Kawasaki that showed up fashionably late to the party with arguably the best bike. The GPz750 Turbo was clearly the winner of the turbo conflict (okay it wasn't really a war) and for good reason.
The GPz750t claimed the biggest displacement of the turbos and featured a front mounted turbo which allowed it to spool quicker to reduce lag. Surprisingly, the boost delivery was characterized as "smooth" and rather seamless at the time. The bike even out-accelerated the GPz liter bike of the time.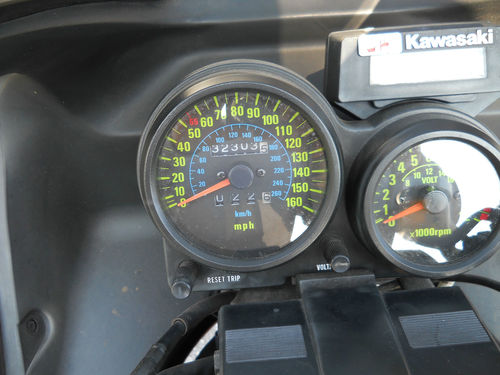 The bike up for grabs today isn't exactly a bone stock museum piece. However, it has survived very nicely and features tasteful modifications without loosing the original essence of the bike. From the seller:
Hey everyone, up for sale here is a real survivor. A 1984 Kawasaki GPZ750 Turbo w/ Mods. A pretty clean, good running bike with a clear title. This is a 2 owner bike since 1984, and since they only made them 2 years a pretty rare bike as well. The bike has nearly new tires front and rear, Performance Machine front brake system, Stainless steel brake lines front and rear and a RC51 front brake master cylinder. Exhaust was converted to a single pipe after the turbo and sounds great. Bike also has the Wiseco big bore 810cc kit installed on it as well as Accel supercoils and wires. Bike runs strong and the turbo spool's up nice and quick. Trans shifts smoothly. It does have a few scuffs on the gas tank (see pics) but no other noticeable damage. Comes with original tool kit. Again i have clear title in hand, questions please ask. Payment is due within 10 days from auction end. A deposit of $500 must be made via paypal within 48hrs. Again she is a looker, and pretty fast on her feet too, dont miss this chance to own a piece of history. Delivery is available within a reasonable distance from me for a fee, just ask if it is within my limitations.
If you're into turbo sport bikes of the early 80's, a Kawasaki fan, or just someone who likes to feel the boost kick in while on two wheels, then you should take a look at this GPz. I haven't seen one of these for sale before, so I am interested (clueless) where the final price will end up on this bad bay. The bike looks clean and comes with a clear title. Take a look at the auction here and place your bid today.
-JS