Go Fast History:  Team Vesco 1972 Yamaha TD3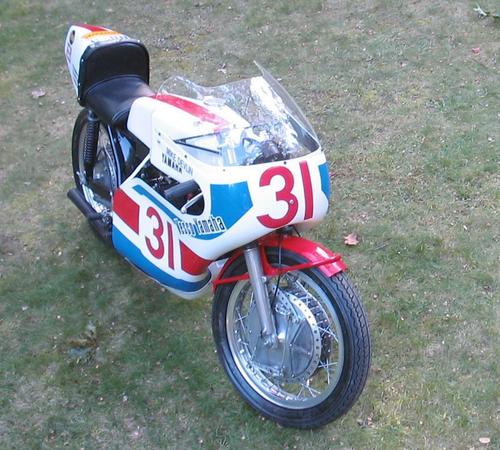 You really can find anything on eBay.  What a neat little piece of motorcycle racing history.  I had always associated Don Vesco with going real fast across the salt flats and not around a race track.  He was at the track and was associated with some very recognizable names.  You might remember Kel Carruthers and Cal Rayburn.  Click here and see  Team Vesco is still alive and going fast:  real fast.
I'd like to say I could give you a good description of a TD3 but my nose would be growing for some time.  They were a little before my time so I was off to the internets for help.  Basically,  think TZ before there were TZ's.  They were apparently Yamaha's customer race bikes.  The TD3 was a 250cc parallel twin and produced roughly 49hp.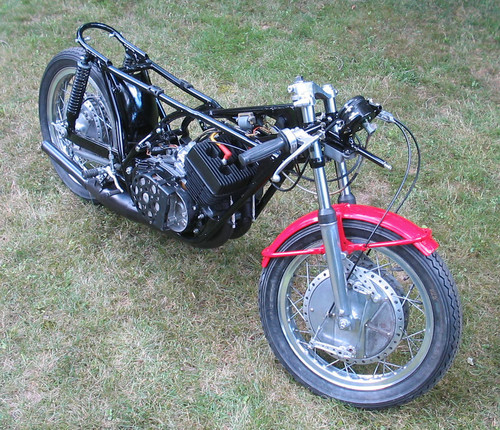 Simple, huh.  Here is fun fact:  the TD2 (the 3's predecessor) sold for $1,800.
Pre powervalves: well pre lots of stuff actually.
Here is the skinny on the bike:
TEAM VESCO YAMAHA TD3 Road Racer, Engine Number: DS7 – 990164, Frame Number: TD3 – 990164.BACKGROUND:
I bought this Yamaha 30 years ago. It was painted in the familiar yellow and black "bumblebee" colors and the only identification was a "Cincinnati Custom Cycles" sticker. At the time, it had no other known history. Included with the bike was a steel drainpipe containing the hand written words, "Vesco Carruthers TD3". I then called Don Vesco who assured me that the drainpipe was used by his team to hold their spare cables. He also identified the bike by engine/frame number as the machine which was ridden by Mike Devlin in 1972. The following history and machine details were originally given to me by Don Vesco and in recent years by Mike Devlin, the rider.

HISTORY:
Don Vesco ran a team of Yamahas from 1970 onwards for many years, starting with TD2B models ridden by Kel Carruthers and occasionally, Cal Rayburn. He followed with TD3 and TR3 models ridden by Dave Smith, Pat Evans, Mike Devlin, Ron Pierce and others, before acquiring the later water cooled machines. This Yamaha was ridden exclusively by Mike Devlin in 1972 AMA National events, starting with Daytona.

TEAM VESCO MODIFICATIONS:
Vesco Fiberglass Seat.
Modified Swing Arm and Bushings.
Koni Shock Absorbers.
Modified Clutch Cover.
Cut Out for Chain Drive Sprocket.
Fairing Straps to hold the fairing in place if the fairing supports break. (original worn parts are available)
Foot Rest Rubber Grips secured with cotter pins through the metal tube and rubber.

PICTURES:
#11 & #12 Show the straps to hold the fairing if the supports break.
#15 Cut out for Chain Drive Sprocket.
#16 Modified Clutch Cover.
#17 Modified Swing Arm.
#18 Mike Devlin at Daytona in 1972 for the first race.
#19 Mike Devlin during the 1972 Daytona race.
#20 Compare this recent picture with picture #18.
#21 Compare this recent picture with picture #19
#22 Team Vesco drainpipe for storing cables.
#23 Engine Number.
#24 Frame Number before the frame was repainted.

CONDITION:
This is not a 100% restoration. The rubber grips on the footrests, gear lever, brake lever and handlebars have purposely been left unrestored to give the Yamaha a "used racing" appearance. However, the seat, fuel tank, front fender, fairing, frame and all other black parts have been prepared and painted to the highest museum quality. The screen is new. The stickers have been very carefully recreated from period pictures to exactly replicate their color and location on the fairing and seat, as seen when the Yamaha was first raced at Daytona in 1972 using race number 31.

COMMENTS:
The listed mileage is an approximation.
The bike has been stored in temperature controlled conditions for 30 years.
The bike was purchased as a used racer, but I have never had the engine running.
The cylinder bores have been oiled during storage.
Engine compression, gear selection and brake operation are normal.
The bike is not suitable for immediate use because the tires (Michelin 3.25 H18 & 3.50 H18) are 30 years old and the fasteners have not been torqued to spec.
There is no title.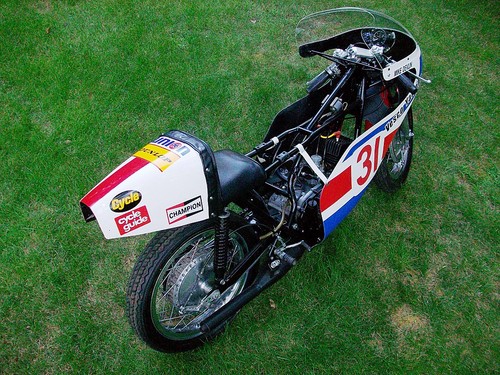 I can only imagine the shriek from those pipes.  Might be worth getting it running to just here the music.
That must make a decent rattle itself.
Wow, how about that double drum brake?  Even though I had my head in the sand when it came to this model it appears it is a  common bike to collect.  A quick search revealed  quite a few restorations going on and parts available.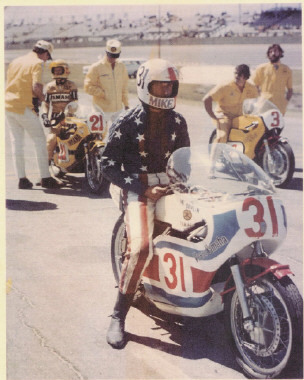 If you'd like to do a little time traveling click here.
A pristine example from the grand prix wars:
TR2 and TD3 in Yamaha's race museum.  Looks like  quite a place considering what I see in the background.
Ian