For Sale: 1982 Yamaha RD350LC for sale
Forget the EPA. While you're at it, skip the FDA, ATF, DOT and DMV too. What you are looking at my friends is an imported smoker par excellence. And while this might be a commonplace machine to our international readers, US-based droolers know better. For while Yamaha continued the RD line unabated until the late 1980s, US riders only had access to the 2 year model run of the RZ 350.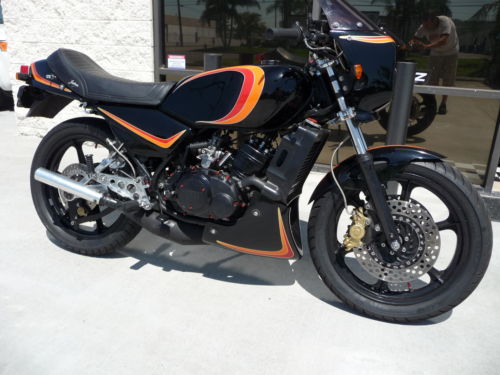 This bike is based on a RD350LC – the close equivalent to the US-based RZ. From there, many tasty two stroke go fast bits have been added, and I imagine many pounds of unnecessary weight removed. This bike looks very clean, and there are some nice touches that reek of care and time investment such as the safety wiring. The components look to be absolutely fantastic quality, and who wouldn't want a set of those Spondon discs on their ride?? The very best part of all is that this bike is already registered in the US and plated in California. Aside from being the home of Hollywood and the ex-Governator, California is also one of the most difficult states in which to import a smoker. That right there is a value add!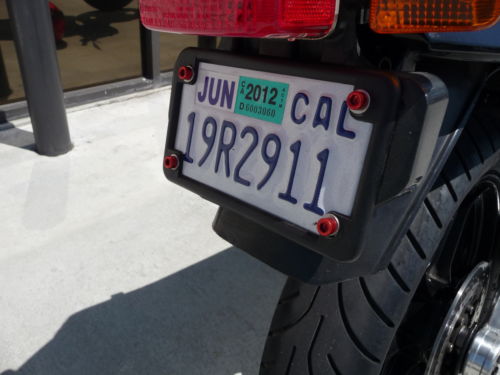 From the seller:
RD350LC WATERCOOLED CALIFORNIA TITLED ,RARE IN THE STATES.

MANY RARE PARTS ON IT :

-361CC STAN KITTED,700-800MILES ON THE MOTOR

-PORTED

-AFTERMARKET CARBS

-TZ/RD AFTERMARKET PIPES

-MORRIS MAGNESUIM 18INCH

-SPONDON FRONT ROTORS

-LOCKHEED/AP FRONT CAPLIERS

-TZ TRIPLE CLAMPS AND STEERING DAMPER

-MARS BAR PAINTJOB ,COMPLETE SET OFF DECALS INCLUDING LOGO'S AS SPARE UK

-SPONDON SWINGARM TZ REAR DISC CONVERTED

-RARE GIULIOVA SEAT

-BREMBO REAR CAPLIER

DUE TO THE MORRIS RACE WHEELS THE SPEEDO DOESN'T WORK ,RUNS GREAT PREPARED BY MYSELF (FORMER 500/MOTOGP TECH)…i BROUGHT IT ONLY TWO MONTHS AGO FOR 5K AND THEN FIXED THE ITEMS THAT NEEDED ATTENTION.

SELLING IT ONLY BECAUSE I HAVE REAL SUPERBIKES THAT I CAN RIDE AND IT DOESN'T SCARE ME AS IT USE TO WHEN I WAS 18YRS WHEN THEY CAME OUT.BUY NOW IS 5500.00
You have to like the honesty of the seller on this one. Not only is he generous with the pictures and details on the upgrades, he is also very candid about pricing. To make things even better, his announced buy now price is very, very competitive with other RZ350s we have seen – before all of the upgrades were added in.
This bike is a possible steal in the making; The current bid at time of writing is only $3,999 with ZERO bids. One of you RSBFS readers better jump on this one quickly before I get myself into trouble (again)! Click the link, jump over to the auction, and enter smoker nirvana. Good luck, and make sure you tell 'em you found it on RSBFS!
MI