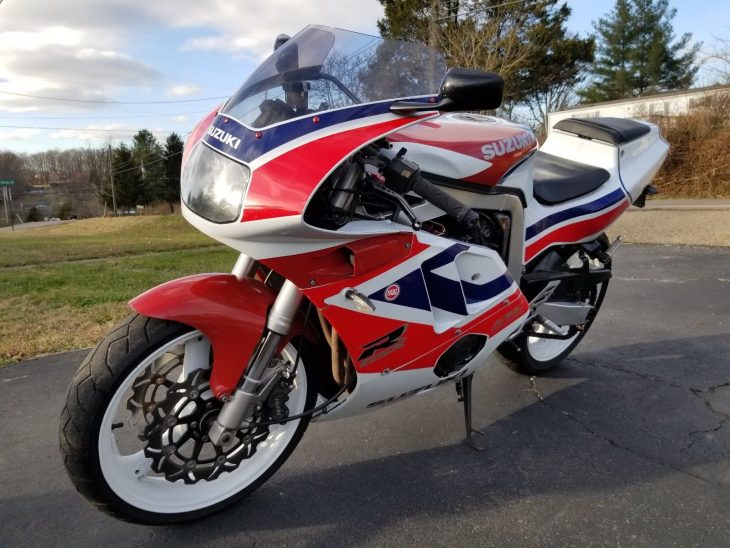 I ran into a nice young rider the other weekend while I was eyeing his flat grey EBR 1190RX. We talked about the bike and all its neato Buell-y features, and he asked me what I was riding, so I introduced him to my Daytona, which also happens to be grey… "Aren't you a little big for that?" He asked.  Obvious "that's what she said" jokes aside, it highlighted a common misconception, at least here in the USA: smaller sportbikes are "learner" machines, and serious riders should move up to a "real" bike as soon as possible. Of course, bikes like today's Suzuki GSX-R400 are an argument that maybe smaller is just fine, and that there's plenty of fun to be had on a motorcycle that offers serious handling, but only modest straight-line performance.
Strict licensing and taxes on displacement mean that bigger bikes can be flat out impossible in many overseas markets, no matter your experience or skill. In those places it was often the 400cc class that was hotly contested throughout the late 80s and early 90s: witness the fact that the FZR600 was the lowest-spec bike of Yamaha's sportbike range with a glaring, low-tech difference: it used a relatively heavy steel frame instead of a lighter aluminum unit as seen on the 400cc and 1000cc models. In fact, the very first GSX-R was actually a 400cc model, and Suzuki applied the lessons learned to their smash-hit GSX-R750, although many aren't aware that the earlier bike even existed.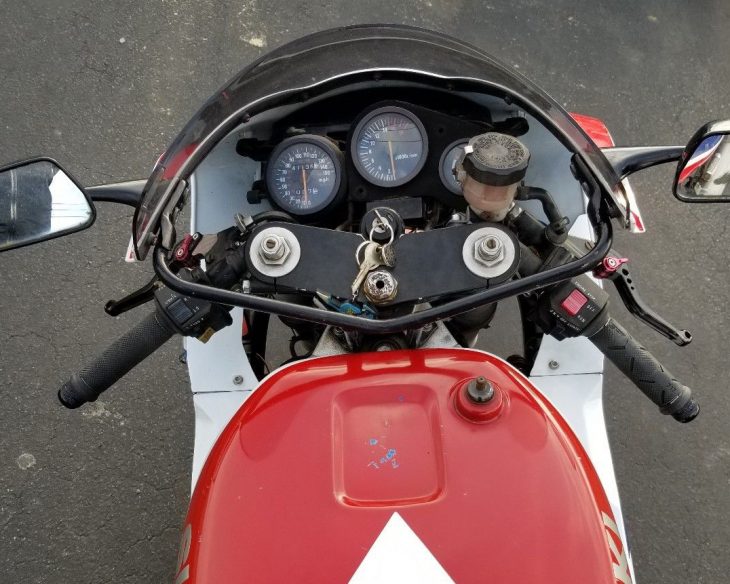 The third iteration of the evergreen Gixxer is also currently the least desirable, and this GSX-R400 is styled to match its bigger siblings. Not only does this generation still exist in that nether region between classic and modern, the bikes were generally heavier than the bikes they followed, with less performance. The Gixxer was peakier and a bit cruder than competitors like the CBR400, and as a result it was a bit of an also-ran, although it should still offer plenty of bang for your buck. Weight for this version of the GSX-R400 was 367lbs dry and the little 398cc inline four made 59hp at 12,500rpm.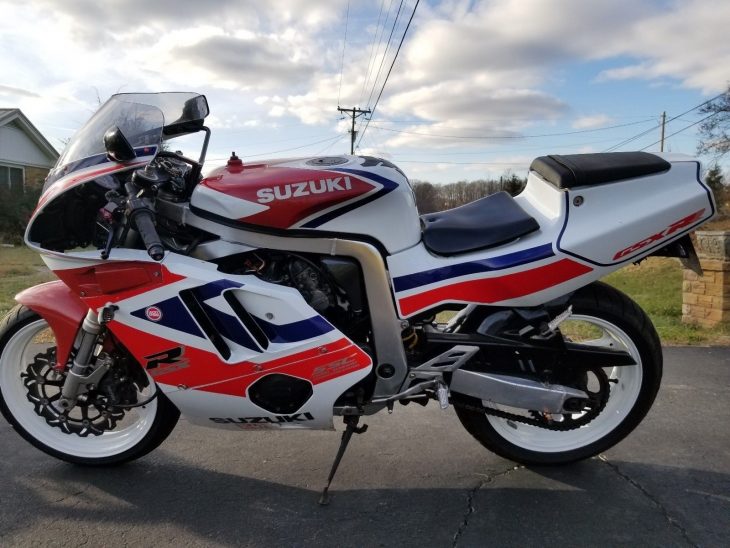 From the original eBay listing: 1991 Suzuki GSX-R400 for Sale
Up for No Reserve auction we have a 1991 Suzuki GK76 GSX-R400. This bike sports slick OEM graphics, and is quite a good looking machine. It has recently been tagged and registered in Tennessee and is ready for the road. On the performance front I feel the carbs would benefit from a good cleaning. With that said, the bike starts up easily enough, idles, and runs right on up to redline. These are rather difficult to come by, and this one will make a nice addition to someone's collection.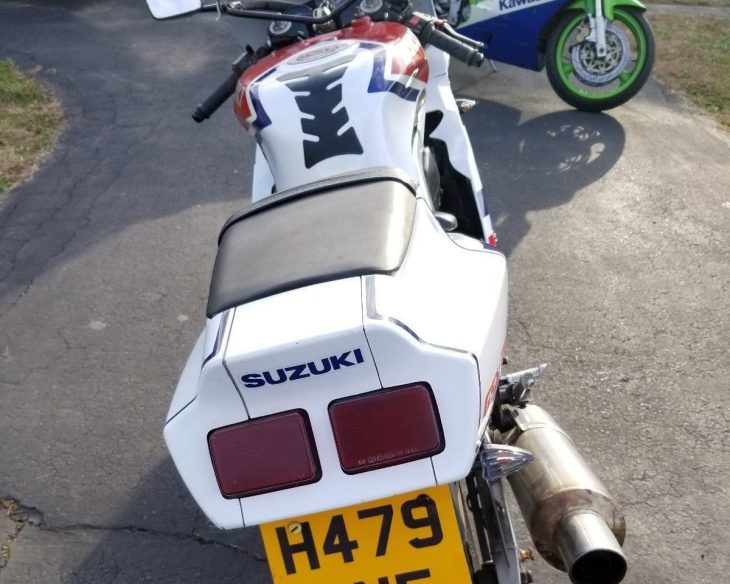 Considering how popular Suzuki's sportbikes have been worldwide, it's surprising we haven't seen more of these up for sale here in the US, now that they can be legally imported. They certainly weren't the the best 400s but, being a Suzuki, plenty were sold. The seller includes a nice little video of the bike being zapped up and down a backroad, and it's nice to see that the bike is a solid runner, because it's not in showroom-perfect condition: aside from some scratches and plastic bits that have naturally discolored with age, the end can looks to be in pretty sorry shape and the non-standard turn signals are small and unobtrusive, but their fake-y "carbon" finish isn't very tasteful and originals might be difficult to source, depending on whether or not they're exclusive to this model… But all of that can be overlooked if the price is right, and with just two days left on the auction, that price is a mere $2,225 which could make it a screaming deal of a little screamer, if the bidding stays low.
-tad