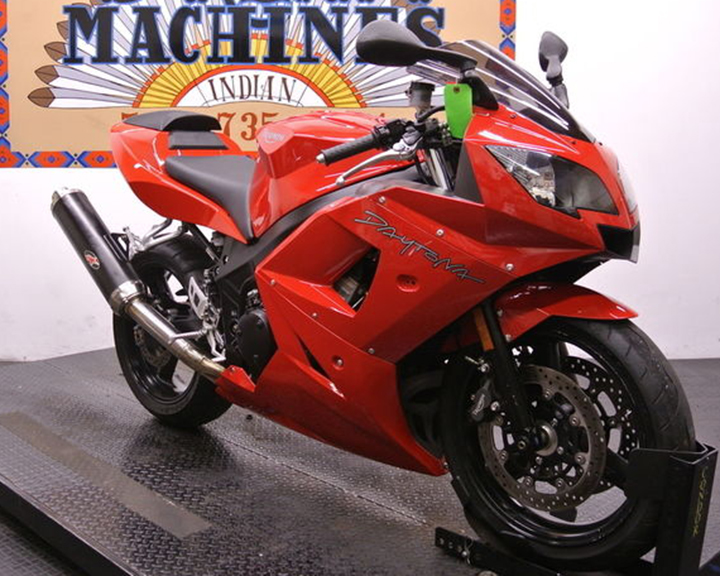 Earlier versions of the reborn Triumph's Daytona didn't bother trying to compete head-to-head with the Japanese sportbikes, which was probably a wise move: the early, spine-framed 900cc bike was well-built and made plenty of useable power, and the later T595 [actually a 955cc] added superlative handling to the mix, but both were far too heavy to compete directly against their counterparts from the Land of the Rising Sun. But by the time this Daytona 600 came around, Triumph felt they were ready to take on the Japanese directly, without having to fall back on Euro-snobbery or "character."
Close, but no wasabi.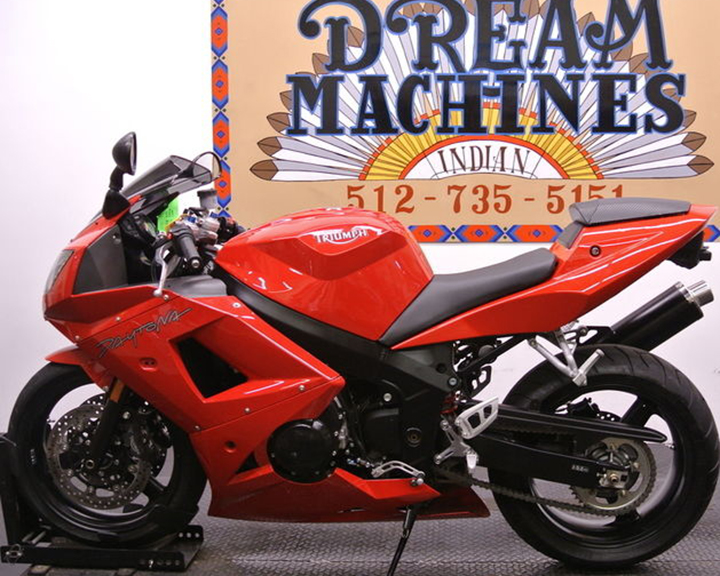 The CBR-looking TT600 came first, but it was cursed with unrefined fuel-injection and was definitely not a looker. The Daytona 600 seen here that was introduced in 2003 has an angular, stealth-fighter style that is well-balanced, but looks like it's trying just a bit too hard. It certainly hasn't aged as well as the T595, although maybe it just needs a few more years to grow on me…
Revised Keihin electronic fuel injection smoothed out the earlier TT600's powerband, although extremely oversquare bore and stroke dimensions of 68mm x 41.3mm mean that the bike is pretty gutless below 7,000 rpm. That's pretty standard for the 600cc class, but testers noted the Daytona's gutlessness was particularly pronounced. It was also down a few horses on the competition at the top and, in the ultra-competitive 600cc class, just a couple ponies can make the difference between success and failure. Handling was first-rate though, with a nice balance of agility and stability, all without being overly harsh.
Looking at the Daytona 600 as a used bike buy, when cutting-edge performance is no longer quite so important, those minor flaws seem far less important, and the bike does offer up very striking, almost kit-bike looks and enough performance and handling to keep even experienced riders entertained. The only question is parts availability: these are pretty uncommon bikes here in the US and don't seem to be all that well supported by the aftermarket either.
Today's example has just 824 miles on it and appears to be in excellent condition, with a price that might just have you wondering whether you might have room in your garage for something just a bit odd for the sake of being odd.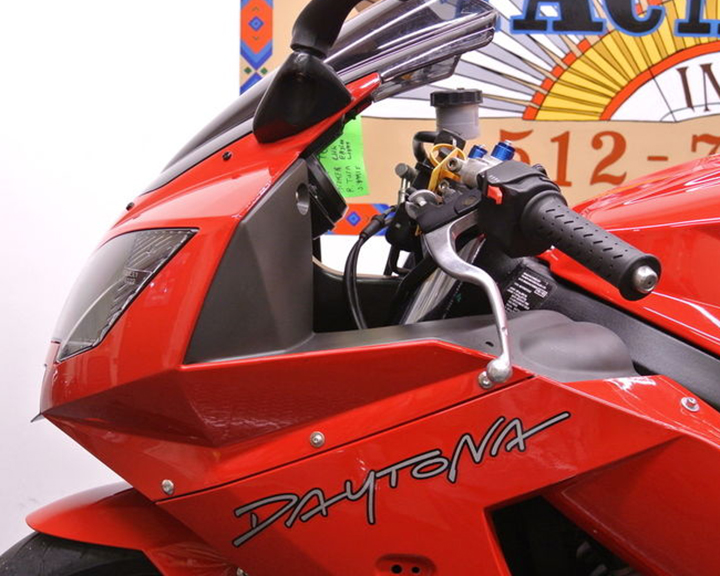 From the original eBay listing: 2004 Triumph Daytona 600 with 824 Miles for Sale
You are looking at a 2004 Triumph Daytona 600 with 824 miles on it. It is Tornado Red in color and powered by a 599cc fuel injected engine and 6 speed transmission. This bike comes with 2 keys. There are no dents or dings on the bike that I can find, however there are scratches on the rear fender, mirrors, and exhaust. The chrome and aluminum are in good condition and the tires have good tread left on them.
It's always funny to me when sellers list how much tire life is left: they're wear items, and tires on sportbikes last just a few thousand miles anyway.  More of a question for collectors: are the original turn signals included, since they appear to be missing… These Daytonas were certainly competent sportbikes, but there's really nothing to recommend them over a GSX-R600 or R6 except for styling, which is subjective, and their rarity. If you're a collector of quirky rare bikes in general, or Triumphs in particular, this low-mileage example is certainly worth a look, especially at that $3,450 Buy It Now price. If you're looking for a bike to ride, you're probably better off with the earlier Daytona T595 triple or the later 675, both of which provide less gimmicky styling and character that's noticeably different when compared to the Japanese sportbikes of their respective eras.
-tad