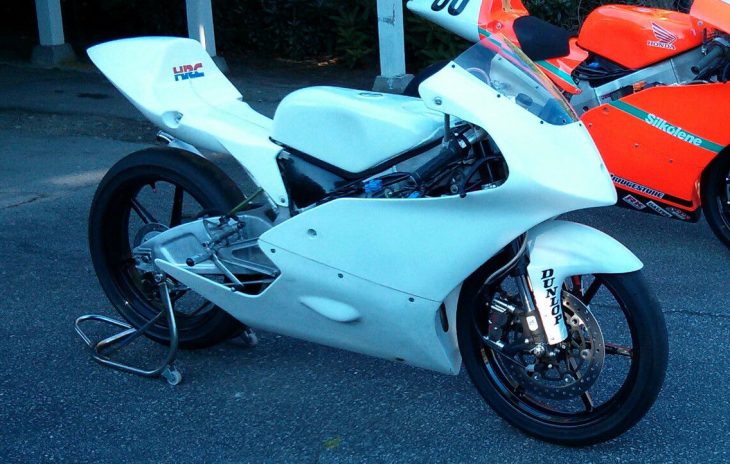 Racing machines are a bit like living living things and, by they time they reach old age, there might be very little left of the original creature except the bones: high performance parts are consumed and replaced regularly, worn out by at-the-limit use, and other parts are upgraded as time goes on to keep pace with the relentless march of competition. So if you're looking for an office decoration, look elsewhere, since this Honda RS125R was built to race, and comes with the spares package to back that up.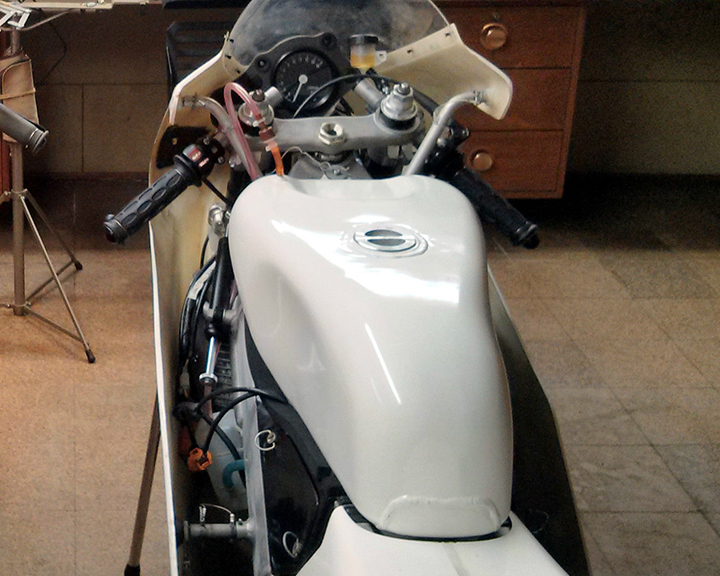 Powered by a slightly undersquare 54mm x 54.5mm two-stroke single backed by a six-speed gearbox, the mechanicals seem simple at first, but every single component is optimized for performance and light weight. Power can be north of 4ohp when tuned, which sounds pathetic until you consider the partially-dry weight of of under 160lbs. Still, the real shocker with a bike this small and light is in the stopping and the cornering: that single radial Brembo caliper looks absolutely massive and should provide more stopping power than you'll ever need.
The bike comes with bare, white bodywork, already for your choice of historic colors or sponsors' logos. At a glance, I assumed this had been fitted with some sort of Tyga bodywork, but it looks more like Tyga got its inspiration for their aftermarket bodywork from the later RS125s!
From the original eBay listing: 2005 Honda RS125R for Sale
The engine is freshly rebuilt. New crankcases, new cylinder, new crankshaft and a fresh piston in it.
Engine is setup with a VHM head with a 11.8cc insert for running unleaded fuel.

Current transmission gear setup: 1st: M1-P3 / C1-P3, 2nd: M2-P4 / C2-P4, 3rd: M3-P1 / C3-P1, 4th: M4-P1 / C4-P1, 5th: M5-P1 / C5-P1, 6th: M6-P1 / C6-P1

Equipped electronics consist of a HRC datalogger with HRC detonation counter, detonation and shift lights plus a front wheel speed sensor.

The chassis is equipped with a Honda NSF250R swingarm. Front brake system has been replaced with a new Brembo GP4-RR 32/36 monoblock caliper with titanium pistons and Brembo 16×16 billet radial brake master cylinder.

Typical basic spare parts included, such as jets, gaskets, clutch cable, reeds, engine shims, gaskets, seals, levers, variety of front and rear sprockets etc.

Other spares also included are a April System Powerjet controller, front and rear stands, front wheel with disc, front and rear Dunlop rain tires, spare used cylinder, new front fender, extra over the radiator airbox, HRC cylinder head (10.5cc for leaded fuel).

Extra transmission gears: C1/P2, M2, C1, C2, C3/P4, C4/P2 and main shaft.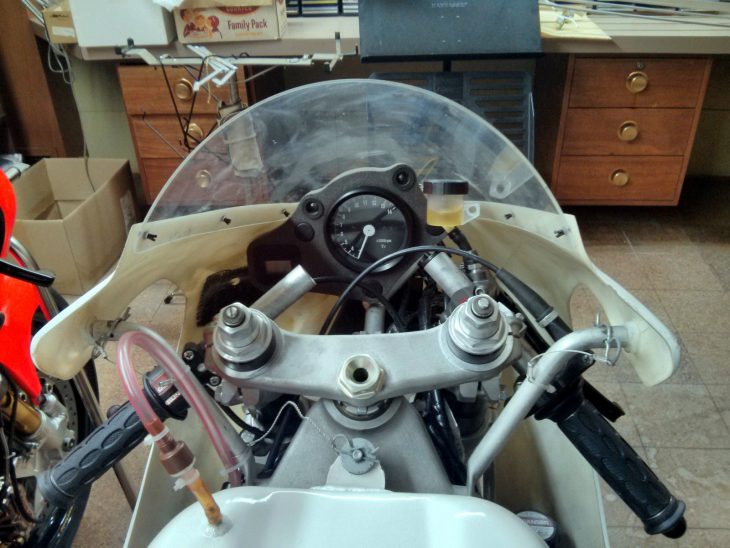 Obviously, this isn't a fresh-from-the-crate collectible: it's a hard-core racing machine in miniature, and the included parts should help get the new owner ready for a season of racing. The Buy It Now price is set at $11,000 but I've no idea if that's a fair price or not: RS125s that have graced these pages are generally of much older bikes and those can be had for much less. List price was in the neighborhood of $13,000 new and, with the spares package, that seems to make this a pretty decent deal.
-tad