SOLD IN 24 HOURS! Congratulations to buyer and seller! -dc
The Suzuki TL-1000R was a bold but flawed stab at stealing big v-twin superbike dominance away from Ducati. The bike was a bit of a misfit, impressing neither road testers nor road racers, as it was overweight and fitted with a mystifying and dangerous radial damper rear suspension. Aside from a few privateers racing at the club level, the bike never achieved much on the track, and its street sales hurt as a result.
Superbike Universe aimed to solve that problem, taking on a used TL-1000R as a project and producing the bike you see here. It has been relieved of its butt-puckering rear suspension and given a traditional Penske clicker shock. The front end, heavy as stock, has been tossed in favor of a set of upside down forks off a 2009 Gixxer, which have been treated to custom internals. The brakes also got more than a once over, with stainless steel lines, Brembo Monoblocs and a radial master cylinder taking over duties.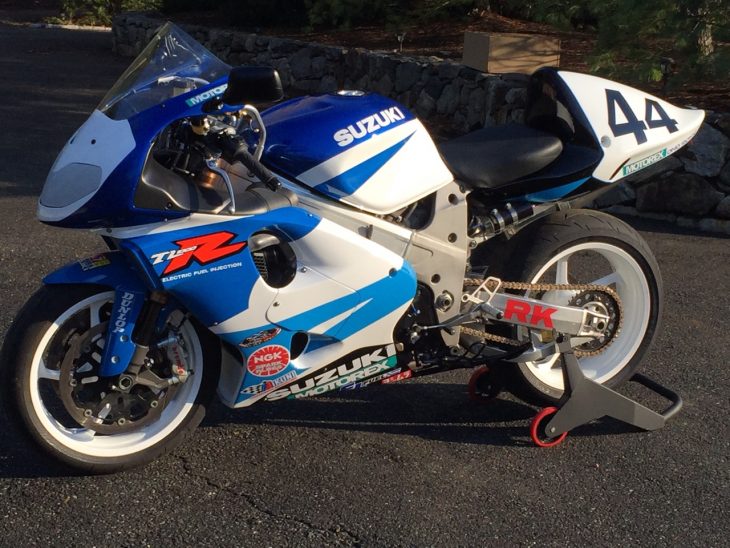 From the seller:
Here is another result from the long brutal winters here in the Northeast. I started out with a stock TL1000R and set about stripping everything I could off of it to lighten it up. The super heavy front end was replaced with a 2009 GSXR1000 front fork with 25mil K-Tech internals. The brake set up is truly one finger amazing. I used a Accossatto Radial master cylinder, custom Core stainless lines and a set of Brembo Monoblack calipers from a 2014 GSXR1000. Those massive Brembo's clamp down on a set of 330mm PVM superbike rotors. Out back I ditched that crazy Suzuki rear suspension box/spring thing that didn't work and weighed about 30lbs. I replaced it entirely with a custom Penske triple clicker and a one-off billet Linderman linkage. Not only did I loose a ton of weight up high but the rear end works perfect now!. The bike rolls on a rare set of 5 spoke MARVIC magnesium wheels that allow for amazingly quick turn in. A very rare 2 in to 1 Yoshimura exhaust helps get rid of burn fuels and again a shit load of weight. All brackets for the rear sub frame and passenger accommodations were cut off and trimmed accordingly. A fiberglass single seat Sharkskin tail and a custom under tray tidy up the rear of the bike. In all I lost over 108lbs off the original bike. They say that the TL100OR weighed just 424lbs in the original bike specs but that is complete bullshit. It weighed 493lbs fully wet when I started this project. Now with it weighs a super light 384lbs fully wet and with three gallons of fuel. If you push this around you feel the super light weight. I had an awesome Lance Johnson Paint Worx Yoshimura paint scheme applied to the stock /aftermarket bodywork. It looks fantastic and rides great! Certainly one of a kind and is exactly the bike Suzuki could have ended up with if they continued development. Put this Superbike Universe special in your collection now for a fraction of the cost of development.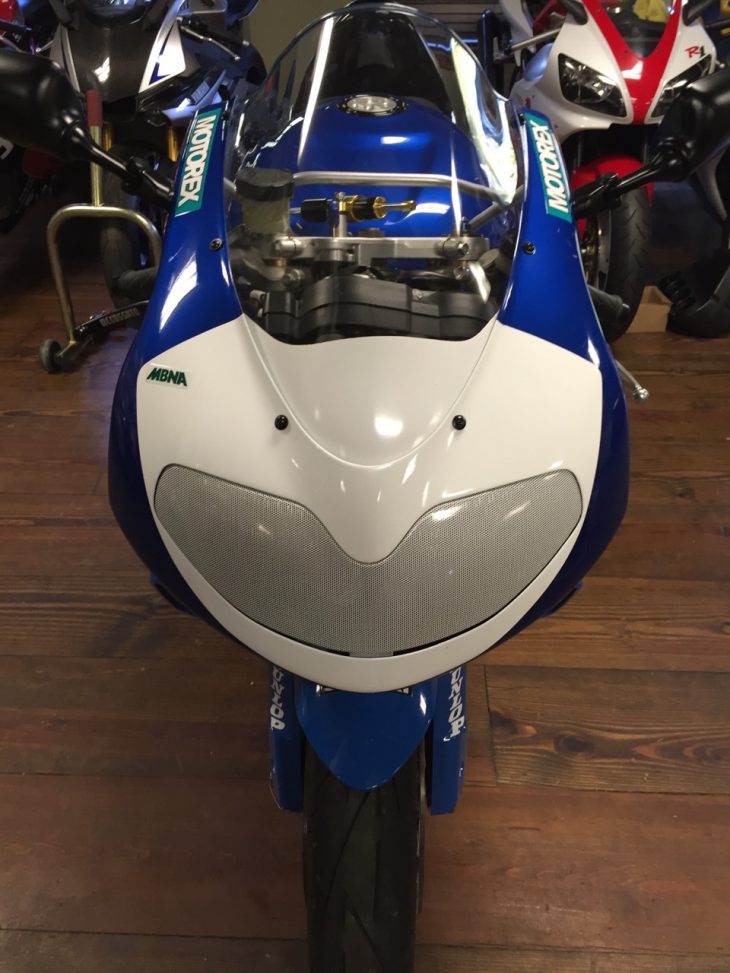 The real eye opener is the claimed weight loss: more than 100 pounds off the stock bike, via a combination of suspension, wheels, brakes and body work. The whole package, complete with a ton of one-off and rare parts, will set you back $7,500. If you have an affinity for odd ducks or under dogs, or just like the idea of a howling Japanese v-twin, this thing is your mount.