Update 12.12.2017: Seller confirms this bike has sold. Congratulation to the new owner! -dc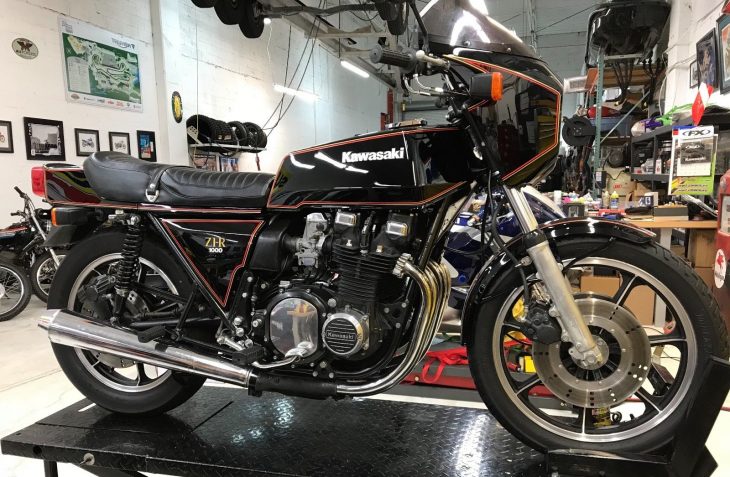 Kawasaki pushed out more than 17,000 Z1-Rs over the model's three-year life, but the majority were built in '78 and '79, and the vast majority of those wore Stardust Silver paintjobs. Today's featured bike bucks both those trends: It is a black 1980 Kawasaki Z1-R, which makes it a scarce example of an already scare machine.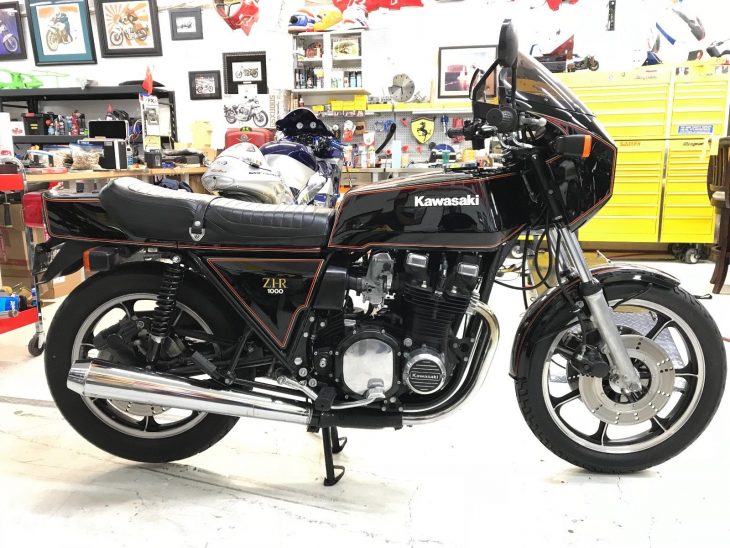 The Z1-R was the top of the Japanese superbike pile during its production run, sharing magazine ink with the likes of the Suzuki GS1000 and the Honda CBX. Kawasaki's air-cooled inline four, some version of which powered all the KZ series bikes, was punched out to 1,016ccs, which helped make it good for 90 horsepower at 8,000 RPM.
The squared-off bodywork and aggressive half fairing were the initial clues that the Z1-R was not something to be trifled with and cross-drilled brakes, bigger carbs and a 4-1 exhaust reinforced the point once the bike got underway.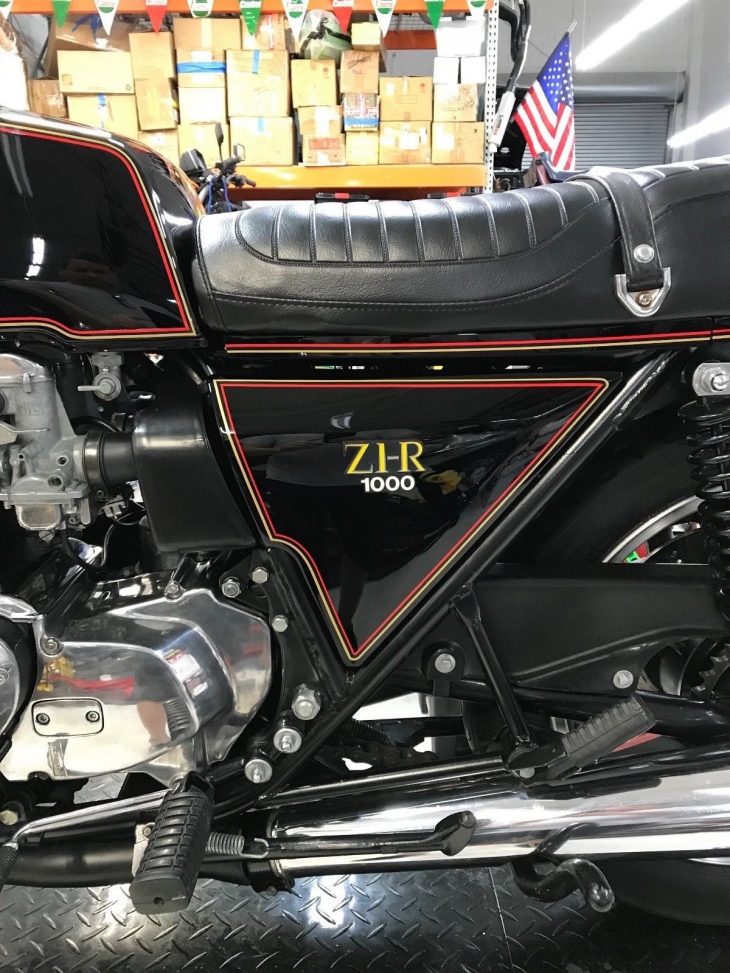 The featured bike has been meticulously well looked after over its 37 years, and the seller says the engine has never left the frame and the suspension is all original. It recently had a repaint in its factory colors, a process which apparently took 80 man hours and $5,000 to complete. Needless to say, the paintwork is impeccable. The cosmetic work is backed up with a recent tuneup, including carburetor service and syncing and all new fluids.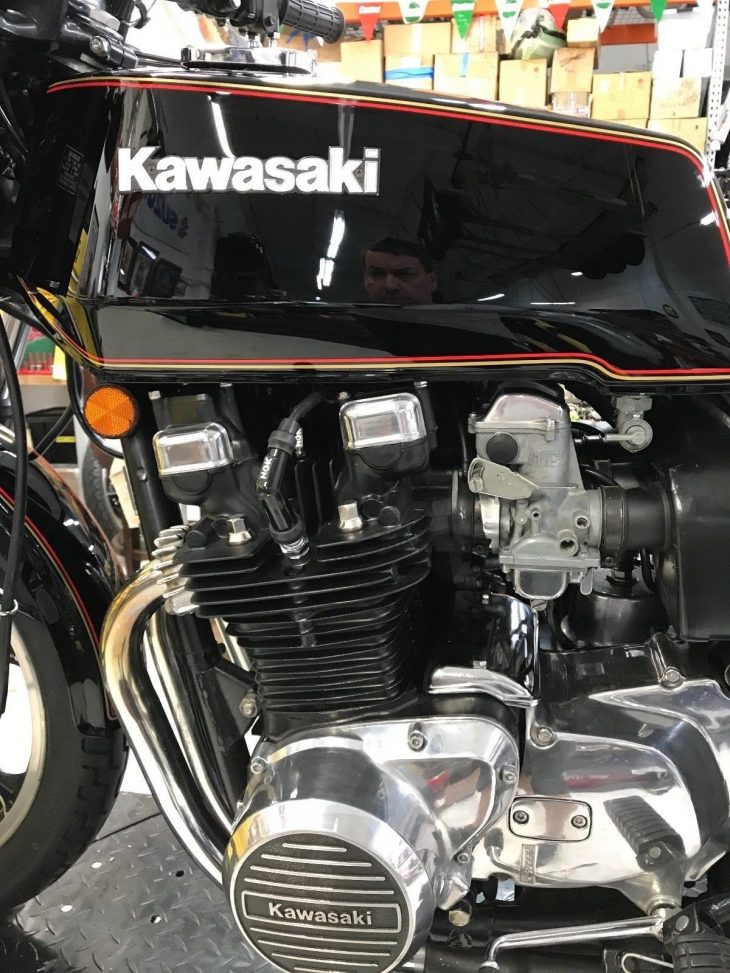 From the eBay listing:
THIS PRISTINE 1980 KAWASAKI KZ1000 Z1R IS COMING OUT OF MY PRIVATE COLLECTION ONLY BECAUSE I HAVE 2 OF THE 3309 UNITS EVER BUILT. YES ONLY 3309 1980 Z1R'S EVER BUILT SO DON'T MISS OUT. KAWASAKI BUILT OVER 17,000 1978 STARLIGHT BLUE BIKES SO MANY THAT EVER ON HAS AT LEAST 1 IN THE GARAGE.

THIS IS AN ALL ORIGINAL NEVER MOLESTED AMAZING EXAMPLE OF THE VERY RARE 1980 BLACK Z1R. SHE HAS 3278 MILES AND SHOWS VERY LITTLE WEAR.

SINCE THE ORIGINAL PAINT WORK SHOWED ITS AGE, I HAVE METICULOUSLY REFINISHED THE BODY WORK TO MATCH THE ORIGINAL KAWASAKI FINISH, USING ONLY THE BEST DUPONT/PPG PRODUCTS AND NOS STRIPES. THIS IS A "GLOBE MOTORCYCLES LIMITED" "OCD" PAINT JOB, WITH RICKMANS, VINCENTS, MATCHLESS, ASTON MARTINS AND BENTLEYS AS PREVIOUS EXAMPLES OF GLOBES WORK THIS IS A SHOW WINNING FINISH. THERE ARE OVER 80 HOURS (OVER $5000) OF PAINSTAKING LABOR TO GET THE MIRROR BLACK FINISH THAT YOU SEE. TRUST ME THE PICTURES DO NOT DO IT JUSTICE.

THE SEAT COVER APPEARS TO HAVE BEEN REPLACED, THE REST OF THE BIKE IS UNTOUCHED AND CLEARLY HAS BEEN IN CLIMATE CONTROLLED COLLECTIONS MOST OF ITS LIFE.

THE WIND SCREEN IS ORIGINAL, THE FUEL TANK HAS NO RUST, IT HAS THE ORIGINAL ENGINE THAT HAS NEVER BEEN REMOVED, ORIGINAL SHOCKS, ALL THE BODY WORK WAS ORIGINALNO DENTS OR BROKEN TABS, THE EMBLEMS ARE ORIGINAL, ALL THE GUAGES, LIGHTS AND CONTROLS WORK PROPERLY AND ARE ALL ORIGINAL. THE LEFT MUFFLER HAS A VERY SMALL DING BUT I DONT SEE ANY SIGNS THAT THE BIKE WAS EVER DROPPED OR LAYED DOWN.

I JUST OVERHAULED AND SYNCHRONIZED THE CARBURETORS, SERVICED THE AIR FILTER, SERVICED THE BRAKES, NEW MOTUL OIL, OEM OIL FILTER, NGK PLUGS AND PLUG BOOTS. I RODE IT TODAY ABOUT 20 MILES AND SHE PURRS LIKE A KAWASAKI SHOULD.

I HAVE BEEN A MOTORCYCLE MECHANIC SINCE GRADUATING FROM AMI IN DAYTONA BEACH IN 1980 AND HAVE BEEN COLLECTING AND RESTORING RARE BIKES FOR MANY YEARS.

THIS IS A MUST HAVE FOR ANY COLLECTION.

TELL THE WIFE CHRISTMAS IS HERE AND THIS BIKE WILL APPRECIATE BETTER THEN YOUR HOUSE, JUST ASK JAY LENO OR HAVE HER WATCH HIS SHOW.

CALL ME WITH ANY QUESTIONS 954-816-0806 $1000 DEPOSIT DUE VIA PAY PAL. THE BALANCE WITHIN 3 DAYS CASH OR BANK TRANSFER.

DONT MISS OUT HAPPY BIDDING

On Dec-02-17 at 07:54:38 PST, seller added the following information:

WHEN I PLACED THE LISTING I MADE A TYPO THAT COULD NOT BE CORRECTED SINCE THE BIDDING STARTED WITHIN 2 MINS OF POSTING (EBAY WONT LET YOU EDIT ONCE THE BIDDING STARTS). THE BIKE IT IS A "D3" NOT A "D2" THE D2 WAS THE 1979 MKII. SO BE REASSURED THS IS AN ORIGINAL 1980 KAWASAKI Z 1000 Z1R D3 ONE OF ONLY 3309 EVER BUILT AND IT IS THE NICEST I HAVE SEEN!!!! NICER THEN MY OTHER ONE. YES I AM SELLING THE BETTER LOOKING OF THE 2 D3's THAT I HAVE.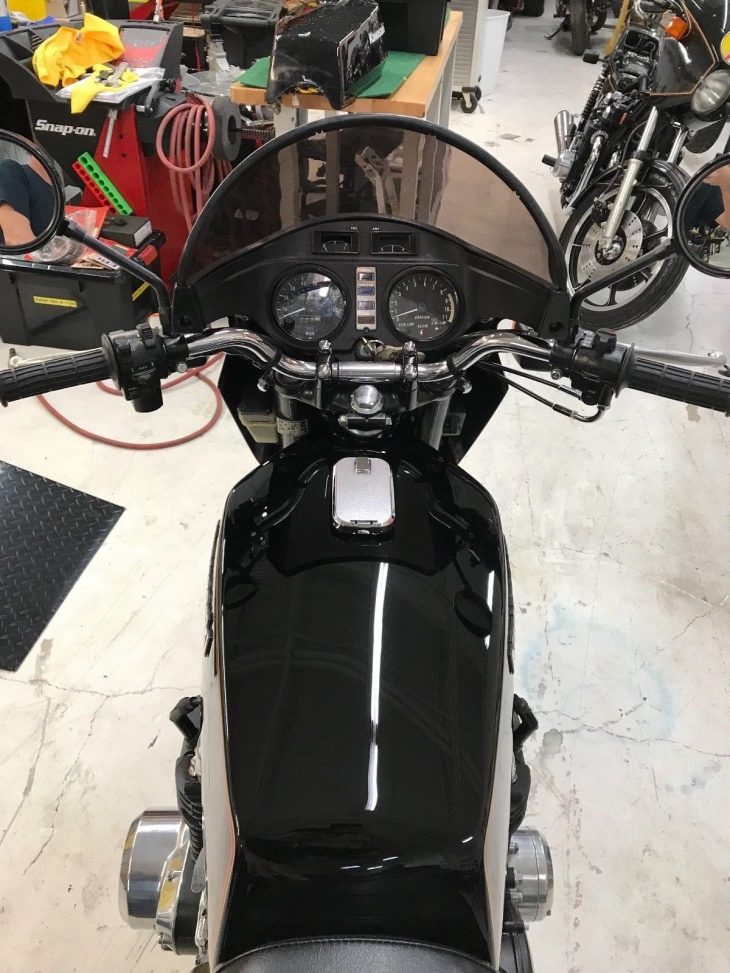 Values for nice Z1-Rs have been on the up and up recently, and one as rare and as nice as this should command a premium. With just a few days left in the auction, bidding has been active but reserve has yet to be met.