Update 11.4.2022: Post auction this bike has SOLD! Congratulations to buyer and seller! -dc
Sixteen years on, Ducati's SportClassics have become a touchstone for Ducatisti and back-to-basics bikers in general.  Starting with a sought-after initial year Sport, this example has been comprehensively improved and equipped for a beautiful future.
Ducati had their epic dual-spark engine on the shelf, air cooled with a healthy oil radiator and 91 tractable hp.  2006 was the only year with the dry clutch, and monoshock asymmetrical swingarm.  Tube-type wire spoke rims set the vintage theme, but emissions met Euro3 along with up-to-date Marzocchi / Sachs suspension and Brembo 320mm brakes.  Sans fairing, the lowish bars and monoposto seat complete a café racer's checklist.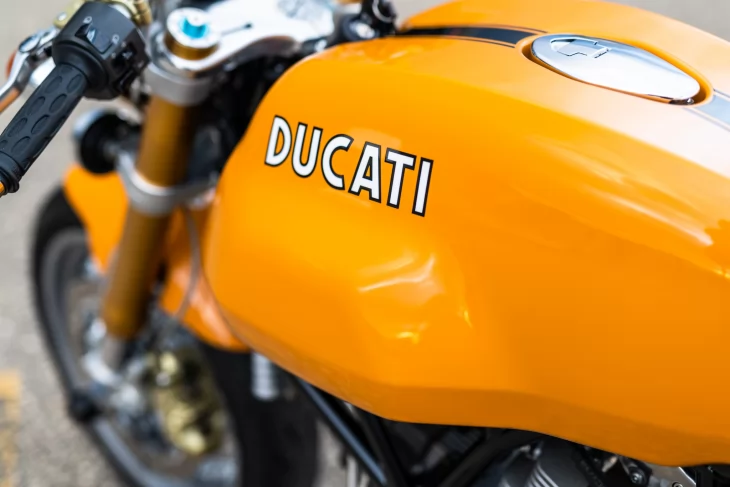 RSBFS friend Donovan offers his two-owner Sport with a surprising selection of Ducati Performance accessories, which are no longer available.  His list of the DP mods –
As far as I know it has the most complete collection of rare OEM/Ducati Performance upgrades that I've seen online:

DP Ohlins Suspension
Ducati Performance Termignoni 2-1 Exhaust Kit
DP 2-Tone Comfort Seat
DP Sport Classic Cover
DP Comfort Clip Ons
DP Billet Rearsets
998R Brakes
New Spare Bodywork Set
Additional updates include Alpina tubeless rims, a Wasp power kit which includes a custom air intake and Power Commander 3, Rizoma clear timing belt covers, SpeedyMoto clutch cover and sliders, and tail tidy with mudguard.
Maintenance is more than current, with recent tires, belts and fork service, and valve adjustment at 12K miles.  Protection of the tank is inside and out with Xpel wrap and Caswell lining to keep the plastic tank from expanding.  Not to mention stands and a complete set of spare factory painted parts !
Many more pictures at the – BaT auction – show the SportClassic beautifully, almost putting a lie to the odometer's 16K miles.  While the not-too-radical tail tidy is a personal favorite, the way the gold accented suspension and clutch play off the factory giallo ocra really works.
Donovan also has a cold start video –
The limited nature of the SportClassics will continue to make them a rarity, and the extra pizazz of the first year model is that much more desirable.  The original owner's DP purchases and Donovan's subsequent improvements might make this a singular retro star.  Check out all the pictures on the – BaT auction – and register to bid so you'll be ready !
-donn