Warning!
This post is in our archives. Links in this post have been updated to point to similar bikes available to bid on eBay.

1.3.2019: Dave has renewed his Featured Listings and is adding a couple more in the next few days, stay tuned. Thanks for supporting the site and good luck to buyers and seller! -dc
If there was ever any question about RSBFS bringing you the best classifieds online every day, this Featured Listing of the ultimate Italian unicorn should erase all doubts. Nor is this gem hidden in some far-flung corner of the globe, but rather in the continental U.S., Seattle, WA. If you've been drooling and dreaming about a MGS-01, there will never be a better opportunity than now – this very nearly brand new beast awaits a new home.
Featured Listing: 2004 Moto Guzzi MGS-01 Corsa!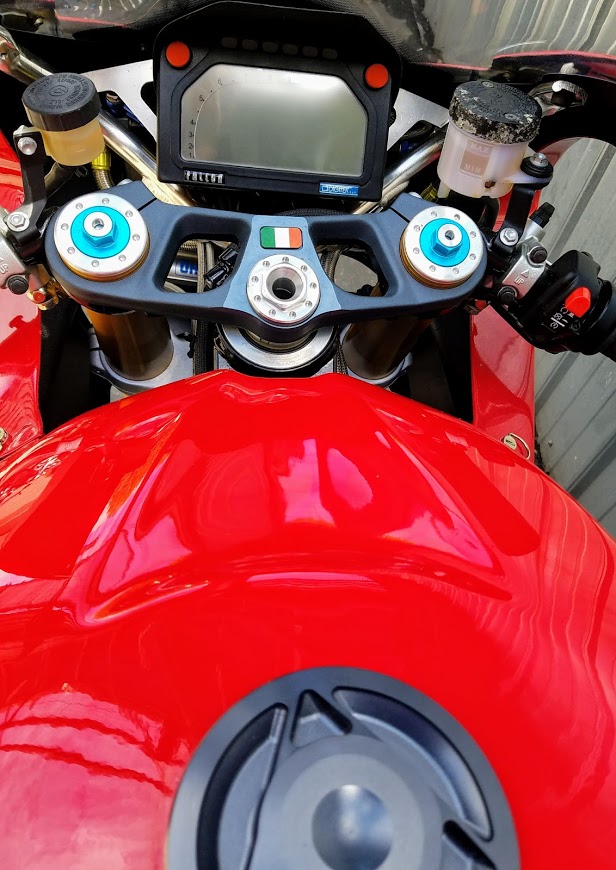 Moto Guzzi made a statement the way only Moto Guzzi could: building a racer to go after the legendary 916 racebike. As audacious as that sounds (and given the winning streak of that other Italian machine), Guzzi pulled out all the stops to meet the goal. While in difficult straights from a financial and business perspective, Moto Guzzi still had the kind of legendary cachet to make a splash on the world's stage. Employing well-known design and speed merchants Ghezzi & Brian with a miniscule 9-month commission, the MGS-01 (Moto Guzzi Sport – model number one) Corsa (race only) made its debut at the Intermot show in Munich, Germany in 2002. The result stunned the press and the public, and set tongues wagging about a massive comeback from the world's oldest motorcycle manufacturer in continuous production.
From the seller:
How do you even begin to describe this bike? The bike that was never meant to be?? This bike was purchased in November 2006 by a collector and has been stored away until 2014 when Moto International "woke it up" for its first time. It was taken around the block and then placed back into environmentally controlled storage again until it arrived here at SUB last week. 1225cc of Italian Thunder, one of a kind for sure. Bike comes with rear stand, a garage cover and a spare set of race bodywork.

2004 Moto Guzzi MGS-01 Corsa – under 5 miles – ZGULRRA004M10045 – $55,000.00

Contact: Dave at Seattle Used Bikes (dave@seattleusedbikes.com)
While potentially tame by today's standards, one look at this large cubic centimeter v-twin belies anything but. Passe use of air cooling shows deep roots, but with a deep oil sump and large oil cooler hidden behind the headlight area the MGS-01 is an Italian take on the air/oil cooled first generation GSX-R. Technology rears its head in the form of the 4-valve heads and includes special hi-temp metallurgy to ensure high RPM longevity. The big slugs that slide through the ceramic-lined cylinders are specialty items from Cosworth. Ultimate power came in at 122 HP at 8000rpm, with a 83 lb/ft wall of torque at 6500 RPM. The tranny is an upgraded six-speed unit. The frame was a one-off, suspended by Ohlins front and rear, and riding on specialty OZ Racing wheels. Braking is brick-wall solid stopping power thanks to radial mount Brembos with floating rotors. Although shaft drive is retained, this is a no-holds barred racebike.
There are some who may not view this as a legitimate racer – which flies in the face of Mike Baldwin winning an AMA championship on a Guzzi 850. The DNA is there, the roots are there, but unfortunately the finances and follow-through were not. Moto Guzzi, first acquired by Aprilia – who was later acquired by scooter conglomerate Piaggio – continues to market a few motorcycles based on the successful V7 concept, but the MGS-01 was the last of the real thunder. And while the world held its collective breath for a new model to appear with lights and horn, sadly none arrived. Thus, the racer (the wealthy gentleman's track day bike) is all that remains of the project. An estimated 150 Corsas were scheduled to be built, with as few as 50 to be sent to the US. In typical Italian fashion numbers are very hard to corroborate – but rest assured that you are looking at something very rare and very special indeed.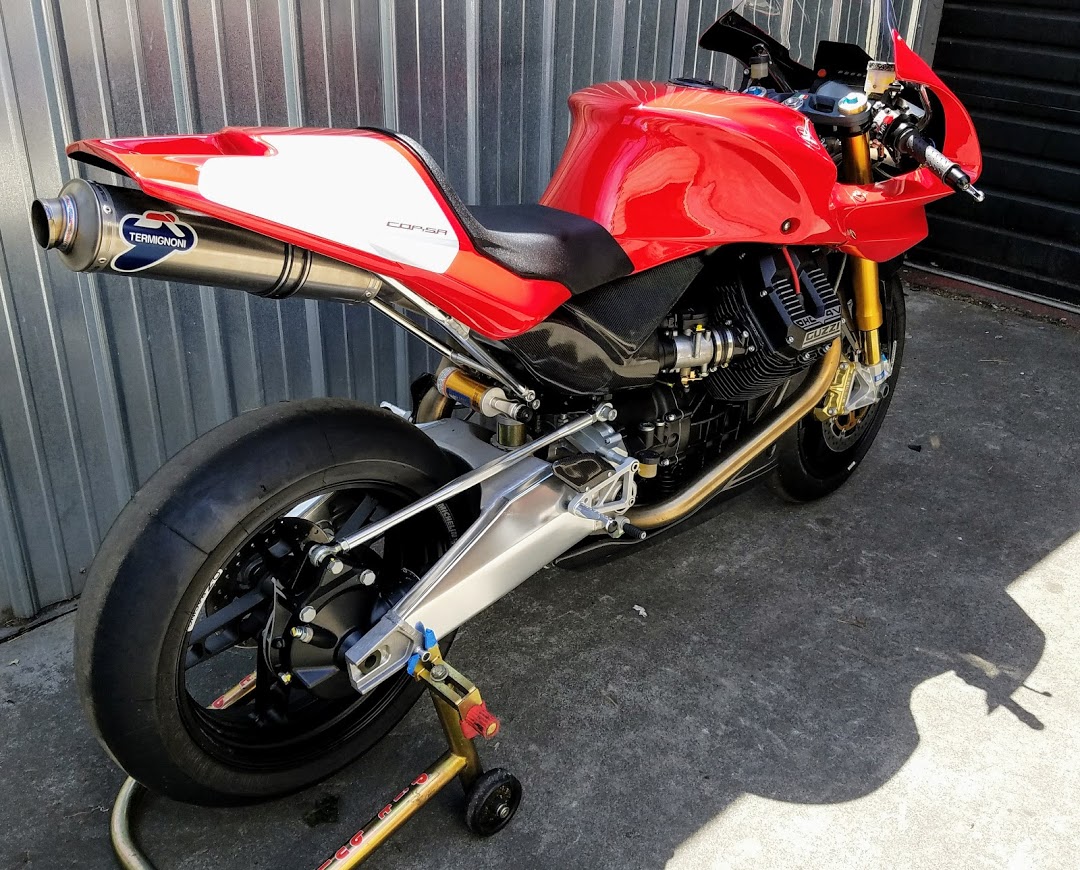 This particular example has but 5 miles – total. Long a collector museum piece, VIN number "…0045" was brought to life in 2014. This is as close to new – with veracity of having been run – that you can get, and far better than most of these (few) models we have seen. The price is very much in line with historical numbers, and represents a bargain compared to where this bike will go. This model is part myth, part miracle and utterly magnificent. The legend of the MGS-01 has grown since inception, as has the waiting list for an available example. If you are in the market, RSBFS recommends you contact Dave quickly – this is one bike that will not hang out for long. Good Luck!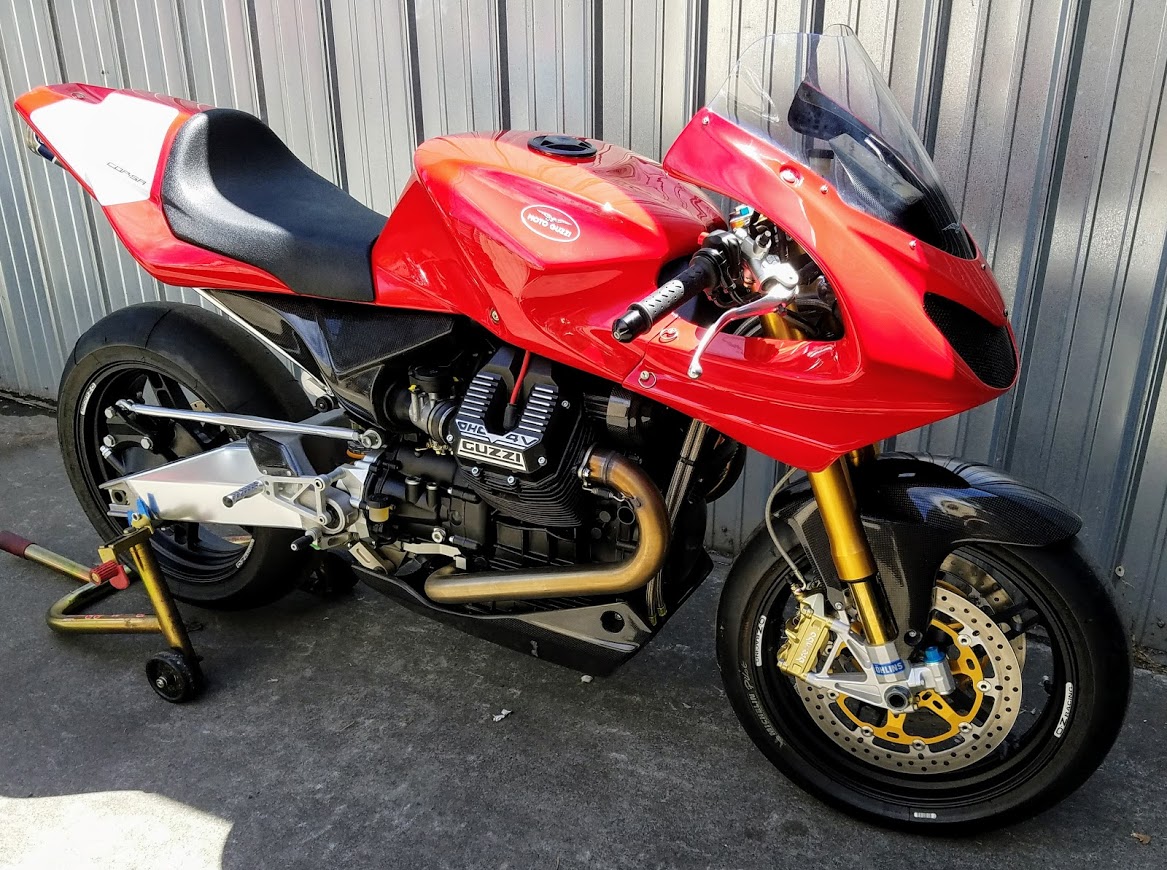 MI