1.15.2018: The owner has informed me that this bike has sold! Congratulations to buyer and seller! -dc
What could have been the Bimota BB-2 was called the V-Due and had Bimota's own engine, a modern two-stroke, fuel-injected 500cc twin.  However the army of engineers Bimota didn't have allowed the project to proceed with a faulty crankcase and caused a recall which virtually bankrupted the company.  In the throes of it the factory developed a race series and released a number of machines in racing trim, as the Trofeo, and then as customer Evoluzione Corsa machines, of which this example is presented with zero miles.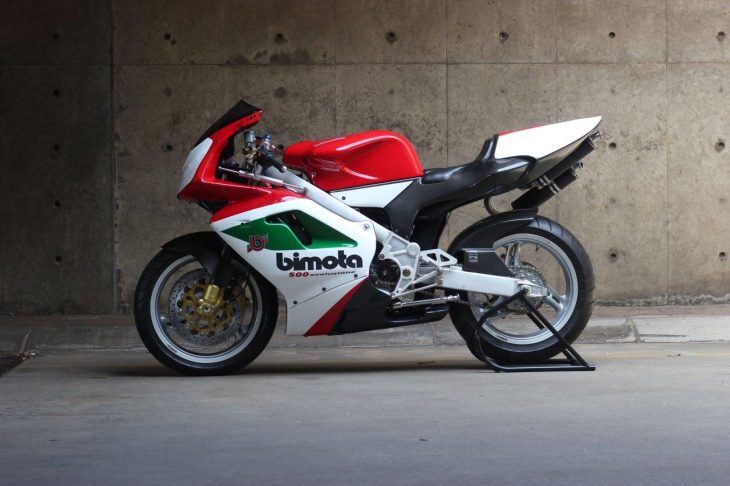 Bimota originally envisioned the V-Due as a GP racer, but sold road-ready machines to keep the lights on or homologate the design.  Powered like a liter-bike but weighing in like an F2, the new-technology 500 could have been a game changer.  Behind the upper edges of the endurance fairing were the oval aluminum tubes of the perimeter frame, suspended in front with 46mm Paoli forks, and in the rear by Ohlins monoshock.  The slippery monoposto was brought to a halt by 320mm Gold Line Brembo brakes.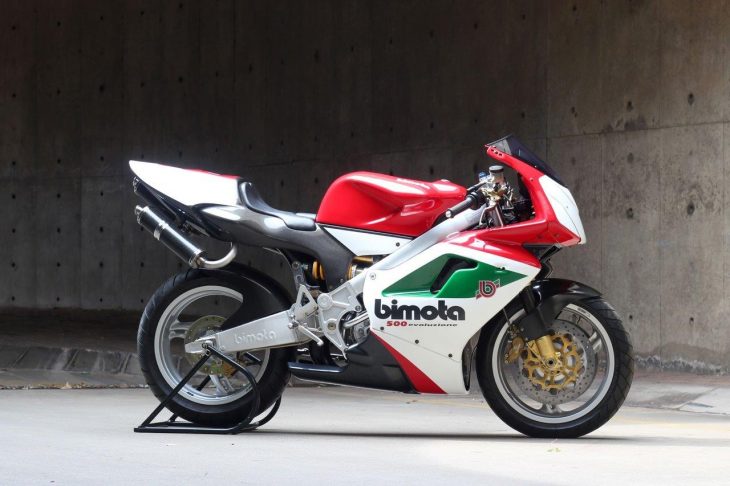 The V-Due Evoluzione Corsa was delivered without signals or mirrors and with lights faired over, and carbon used liberally to keep the weight well under 400 lbs.  Twin Dell-Orto carburetors replaced the fuel injection, decals declared Evoluzione on the fairing.  The expansion chambers wind their way under the seat fairing and circle back to the twin carbon mufflers.  Antera designed and produced 17-inch alloys especially for the build.
Having never been fueled or started, this Evoluzione is in a display-ready class by itself.  While many have been ridden and worked on to address running issues, careful storage and preservation has resulted in a virtually perfect example.  Here are the owner's comments:
2001 Bimota Vdue 500 Racing (Evoluzione Corsa), as new and never been run. Complete with original stand, cover, mirrors, spare keys (still joined as from factory), owners handbooks and import/delivery literature. This bike has been carefully stored in climate controlled surroundings since import to South Africa in 2004. Before taking delivery, the seller sent her Ducati South Africa for a full run-through, hand turn, and check of everything. She has been prepared for storage, and remained in this state since. This is the Vdue to own, the 135hp version without the FI engine issues/peaky power delivery, numbered tags/vin (can be registered), and in my opinion the prettiest livery in motoGP guise – with the headlight blank, those race pipes and that digital dash - Rare, pure 90's exotica.
Bimota suffered a short shutdown after the V-Due saga but regained their stature as a developer of exotic sports and racing motorcycles.  The company is currently focused on Ducati engines, and offers their Tesi frame as well as a more conventional sportbike and a city-sport.  With reports earlier this fall of another plant closure, Bimota's amazing story may need to be continued by a new investor.  The V-Due holds an interesting spot as Bimota's only bike with their own powerplant.
Justin's V-Due continues to be stored in South Africa, and he asks $39,000.