Update 10.17.2021: SOLD IN ONE DAY to an RSBFS Reader! Congratulations to buyer and seller!
Seller testimonial:
Hey Dan just wanted to let you know I got a bunch of guys (legitimate) called today 1st day on your site. Receiving a deposit shortly. People all over the country. I had somewhat little response on cycletrader for the week it's been on there. Kudos! I'm relatively new to raresprtbikesforsale so I wasn't sure how it would go but clearly you have a lot of followers. And you wrote the article up real nice too which helps. Thanks again.
If you have a bike for sale that would benefit from this kind of exposure, contact us for a Featured Listing. -dc
The Honda VFR750F is an icon. Through 10+ years of constant production, evolution and improvement, the VFR gained notoriety for doing everything well. This is not a bike that just ticks one of the "most" buckets; it is not the cheapest, it is not the lightest, it is not the most powerful, it is not the most race-like, it is not the fastest. But for those that actually prefer to ride, the VFR has been a constant companion offering good looks, great performance and legendary reliability. From the clean sheet beginnings way back in 1986, the VFR steadily improved to what can only be considered as close to motorcycling perfection as possible.
Featured Listing – 1997 Honda VFR750F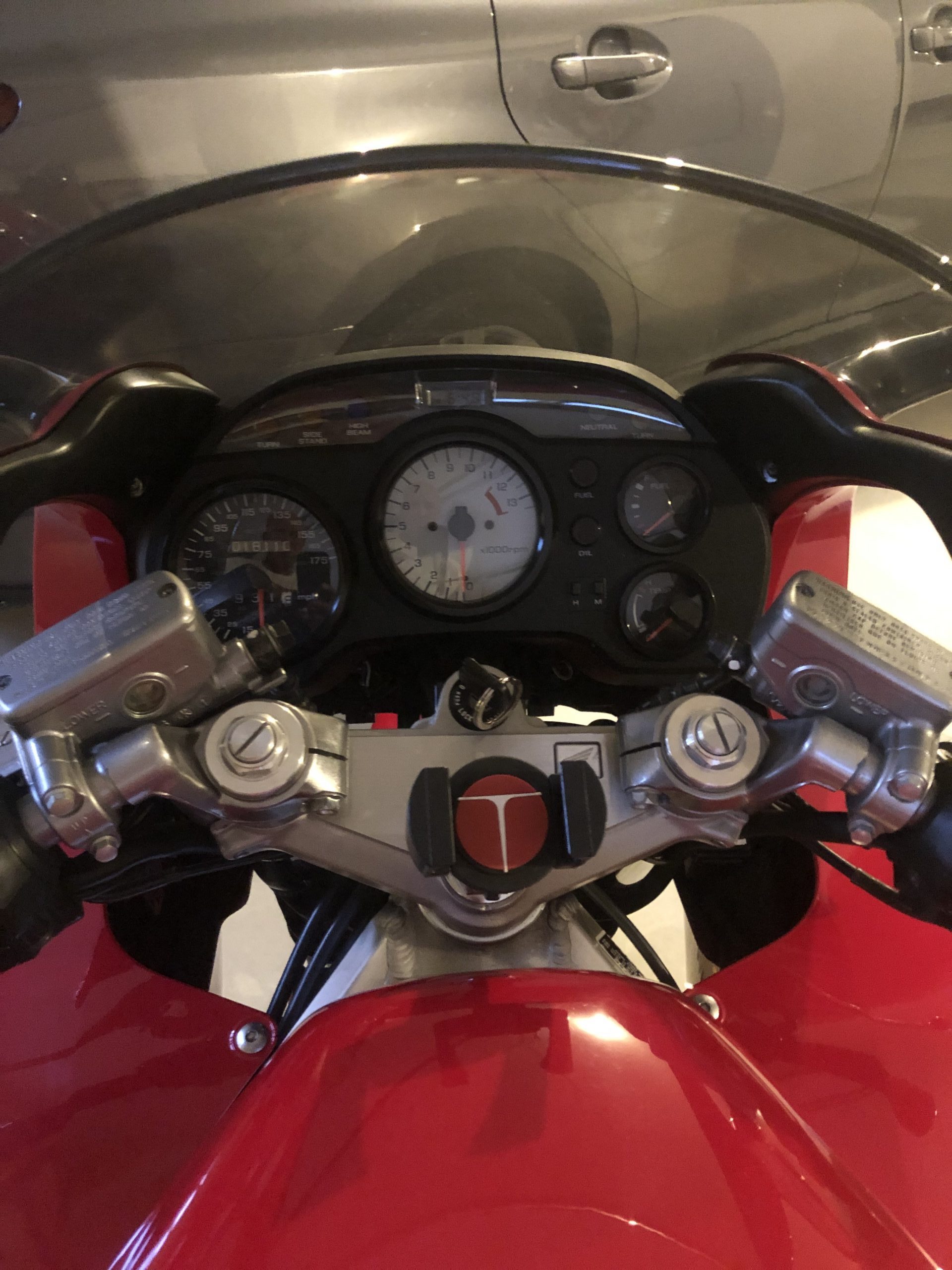 The VF line was born around the V-4 engine configuration. And while the earliest of the VFs utilized a timing chain to invoke the 4 valves per cylinder, the evolution quickly moved to uber-reliable gear driven cams such as are found on the RC30 and RC45 racers. The same goes for the race-bred single-sided swingarm, as well as the aluminum, twin-spar frame. And if you cannot see a profile resemblance to the famous NR750 perhaps you need to check your pulse. But the VFR is not a racer – it has all of the DNA necessary to become so, but it knows its place in the world as an incredibly capable all-rounder. Devoid of the "character" flaws of other exotics that require the rider to make concessions, the VFR can commute, canyon carve, rip it up at a track day, and take you to points far and away as a sport tourer. I challenge you to name any other platform that has this breadth of capability.
From the seller:
Mint condition, close to museum quality, vfr 750. Brand new Dunlop tires. 18,250 miles. Oil changed 3 months ago with amsoil full synthetic 10/40. Oil has about 800/1k miles on it as do the tires. Bone stock not a single thing modified. Only things not original are tires, battery and gold chain. Bike starts up instantly, choke works perfectly. The bike idles perfect. Runs strong as new. It's apparent to me by the condition of the bike that it was well maintained in every way since new. Turn key bike that needs nothing. I ride the bike casually on nice days, miles may increase a little. Bike comes with a cover. Stored in my garage and not ever driven in bad weather. Please call if interested 856-405-7830. I'm not answering emails. The towel under the center stand is there to protect my new garage floor from being scraped. The bike has no leaks at all.

Asking Price: $5,500
For just a touch over 8 grand the 1997 you could walk into a showroom and ride out on what is arguably the best motorcycle of all time (don't take my word for it – check out how often the Interceptor has shown up on annual "best of" lists). But given its less rare status as a mass-marketed UJM, the market has yet to come back around to equalizing value for money. That makes the last era of the VFR750F – such as today's Featured Listing – an outright bargain in the used bike market. This is really the pinnacle of Honda engineering and quality, at a price well below that of comparable bikes. With the capabilities of more modern bikes without the confusing and annoying electronic gadgetry, this is as pure as riding can get.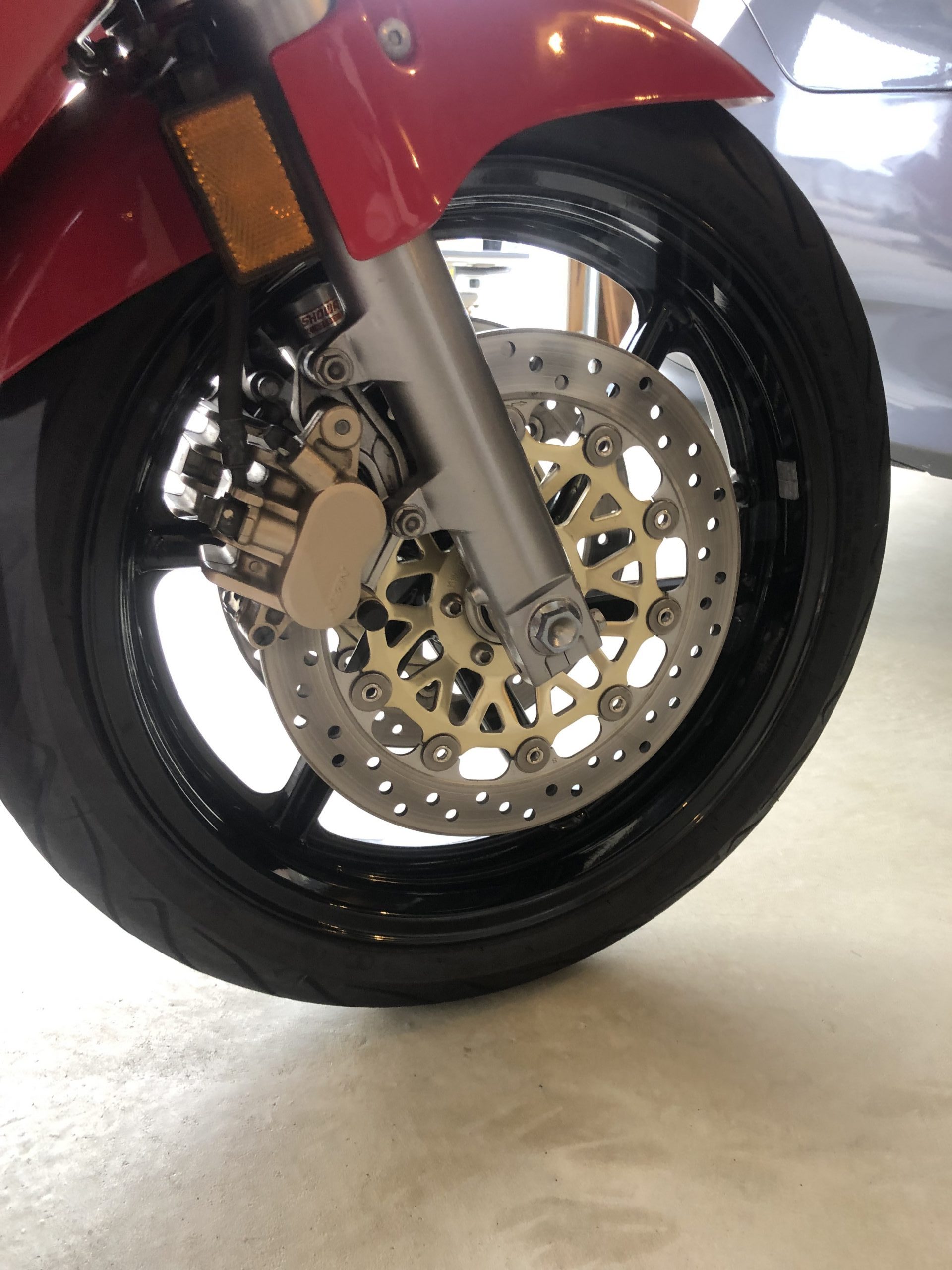 Today's 1997 Honda VFR750F Featured Listing is a pristine example of the breed. Obviously well cared for, this bike has traveled fewer than 800 miles per year on average. And it looks the part. Check out how clean this bike appears, despite the 24 years that have passed since it first sat in a showroom. Stone stock the way Honda intended, the plastics look flawless. There is no corrosion on the wheels, the forks, or the brake/clutch master cylinder reservoirs (common areas to show weather-induced flaws). No fender hack here, no Pep Boys shorty turn signals, no superfluous stickers, no color-tinted windscreen, no flashy loud pipe – nothing that the engineers and assembly line personnel at Honda did not fit to the bike. That is clearly worth the price of admission, as finding these models in this sort of condition is not easy. If you are looking for a neo classic – a bike that will age gracefully, ride comfortably and last forever, make a deal. Good Luck!!
MI