Update 7.24.2022: This bike has SOLD to an RSBFS reader! Congratulations to buyer and seller! -dc
Aprilia had a championship winner on their hands with the 1991 RSV250 road racer, and took it to the streets in 1995 in the RS250.  RSBFS reader Phil has been caretaker and occasional rider of this original and exquisite Mk. 1.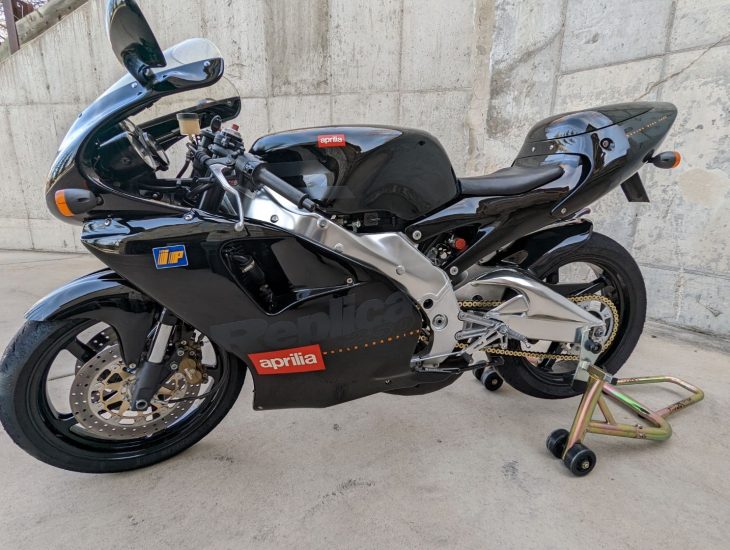 1997 Aprilia RS250 asking $12,500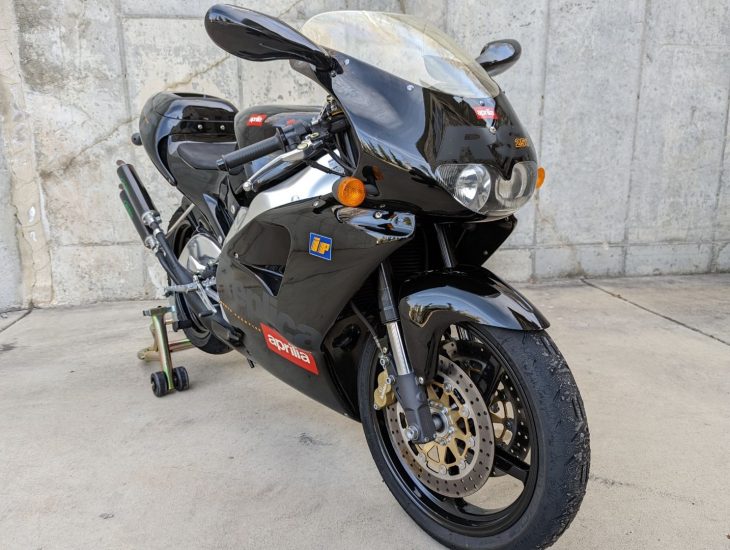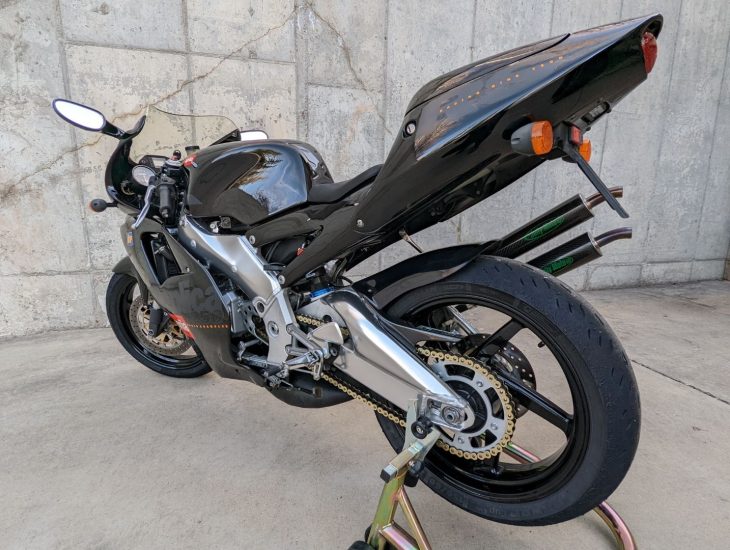 Engineers put their sweat and tears into the RS250's artful chassis, formed and welded alloy parts to make it rigid and light if not easy to understand.  Knowing that bringing their racing 249cc engine to the road would take some doing, Aprilia tapped Suzuki to supply their V-twin from the RGV250, and made their own intake, exhaust and ECU – resulting in 72 hp.  Suspension is leading edge with USD forks and asymmetrical magnesium swingarm, and the brake sizes would have been seen on a superbike just a few years before.  Ergonomics take no prisoners but make the rider ready for the next squiggly line on the map, and the peaky powerband coaches the left foot to keep 8,500 revs at a minimum.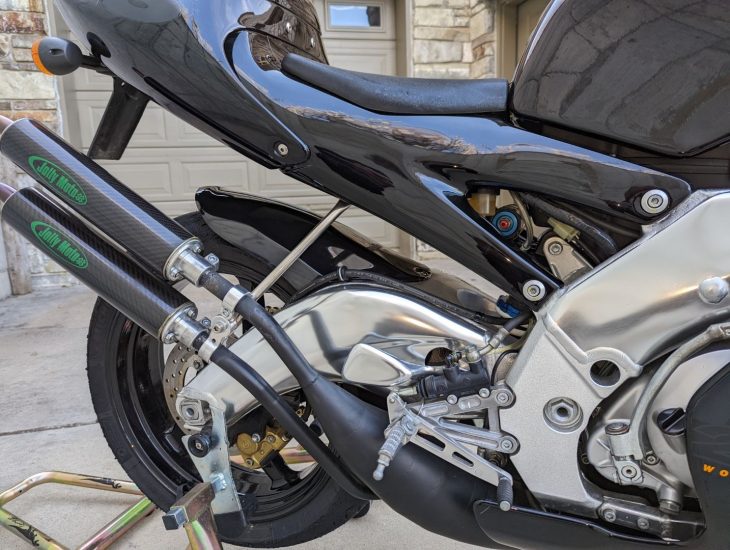 Phil's RS is a grey market import, and the metric odometer indicates 3,400 miles.  A friend owned it before him, and let it sit for an extended period, which Phil has reversed by a generous application of maintenance.  We'll let him pick up the story –
My 1997 RS250 has a gray origin history, but the last 2 decades are clear. It is an Italian market bike, imported into the USA sometime in the early 2000s. It is a 17 digit VIN. It was purchased in 2004 by an acquaintance as a track day toy. He intended to ride it on occasion at the Autobahn country club. He had it prepped for use including tires, fluids, adjustments, etc. Not wired. It was stored in a garage awaiting that first ride. Time passed and it never turned a wheel – either on the street or track! I acquired the bike in April 2021 and had it shipped to me in UT. It showed 4,998 km on the clock. I went through a thorough reconditioning replacing the tires, fluids, hoses and fuel lines, complete carb rebuild, caliper rebuild, rear master replace, chain, air filter, and new battery. All with correct parts where available, sourced from APR and European suppliers. The engine was not disassembled. Oil pump, power valves, carb sync and choke cables were all adjusted to specification. New oil pump lines were installed. High altitude jetting was installed to complete evaluation rides in my locale and all was good!
The bike was trailered to Road America to participate in a 2 day trackday in July on stock jetting. The bike was awesome! The odo now shows 5,482 km which is where it will stay for the time being. Jetting remains at stock settings with the tank and carbs drained. Bike starts first kick every time.
The bike is cosmetically a 9/10+. No corrosion anywhere. The V-shaped portion of the belly fairing shows some stone damage. Two other minimal marks exist on the painted surfaces. A couple of rock chips on the nose fairing. No peeling or blistering anywhere. The frame is polished and shiny like it should be with no marks. The OEM key fob left a rub mark on the triple clamp so it has been removed from the key and placed with the original tool kit. The bike is stock save Jolly Moto expansion chambers with carbon silencers. Pillion seat and footrests are missing as are the stock exhausts. All lights and indicators are present and working. I have a clear UT title in my name. The bike can be registered in UT without restriction.
The unfaired pictures show this gem has been detailed even underneath it all.  The only bit showing any wear could be easily replaced and the next owner could show or go.  Phil is asking $12,500 for his RS250.
And here's a short video-
<
The next owner of this RS250 could go either way, hit the back roads and embarrass four-strokes with double the displacement, or get the safety wire pliers out and join the like-minded at the nearest track day.  Or in this case do either occasionally ( and carefully ), and show it off in between dates.  The original design still looks great 25 years on, and the basic black shows off the chassis beautifully.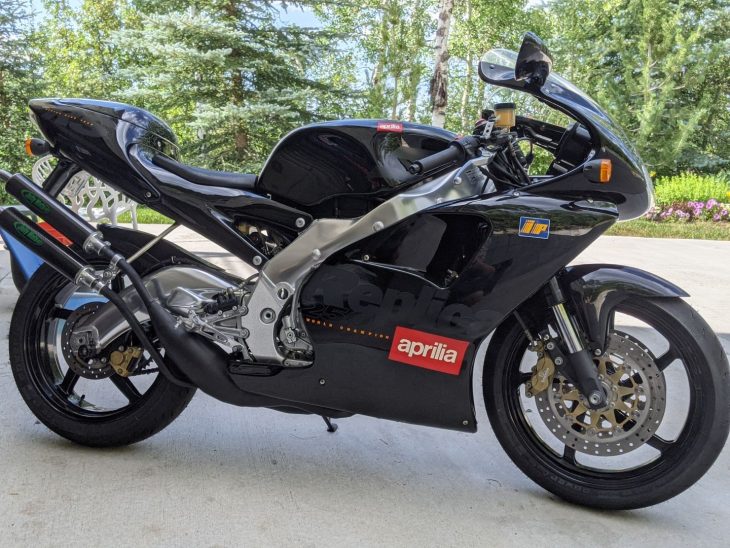 -donn