Update 7.30.2017: Seller has notified us that this bike is now sold. Congratulations to buyer and seller! -dc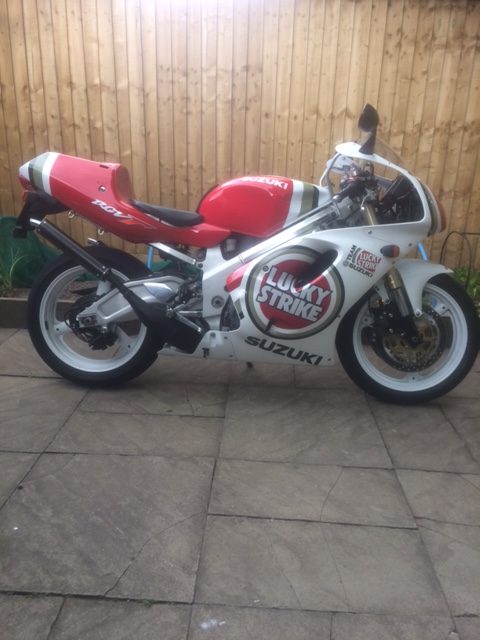 In the glorious 1990s, big tobacco made motorsports run. Cigarette sponsorship was everywhere, and every major series and team was titled by a cancer stick hawker; The Winston Cup, The Camel GT series (as well as the Camel AMA Supercross and Camel Trophy events), Marlboro McLaren, Marlboro Ferrari, Marlboro Penske, Mild Seven Benetton, Rothmans Williams, Benson & Hedges Jordan, John Player Lotus, 555 Subaru Rally, Silk Cut Jaguar Group C just to name a few. On the bike front, you cannot ignore the Rothmans Hondas, Skoal Suzukis, Smokin' Joes Hondas, Gauloises Factory Yamahas, and many, many others. Of course in the world of RSBFS, the one that really matters is the partnership of Lucky Strike and Suzuki. Which brings us to our bike: An original 1996 Suzuki RGV250V VJ23 Lucky Strike.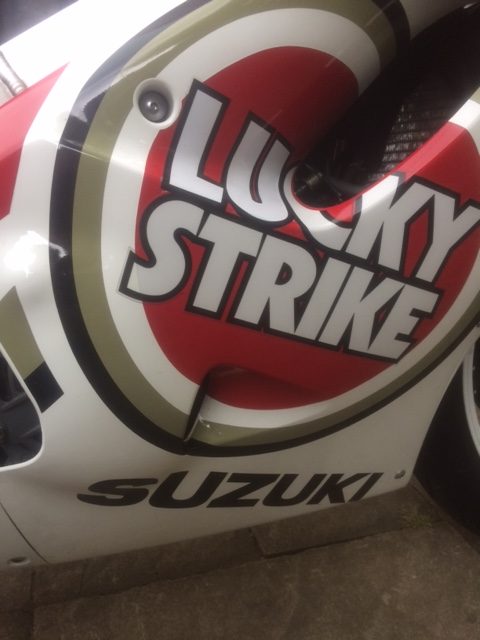 The RGV series was a popular and successful one for Suzuki. Using a liquid cooled v-twin to replace the earlier, parallel twin RG models, the RGV provided more power in a slimmer package. The results were impressive on the racetrack (so much so that Aprilia licensed the VJ22 powerplant for use in their own bikes), and translated tolerably well to the street. Suzuki RGV models are some of the most popular of the import two-strokes we see on these pages. So while RGVs may not be uncommon, this specific variant – the factory Lucky Strike livery – is very rare indeed. Just over 100 of the VJ23 "V" series were released for export as Lucky Strike models. There were an additional ~240 LS "T" models created for the domestic home market. To find a clean example that is not a fake Lucky Strike (cheap body panels are available) is a tough chore. Buyers need to be very careful, scrutinizing chassis numbers, SAPC versions, and other details such as exhaust chamber part numbers to ensure that they have 1) a VJ23 to begin with, and 2) the holy grail of the RGV lineup, the Lucky Strike Edition.
From the seller:
1996 (97 model) Rgv250v
Factory Lucky Strike
One of 119 in this scheme, these were the last of the vj23 line.
This was originally exported to China and is one of three that I own.
The full power bikes were quoted at 55ps in the sales brochure not 70.
This is unrestored except for the fact I've renewed all chassis/wheel brgs and consumables like carb rubbers.
Brakes and forks have been overhauled.
Engine is fine and has perfect compressions
Only non or parts are the carbon cans/nitron shock/brake lines
All oe parts are included,;seat/rear pegs/original shock/hoses/OE cans
Recent chain/sprockets
This bike needs nothing.

Price: £16,000 (plus shipping)


Like most Japanese bikes, there are a couple different variants of each model depending upon the intended market. Japanese home market bikes will always be restricted to a lower output due to licensing regulations. Bikes destined for Western Europe (specifically Germany and Italy) had a mid-grade output specification. Bikes headed to Canada and Australia usually were full-power examples, and where the higher HP numbers were quoted.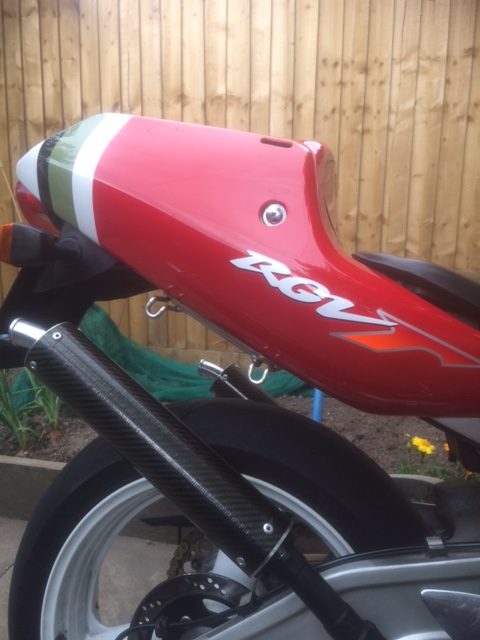 This seller is extremely knowledgeable in this model. While doing some research in the past, I came across some of his wisdom on a RGVs site, and I refer to it now and again. This is a good thing when it comes to very rare machinery; with Lucky Strike fakes pretty common, nobody wants to plunk top dollar down for any less than genuine. Fortunately, this looks to be a verifiable article from the factory. It is the last gen of the RGVs and probably the most desirable of the models. As such, it can command market price. The seller is looking for 16,000 GBP, which equates to approximately $20,400 USD at the current exchange. Drool over the pictures a little bit; your computer won't mind.