Sold for $8,600. Congratulations to buyer and seller! -dc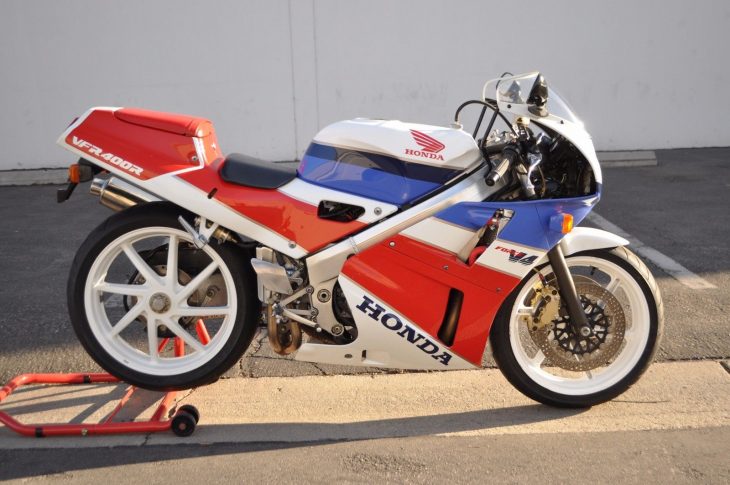 Since they were never offered stateside, the smaller V-4's have an undeniable cachet as well as sparkling performance and appearance.  The VFR400R looks for all the world like its 750cc brother and can just about keep up until a long straightaway.  On a no-reserve auction, this NC30 has been carefully refurbished and sports a spare set of bodywork and Ohio registration.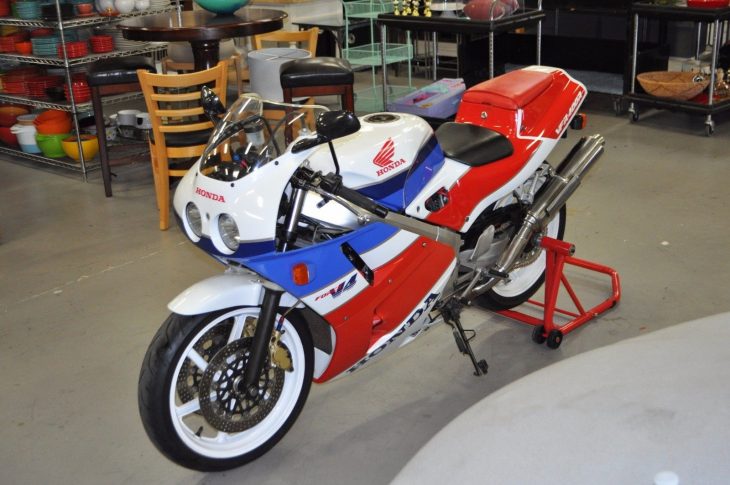 Though it uses a similar 399cc four-valve V-4 to previous generations, the NC30's used 180-degree crank timing, resulting in a "big-bang" sound and torquier power delivery.  The later VFR40oR's also moved the exhaust to the left side of the bike, showing off the 18-inch alloy rim with the single-sided swingarm on the opposite side.  Equipped to have aspirations, the NC30 had a 6-speed transmission, triple disk brakes and 41mm forks.  Though the factory color schemes generally revolved around racing red, the aftermarket has specialized in replica race liveries.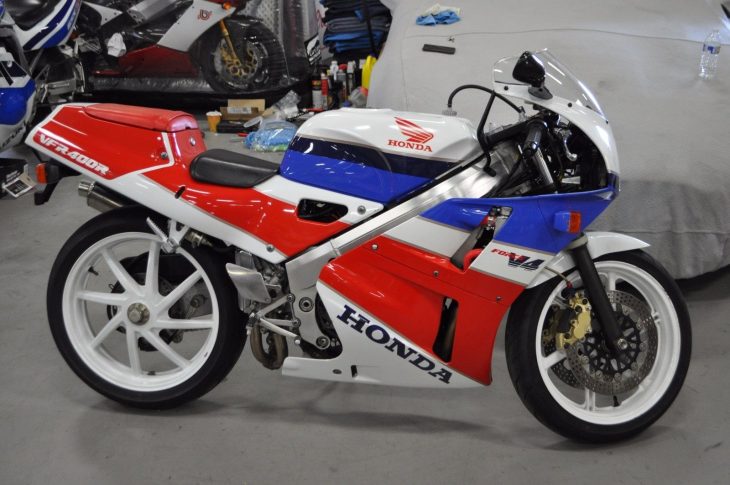 The California owner has gone over his NC30, and paid particular attention to the brakes, cooling system, and component corrosion, a common malady on gray-market machines.  He provides a comprehensive list in the eBay auction:
The bike is a 1992 NC30 Type 7 with Type 1 fairings.  She only has 6568 KM's on here which is about 4081 Miles.  The gauges are in km's so note from the pics you will see it reads 6568.

 

Here's what I've sorted out since I've owner her (I only put on 100 miles since purchased):

Subframe had some corrosion, pulled it off, had it sandblasted and put 4 coats of silver paint before reassembling.  Did the same with passenger pegs and assemblies.
Took off carbs, completely dismantled, cleaned them for the better part of a full day, cleaned out any grime, old gas residue etc.  Fixed the broken idle screw as well.
Installed new Factory quality carb boots as original ones were a bit dry and had small vacuum leaks.  Replaced most of the carb boot rings too as they were not ideal.
Flushed the cooling system twice before pulling apart and opted for brand new oversized, high flow aluminum radiators.  Original hoses were ok but seeing that the bike is 25 years old, I upgraded the hoses to high temp silicon as well.  And yes, I changed all of them including the one on the top of the motor that's difficult to get to.
I went ahead and installed new NGK spark plugs, fresh oil and a new oil filter.  Also went for a very nice quality (and a bit pricey) air filter to keep things clean.
Took the bike to about 90 on the freeway but brakes felt a little spongy despite having steel braided lines.  I flushed the fluid and noticed a tiny bit of fluid on caliper so I pulled them completely apart, changed all the seals, pulled the pistons and cleaned them up, sanded the calipers a bit to clean off the corrosion, put on a coat of primer and 3 coats of caliper paint.  Put on new brake pads as well.
Original chain was a bit rusty so I replaced the chain with a AFAM Grade 7, Super Heavy Duty Gold XS-Ring Chain.  While I was at it, installed a new hard anodized rear sprocket, a steel front sprocket (both stock gearing) and scrubbed the grime off.  The chain guide was a bit dry so I replaced that too.
Tank rubbers were dry and two were missing so I ordered all new ones from Japan and now the tank rests perfectly on the frame as it should.
I originally planned on keeping the OEM bodywork in storage and riding it with a new set of non original bodywork so you'll see in pics that I started to install it but then decided I wasn't going to keep the bike so rather then continuing to mod them to fit, I just packed them back up.  It's a BRAND new set of rothmans replica bodywork that includes the entire bike (not tank), new fender…literally every piece.  The replica bodywork is MUCH better than prior years, very vibrant in color, perfect stickers with a nice clear coat over the stickers.  They are still a pain to fit but I did most of it already and bought all the clips, spare signals so you don't need to switch them out and a whole slew of extra bolts and screws just in case I needed them.  Anyway, entire spare bodywork set will be included with bike.
The OEM tank colors do not match the Rothmans bodywork so I bought a spare tank that's also included.  As you can see in the pictures, it's in really great shape but has a small crease dent in the front.  It's in great shape other then that and would be an easy repair if you wanted to get it painted to match the back up bodywork.
Many of the bolts have been upgraded and changed out to replace some of the corroded ones.  You can see the pinch bolts, caliper bolts, many others in photos.  They added up $ wise too.
Bike will also include stock radiators (in fine shape), stock hoses if you want them and lots of spare parts I've gathered up. (extra pegs, an extra seat cover in black in case you don't like red, levers…etc)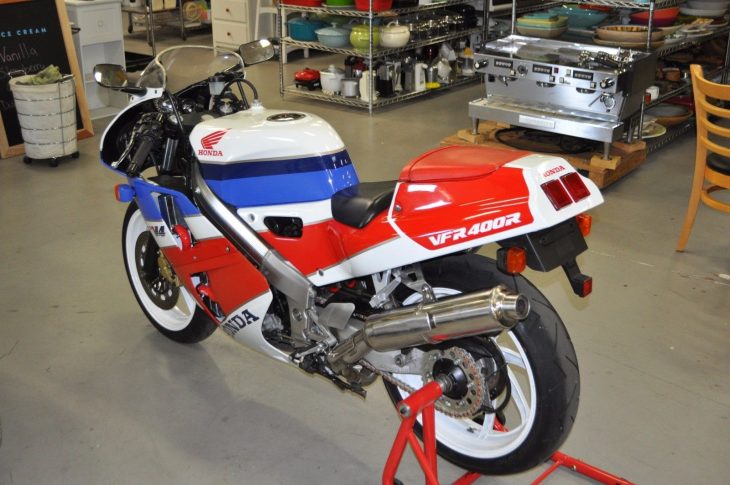 The owner wanted the body to be as nice as the mechanicals, and purchased a Repsol replica fairing set.  Most of the way through fitment, he caught another project and decided to put this one up for sale with the original Honda fairings, and includes the Repsol as a spare including a fuel tank in factory paint.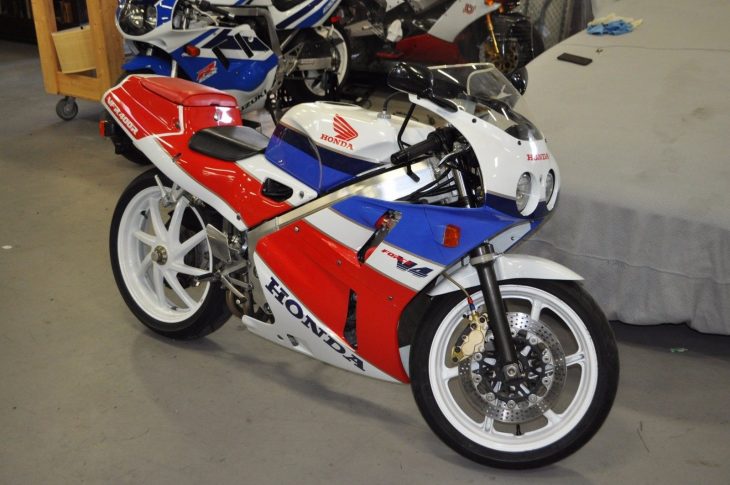 October being the time for gutsy baseball, this NC30 is shown in various degrees of undress, and the auction is without reserve.  Someone will be riding this VFR400R home, as auctioneers used to say, and it is a great year.  Reviewed as the easiest of the 400cc group to ride fast, but a tad softly sprung, slightly under-braked, maybe a skwosh overweight.  The owner also has a work-around for California registration, which might make it do-able if that's a requirement.  Considering the low miles and new parts, this NC30 seems worth keeping a close eye on…
-donn