Update 6.1.2016: Sold in just one week! Congratulations to buyer and seller! -dc
If Honda's history of brilliant technical innovation has a downside, it's that it sometimes posits answers to questions no one actually asked. Some recent missteps like their sophisticated but overweight and expensive VFR sport-tourer suggest that they've just recently lost their way. However, it's definitely not the first time they created a bike that had seemed to have no real built-in audience, and bikes like today's very sharp-looking 1986 NS400R show that this is really nothing new for Honda.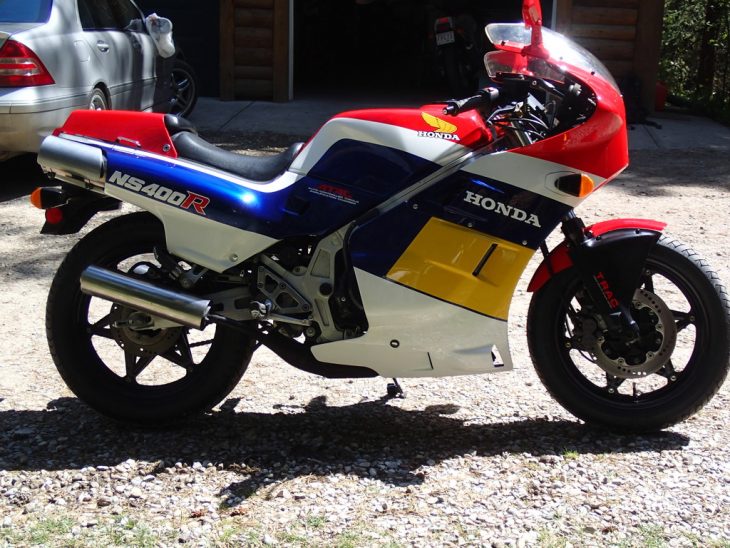 Meant to capitalize on Freddie Spencer's wins on a 500cc machine and pitched against exotic race-reps from Suzuki and Yamaha, Honda introduced… a 400cc motorcycle, although it at least did feature something approximating the race machine's unusual 90° V3 layout: a bit like a Ducati "L" twin, one cylinder is nearly vertical, while the other two jut forward. Race bikes actually featured the opposite: two up and one down. Carburetors are nestled in the center of the vee, and the overall dimensions are very compact, allowing the engine to be ideally positioned in the chassis.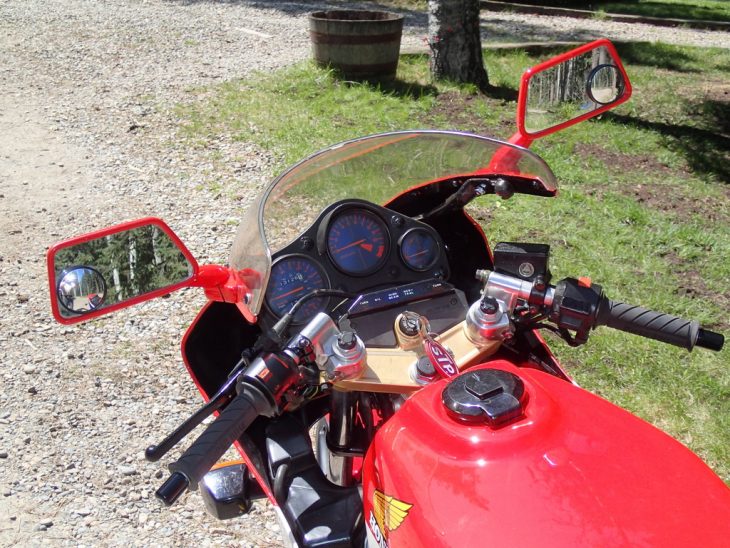 Producing 72hp and backed by a six-speed gearbox, the 400 is far less manic than a typical 250cc sportbike of the era. Sure, the wild top-end rush is still there, but sheer displacement makes a difference and Honda's ATAC "automatically-controlled torque amplification chambers" on the front two-cylinders help bulk up the midrange, so the overall experience is far more civilized. It's probably not sanitized to the level of the RZ500, but the middleweight NS400R surprised period reviewers with its level of refinement. It gets even better once the road turns twisty: thanks to the light dry weight of 360lbs and equipped with sophisticated suspension components and a whole raft of 80s acronyms, the NS400R is often thought to be one of the best-handling motorcycles of the era.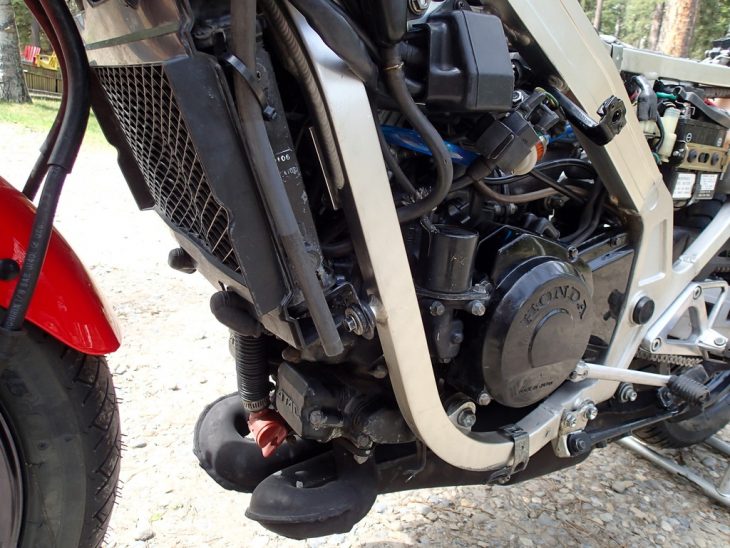 Today's Featured Listing looks impressively clean, with enough miles to indicate regular use, but few enough that it should appeal to collectors who'd like to occasionally ride it. Shots with the fairing removed show that it wasn't just quickly hosed down and buffed up prior to being photographed: the bike has clearly been well cared-for.
From the seller: 1986 Honda NSR400R for Sale
For sale, an immaculate 1986 Honda NSR400R with 13,150 kms (7,900 miles) on clock.  This is one of less than 450 NS400R's originally imported to Canada (although nobody seems to know the exact number for sure) and is registered in Alberta.  The bike is complete, with original parts and fasteners, and unmodified with zero corrosion of the frame, exhaust or gas tank.  The top end of the engine was inspected and piston rings were replaced while it was apart.  Bodywork is original plastic with a fresh coat of paint and clear coated replica decals.  Wheels are in perfect original condition and new Bridgestone BT021 tires were installed. The carburetors still have original factory jetting (rich!).   Everything works exactly as delivered from the factory and is ready for the new owner to enjoy.

Included in the sale are the following hard to find items; solo cowl and two-up cowl(seat and strap), factory rear stand, factory service manual and sales binder, and period magazine articles.  Spare ATAC valves are available at extra cost if the new owner wishes to have them de-restricted (i.e. bored out).  Selling with a current Canadian title/registration and bill of sale.  The owner can assist in the export process and possibly transportation to a shipping depot in Montana.

Price $7,500 USD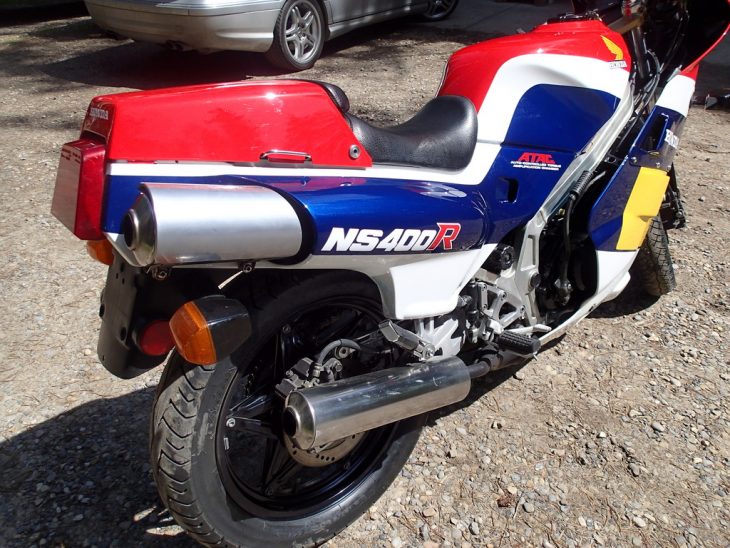 Too small to compete with size-queens who will scoff at the sub-500cc displacement and too big to compete with bantamweight 250s, the NS400R didn't sell very well and was gone from Honda's lineup after just two years. Unlike the 500cc fours from Suzuki and Yamaha, these have languished largely forgotten by collectors and the NS400R currently occupies that weird motorcycle middleground: they're not especially valuable as yet but they're obviously very rare, with interesting specifications and clear links to Honda's race bikes. Largely overlooked by more mainstream buyers, they represent a pretty good value for riders looking to get into weird 1980s exotica or collectors who want to complete their two-stroke or race-rep stable. I'd expect these are undervalued at the moment and the NSR should appeal to both riders and collectors: the larger displacement and powervalve arrangement should make for real-world performance while the 16"/17" wheel combo means relatively modern rubber can be fitted.
-tad