Update 8.17.2020: This Katana has SOLD! Congratulations to buyer and seller! -dc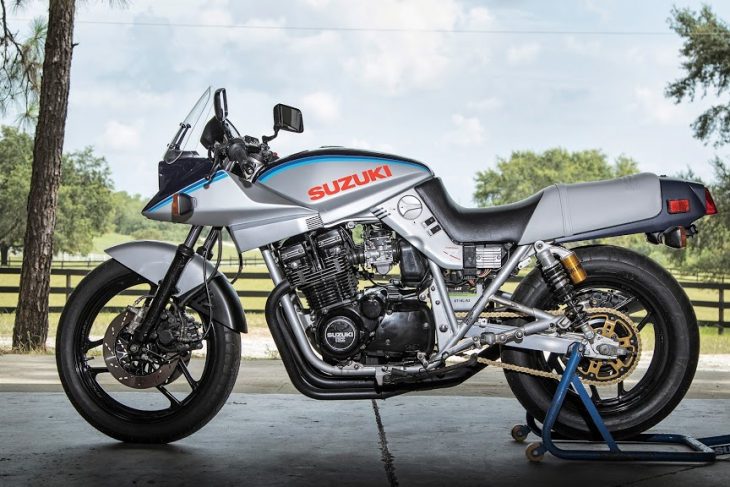 Introduced in 1981, Suzuki's Katana looked so radical and futuristic that it polarized the motorcycling community. Since the GSX-R that followed a couple years later really set the standard in terms of styling for pretty much every sportbike that followed, the Katana ended up with a kind of retro-futurist vibe, a bike from an era that only really happened in the minds of the designer. The bones were very traditional, with a twin-shock rear suspension, a 19″ front wheel, and Suzuki's well-developed but hardly cutting-edge inline four. There's obviously nothing wrong with 111hp and wind tunnel tested aerodynamics, but those looks were the biggest attraction both then and now. And those looks are on display in this gorgeously restored example.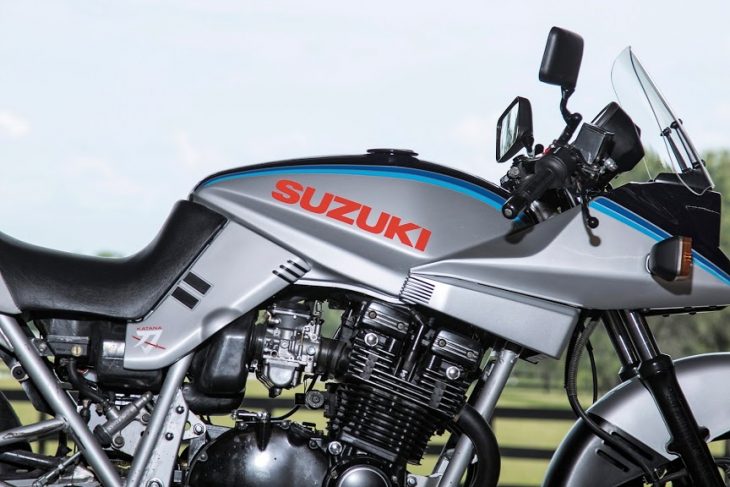 The striking styling was done by BMW designer Hans Muth and Target Design, and aerodynamics developed using Science! gave a claimed 147mph top speed. Later bikes featured a pop-up headlight that was always intended for the bike, and I've always loved the compact gauge cluster that tucks in behind the minimalist screen. The rest of the bike was based on conventional, workmanlike components and proven technology from Suzuki's vast catalog.
The engine was plenty stout and very reliable: an air/oil-cooled 1074cc dual overhead cam inline four with 16-valve heads and Suzuki's Twin Swirl Combustion Chamber technology powered the beast, hung in a twin-shock cradle frame that provided stable handling for the hulking, 535lb wet bike. Anti-dive forks up front were a nod to modern technology, although they never worked all that well.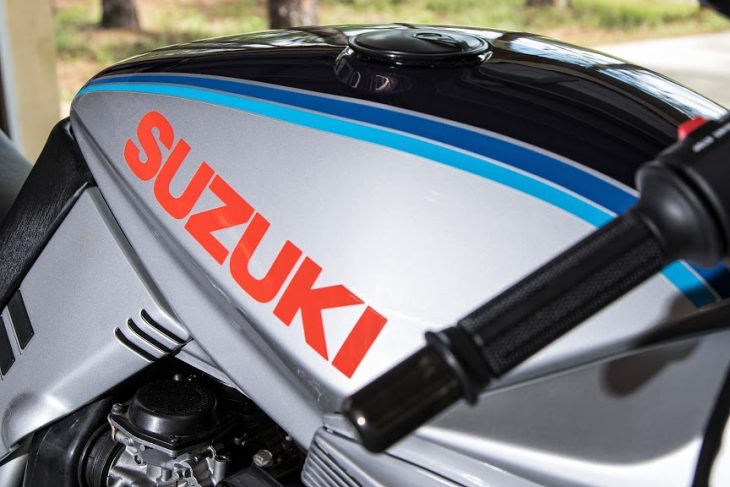 After its introduction in 1981, the bike made it to US shores in 1982 fitted with a 998cc version of the TSCC engine to qualify for Superbike racing, with the full-sized 1074 arriving in 1983. At the time, performance would have been quickly superseded by the GSX-R that soon followed, but those wild looks and musclebike performance make it a fast-appreciating collectible today.
From the Seller: 1983 Suzuki Katana 1100 for Sale
When I took on this project, I approached it as if I were the original owner maintaining the bike as a rider that was well cared for over the years. Trying to strike a balance on original finishes and as preserved as possible. The upper fairing, tank, side vents and side panels are new Suzuki parts. The upper and tank, not sold anymore, are NOS. The tank has never had gas in it. The bike was run with an external bottle prior to final assembly.  When the bike arrived in the shop, it had 19K on the odometer and was documented for title purposes at that time. Upon inspection, sometime around 1985 or so the original gauges were damaged and a Katana 750 set was installed and improperly hardwired on the bike. A new, complete wiring harness was purchased and installed. The proper replacement set of 1100 gauges from Japan were sourced that show 18,820 miles indicated. Title will reflect 19k, as the bike came in.  Bike last titled in 1987.  

Anything that had to come off the bike to be addressed was replaced or repaired to original spec (except carb jetting, K&N and V&H pipe). For example, the tires were replaced so, the wheels were powder coated and new bearings installed. The motor was not pulled from the frame, nor was the frame or swingarm painted. All original patina is present on the frame, including the fragile VIN sticker on the left side. I choose not to paint the frame and swingarm because it is original once. If the new owner wishes to paint the frame and swingarm, that would be their choice and can be handled in this shop. I have the original parts including the old gauge set that were taken off the bike, as well as the rear shocks.

New parts:

Michelin Pilot tires
Ohlins S36P rear shocks
Suzuki wheel bearings
Suzuki NOS tank and upper fairing
Suzuki side panels, left and right
Suzuki fuel petcock
Suzuki mirrors, pair
Suzuki OEM hand grips, pair
Suzuki switch gear left and right
Suzuki front turn signals
Suzuki Ignition coils
Suzuki rear master cylinder
Suzuki rectifier
Suzuki Igniter
Suzuki tail lens
Suzuki signal generator
Suzuki relays
Suzuki oil filter
Suzuki clutch lever
Suzuki clutch cable
Seat cover, replica
K&N air filter
EBC front pads
Replica front windshield
SuperSprox Chainwheels
RK Gold chain
Battery
NGK plugs
Vance and Hines Supersport exhaust
Rebuilt original carbs, all new O rings, gaskets, needle valves
Halogen bulb
Powder coated wheels

Clean Florida title in my name ready to go. Not built to reside in a museum, although it is not far from getting there. Built to ride. The front fork set up is original, no leaks, but not rebuilt. If the bike ends up with me, I will be replacing it with a GSX-R1100 USD unit and a 17in wheel. Runs very well, crisp throttle and ready to go. New Michelin Pilot tires, EBC brake pads

Asking $10,900    

Thanks for the interest.
The seller has posted bikes with us in the past, and all look to have been of the highest caliber, and this one is no exception: unless a pure, time-capsule museum-piece is your goal, you're unlikely to find a first-generation Katana nicer than this one.
-tad