Winning bid was $16,500. Congratulations to buyer and seller! -dc
Friend of the site and uncommon vendor of some amazing motorcycles, Peter brings to us today a very unique example of an interesting and rare motorcycle. You are familiar with Moto Borgotaro already, as Peter has listed Guzzis, Laverdas and Ducatis in the past, just to name a few (check out some of Moto Borgotaro's work on RSBFS here). Every time Peter is involved, we see a beautiful bike, exquisitely presented with high quality photographs. Today's specimen is no different, but it does have a twist. A tastefully hot-rodded oddity from BMW, Moto Bototaro brings us a 1982 BMW R65LS, reimagined and refined with power and elegance.
1982 BMW R65LS Custom For Sale!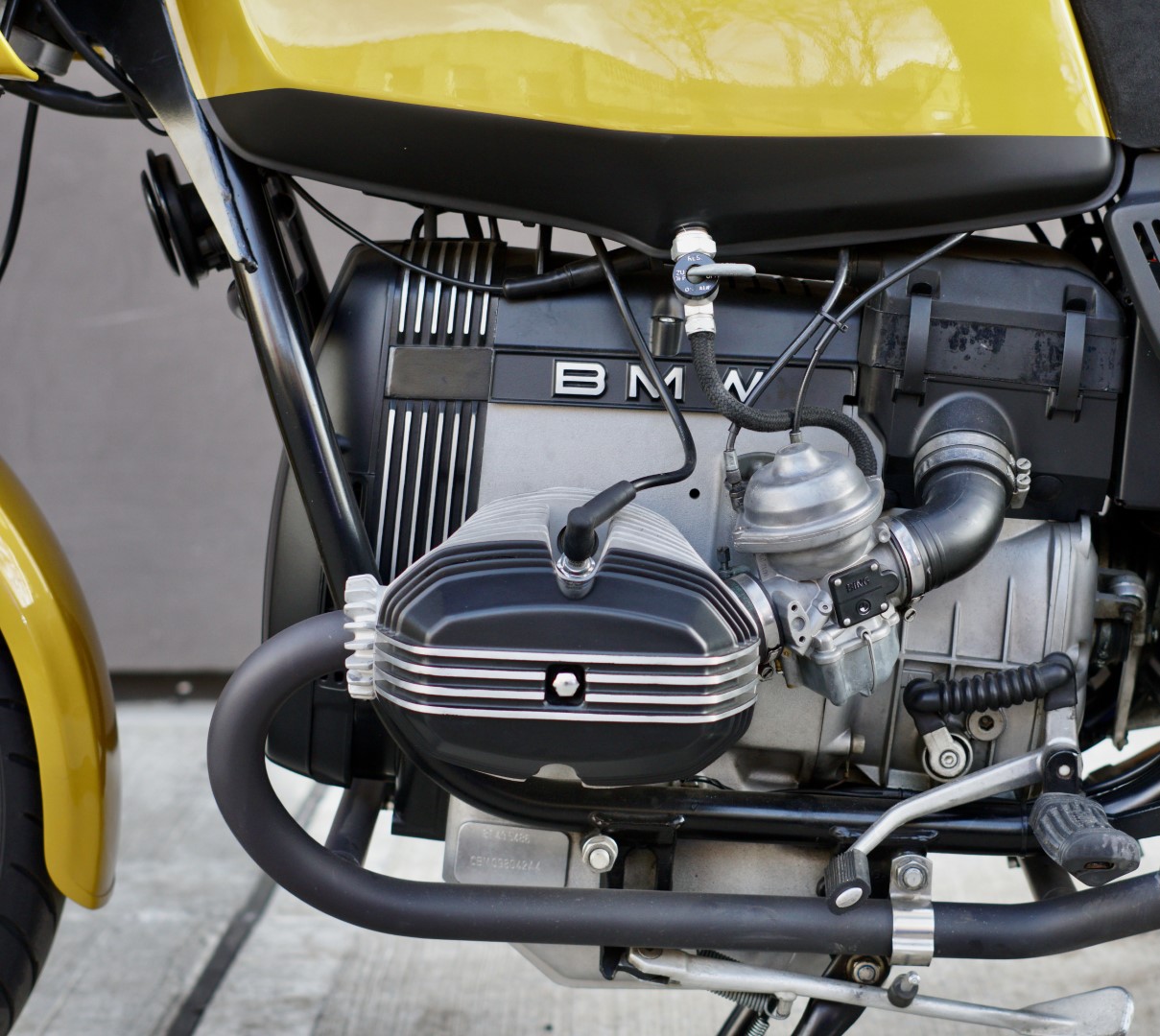 Designed by Han Muth of Suzuki Katana and XN85 Turbo fame, the R65LS differed from the plane Jane R65 thanks to swoopy-yet-understated bodywork; a small bikini fairing (which is said to cut down on front end lift by 30%), and a tail section with aerodynamically integrated grab handles. The snowflake cast wheels, painted white, were also unique to the model (and later utilized elsewhere). The engine remained the same R65 "airhead" powerplant across the line; large pistons pushing through a relatively small stroke, two valves per head operated by pushrods and a central camshaft, and a dry clutch connecting the 5-speed transmission and final drive. The R65LS did have unique valve covers, but no difference in power or performance. In stock form, figure 50 HP pushing 450+ pounds of solid, overbuilt German engineering.
From the seller:
I acquired the doner bike from the second owner with only 6600 original miles on the clock, the frame was in near mint condition so, it made sense to refinish it. The paintwork was sent to Holt BMW (one of the best painters in the BMW community) He opened up his Glasurit paint code books and proceeded to make some tests for the final color you see here.

The motor has a brand new 860CC piston and cylinder kit from Sibenrock BMW, at the same time the heads were sent for complete refinishing, new seats, guides, and valves were fitted and the valve springs were checked for tolerance. At this time I also fitted the new Asymmetrical camshaft from Siebenrock.

The carburetors were completely rebuilt and ultrasonically cleaned, all airbox rubbers replaced and K&N air filter fitted. The exhaust is a special unit made by Cone Engineering. The original exhaust headers and crossover were ceramic coated in black.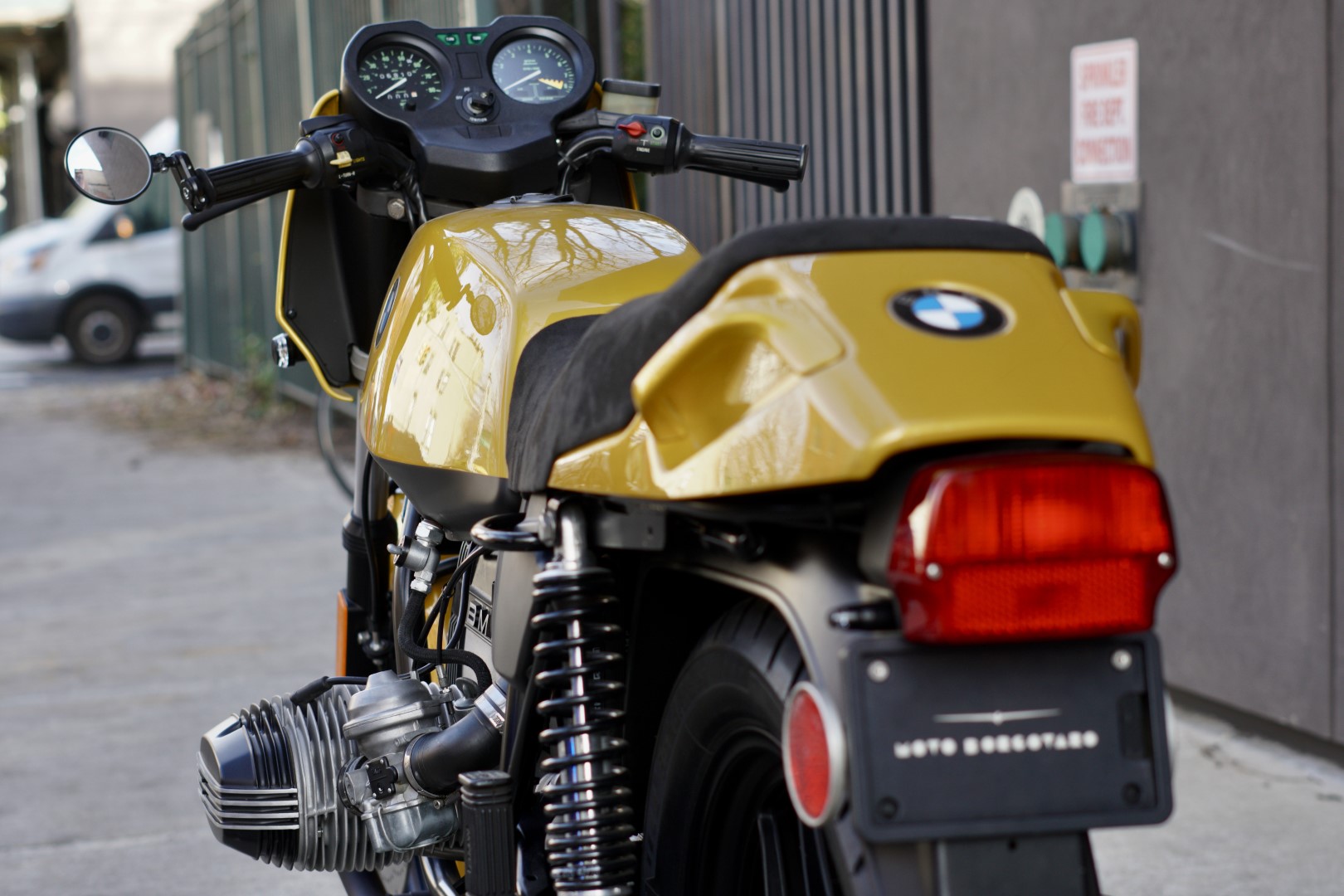 More from the seller:
I upgraded the Ignition system & charging system, both from EuroMoto Electrics Now with the 450watt brushless alternator system and the Saches Ignition with a 9 curve adjustability. The ignition coil was upgraded to a Nology Engineering coil.

The brakes have been heavily upgraded, new Brembo FO8 calipers the stainless brake lines are made by Spiegler and carry a lifetime warranty, the brake rotors were sent to Spiegler at this time for Semi-Floating rotor conversion, I then finished this off with the highest quality Brembo brake pads.

Suspension, the front forks were completely rebuilt and the fork legs expertly powder-coated, at this time I installed Wurth front fork springs and Ikon rear shocks with custom spring rate.

Other details include, Ultrasuede reupholstered seat by long-time collaborator Via Meccanica, LED Moto-gadget turn signals, all rubbers replaced, new tires installed, wheels powder-coated, new wheel bearings, fuel line, misc parts refurbished or renewed.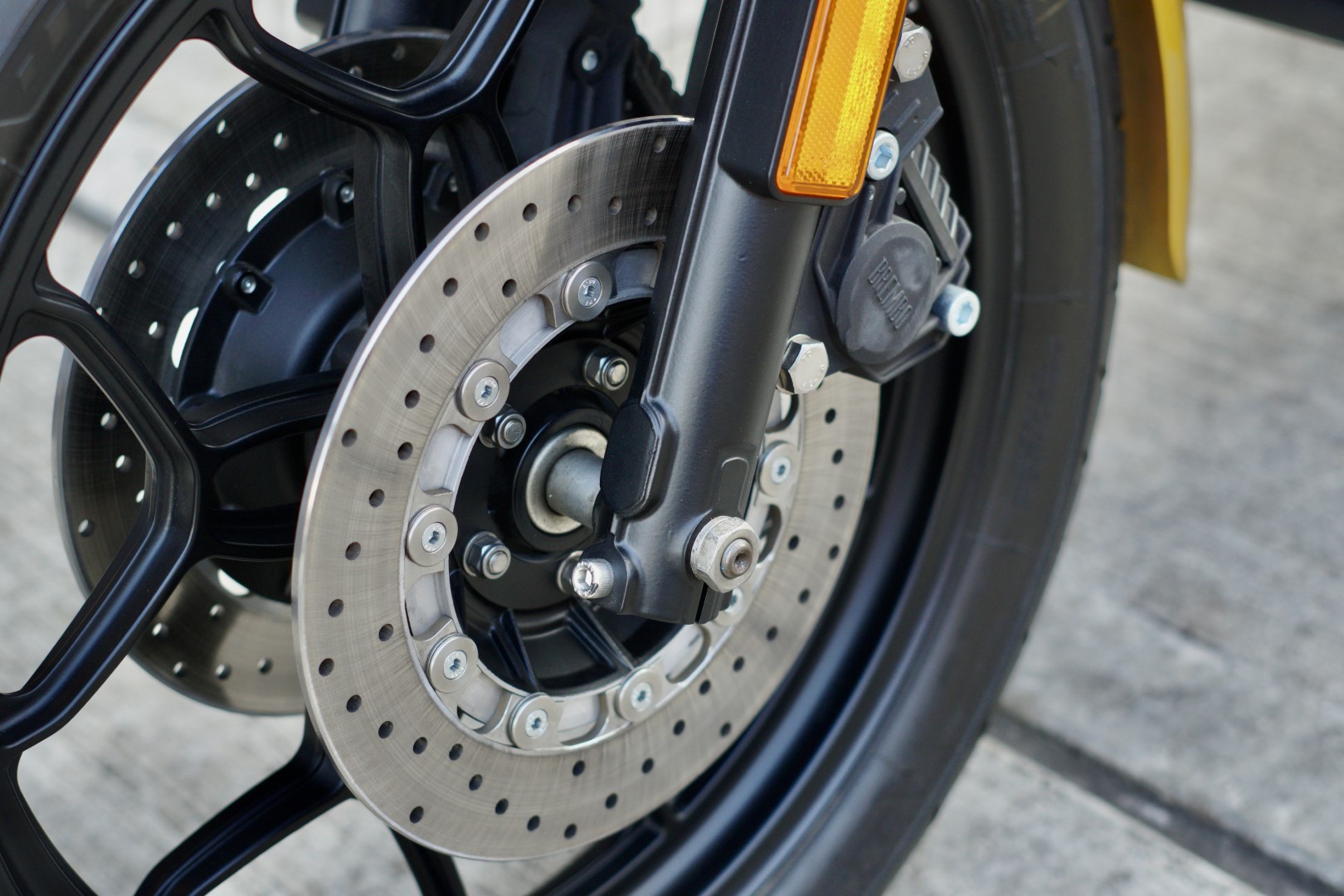 There does not seem to be much that was spared in this refurbishment. Power – the big Achilles heel of the model – has been nicely addressed via the introduction of a big bore kit, updated ignition components, and a sweet exhaust system. But braking and handling have also been greatly enhanced, especially those trick floating rotors up front. The black wheels set off the whole package nicely, and helps to avoid the inevitable curse of the stock white wheels; namely, brake dust and staining discoloration. The black accents on the motor (front cover, valve covers) match the underside of the tank, and provide an eye-popping visual for that stunning paint. This bike just jumps out of the photos at you, and I would love to see it in real life.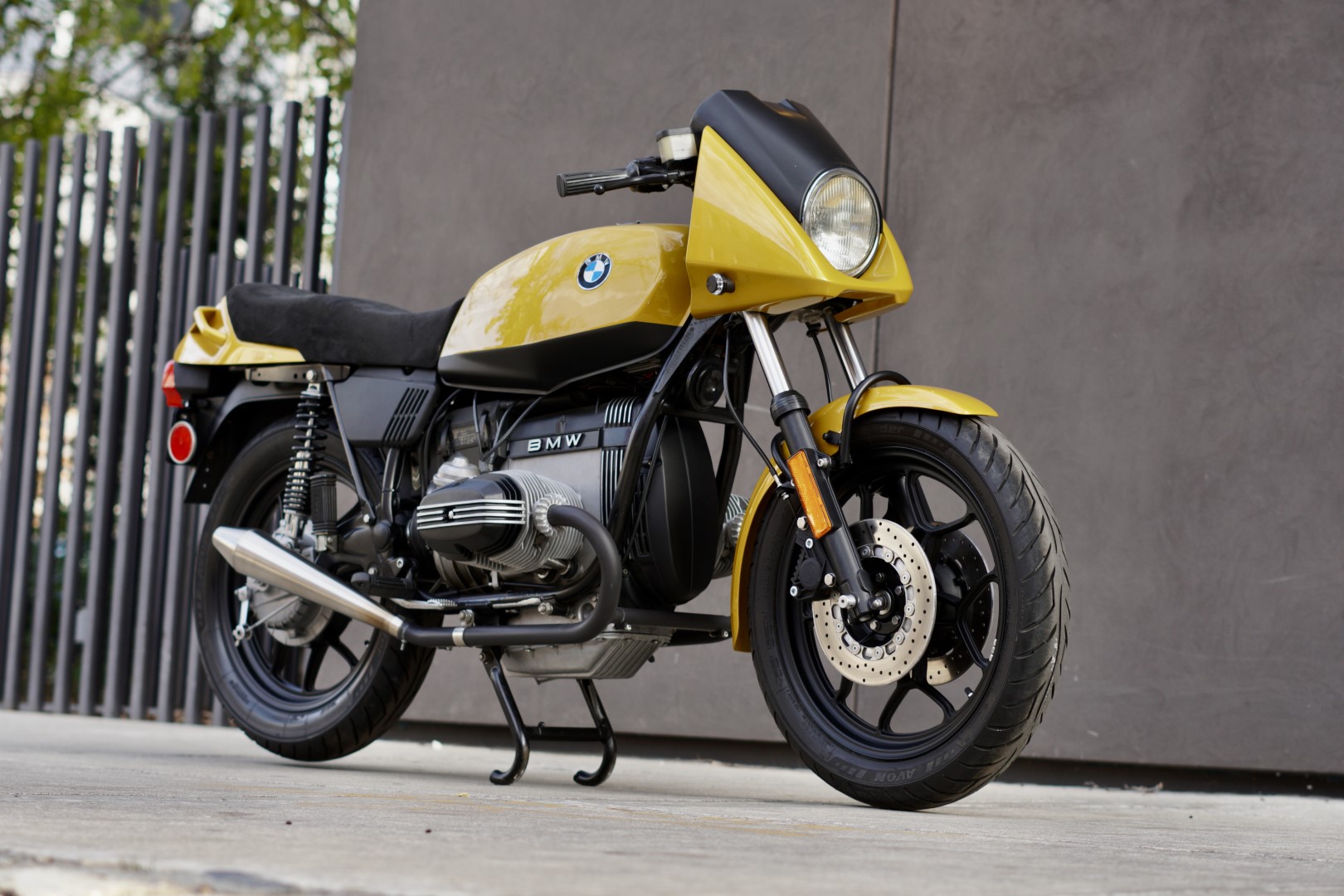 Check out this cold start video provided by the seller. The bike looks great upon approach, you can hear that distinct click of the fuel petcock which just screams BMW quality. The engine fires right up, and idles nicely without any undue shaking or other indications of rough running. Look how quickly the choke can me disengaged! Throttle response sounds crisp, and those wonderful pipes put out just the right Bavarian sound.
And what about this helmet-mounted camera video highlighting a ride through town and some freeway. Both accentuate the integration of the build, as this bike appears to be in its element motoring through both scenarios. Often the hot rods will run fine on the highway, but display issues with in-town riding. Not so here!
This unique build is going under the Bring a Trailer hammer for a no-reserve auction. Some serious effort and expense was put into this bike, and whoever wins this one will have won something truly special. The R65LS is a fantastic platform that never quite had the "go" to match the show bike design. Using top-shelf components Peter from Moto Borgotaro has resolved those issues and created a striking machine that is just begging to be ridden into the sunset. Jump over to the auction before this Teutonic Retro Missile is gone!
MI