Warning!
This post is in our archives. Links in this post have been updated to point to similar bikes available to bid on eBay.

Update 4.25.2018: eBay notes a sale at $25,600 and seller has confirmed the bike is SOLD. Congratulations to buyer and seller! -dc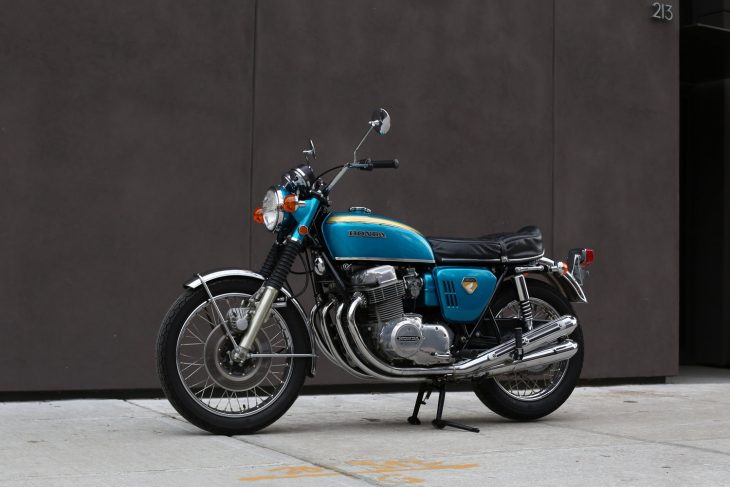 Even legends take a few baby steps – Honda's landscape-changing big four was originally manufactured on low-production tooling, known as "sand-cast".  The smooth 67 hp model sold over 50,000 units the first year, and went on to around 400,000 sales, a lifetime achievement for any other manufacturer.  This early production CB has had a white-glove  restoration using period correct parts and techniques.
Known as the original superbike, the big CB750 was designed with some simplicity in mind.  Low-friction plain bearings are used throughout the engine, and the cylinders are undersquare with a longer stroke than bore, partly in order to limit crankcase width.  The cam chain and intermediate drive share the middle of the one-piece crankshaft for strength.  The switch to disk brakes had just begun but Honda cast theirs in rust-resistant stainless to ensure the clean look stayed nice.  The twin tube steel frame might've been the most traditional and not-over-engineered part of the package.  Early on a kickstarter was included though electric start was standard.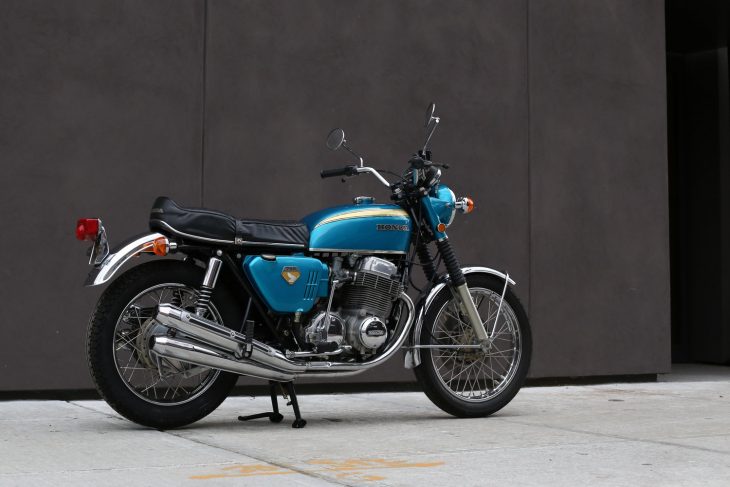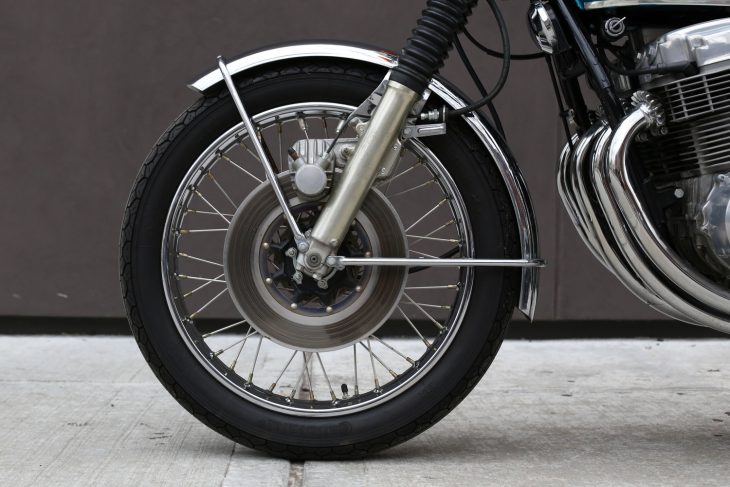 Subject of a three-year restoration completed in 2014, this CB was built with NOS parts for the engine and cosmetics.  An NOS wiring harness and exhaust system were sourced for the build, as few survive at their age.  A crucial un-restored tank was found in Candy Blue Green, though it post-dates the sand-cast era.  With the pebble-surfaced cases that "sand cast" refers to, the engine was rebuilt by Honda specialist Mark McGrew in Minnesota.  The complete package is easy on the eyes, the chrome rear fender echoing the front, and the quartet of headers making their way down and back.  Looking head-on shows the lightness and surprising ground clearance available.  Moto Borgotaro is located in Brooklyn, NY – here is a short excerpt from their complete offering which you can view – here – :
"Sand cast" guru Andy Morris of Hampton Bays, New York built this bike. Morris has worked on 15 "sand cast" CB 750s and nearly 50 later versions – he is so good that he can correctly assemble one of these Hondas from a tub of parts without reference to any manual – and he remembers buying # 2659 from a shop in Pennsylvania in the late 1990s. Its restoration took him three years and he used only OEM NOS replacement "sand cast" parts except for the rear rim which he had to have re-plated. All the fasteners, the spokes, the wiring harness, the four exhaust pipes, and other components came out of Honda parts boxes.
For all intents a "new" 1969 motorcycle, this CB750 has turned only 756 miles since completion.  It just looks like fun waiting to happen, at least to riders of a certain age.  My intro to the model was my buddy's CB550 in 1974, and even that seemed endlessly powerful compared to the trail bikes and vertical twins that were more my speed.  Though the standard layout had a self-limiting effect on top speed, it could do almost anything and torque was  always available.  It was also another chapter in the Honda quality story, the single cam engine being eminently reliable.  Strangely enough, the introductory model was also the most powerful, as horsepower figures waned through the emissions legislation and gas crisis years.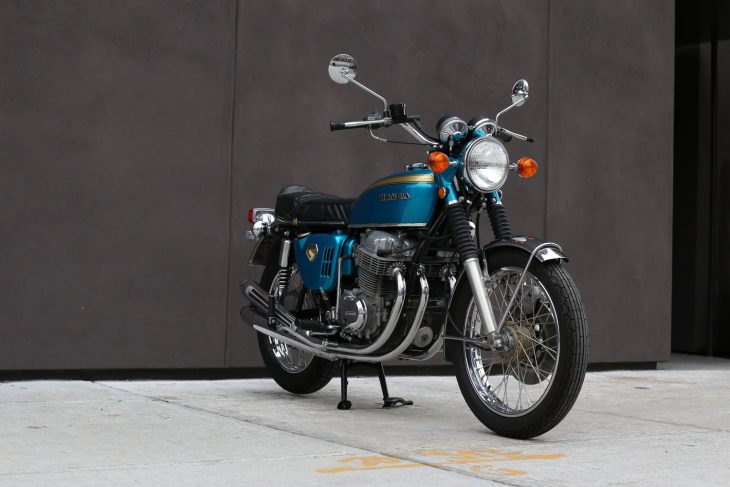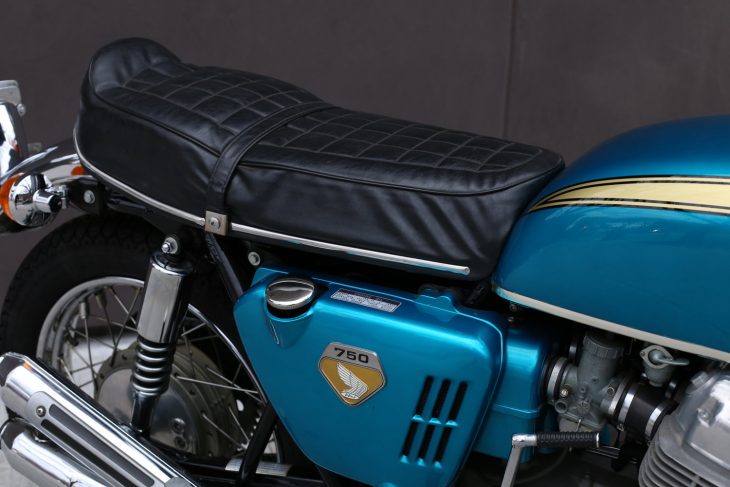 Honda used the pre-production molds to cast around 7,000 engines, which would be a successful year for most manufacturers and a full lifespan for more exotic models.  But as usual Honda was looking over the horizon, to around 40,000 machines each year with total production over 400,000.  This museum quality CB750 could be the opener for a collection of Honda superbikes, or the capstone for a history of earlier Hondas.  Moto Borgotaro can be contacted – here –.