The Jota 1000 – 120° might be the best Laverda for any riding collector, well-developed in every regard.  While an occasional short spin might be in order, lira to cannoli's this striking restoration will never turn another wheel in anger.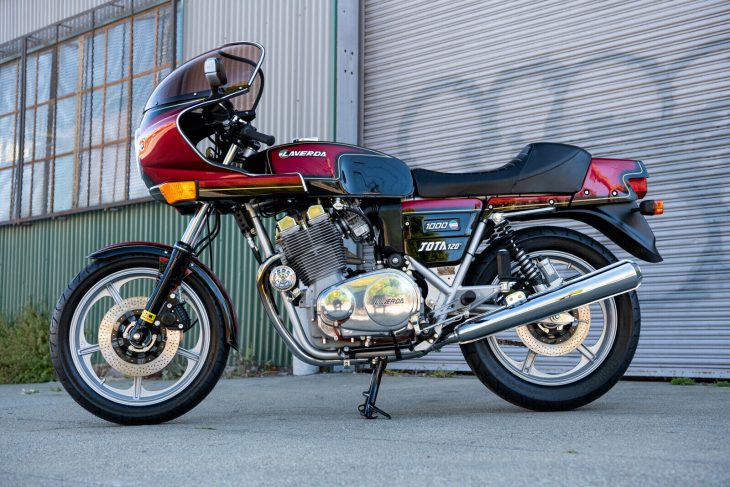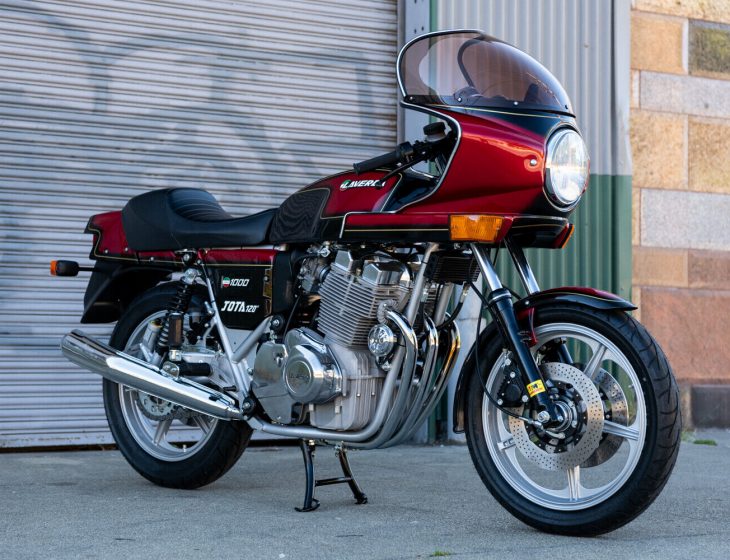 The ultimate development of a more -70's machine, the 120-degree crank was somewhat smoother riding, and revised heads delivered 97 hp.  The triple was air-cooled, which fit perfectly with the twin-downtube chassis, but required innovations like rubber isolators to protect the Dell-Orto's from engine heat.  For the rider, period low handlebars and smallish seat are sporty if not great for a long haul.  Along the same lines, the pegs, pipes and stands tuck up well for great cornering clearance.
Presented by a San Francisco Vespa specialist, this Jota was restored at the Museo Moto Laverda, a new restoration and display facility just paces from the old Breganze factory.  It does show 31,000 kilometers but appears better than new in all other respects.  Even the usual orange or red paint has been re-done in a very classy scheme never before seen by this Laverda watcher.  Just part of the notes from the eBay auction:
This Laverda is the first bike created by our partnership with the new Museo Laverda in Breganze, Italy, home of the original Laverda factory.  
This meticulously restored Laverda Jota is a remarkable example of a special motorcycle.  
Previously owned by Piero Laverda himself, who sold the bike to the Museo seven months ago. 
He recently saw our finished restoration and declared the bike "Better than when it left the factory!". 


A remarkable example of a unique Italian sports bike in excellent condition … a great addition to any serious collection and a real experience to ride. 
If you want the very best and can afford it, this is your Laverda.

This Euro-Spec Laverda has been fully restored by the Museo Laverda team of experts in Italy. 
Very low original mileage.
Overall cosmetic condition is literally better than new, restored to a Concours standard in all regards.
Paint, bodywork, seat, wheels, chrome, instruments, tires etc. all in "as new" condition.
This bike is very faithful to the original specifications.  
Completely rebuilt and serviced, runs and rides like new.
Extremely fast, very rare, serious and extreme – a machine for skilled riders only.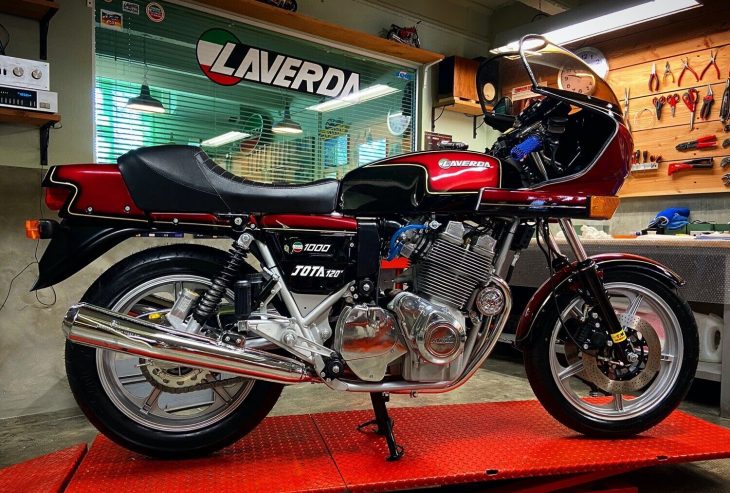 Earlier Jotas were quite capable and won the English production racing championship in 1976 then '79-80.  Time did everything but slow down though, and while the Jota was competitive with the R90S and 850 LeMans, new technological solutions from larger manufacturers kept coming.  This example has the added panache of having been owned by Piero Laverda, which along with its sparkling restoration will be great for its next caretaker.
-donn