Sold before we went to press, still worth a look –  Donn
Like buyers of a Gulfstream business jet refer to their Pratt & Whitney engine maintenance agreement that just happened to come with an airplane, the Yamaha RZ500 was built around their smashing V-4 two-stroke.  This one has some miles but looks to be in special condition.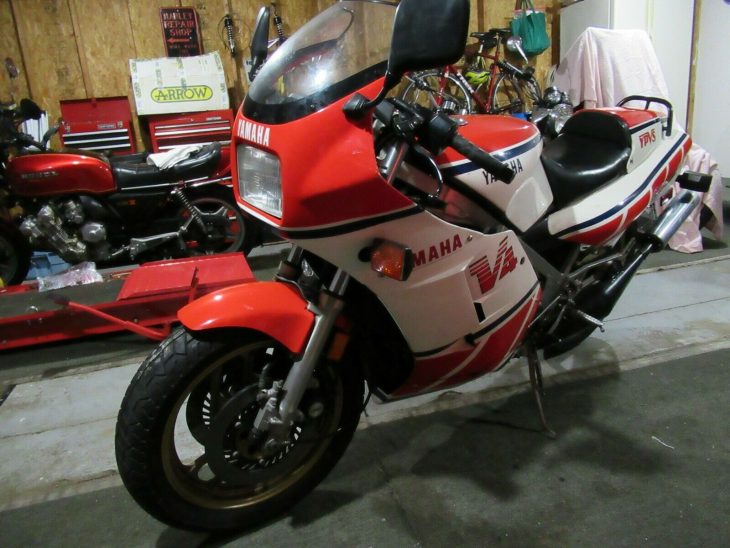 Yamaha had some very good years in the 500cc MotoGP days, and the RZ500 ( known elsewhere as the RD500LC ) used a lot of race-derived ideas.  The engine is a masterpiece with the clutch gear-driven from twin crankshafts.  The Yamaha Power Valve System tailors exhaust port position electronically, helping widen the power band and lower emissions on the way to 88 hp.  The airbox surrounds the engine feeding four side-draft Mikunis, and water cooling is used to stabilize temperatures and limit noise.
The race bikes had gone to an aluminum DeltaBox frame, but the RZ kept the steel chassis, with semi-adjustable suspension on both ends, even anti-dive forks.  Strong tire stagger of 16-inch front and 18-inch rear should make turning in just a thought exercise.  A pillion is offered, but likely the painted cover doesn't get removed often.  Starting is kick only, engaging the rider right off the bat.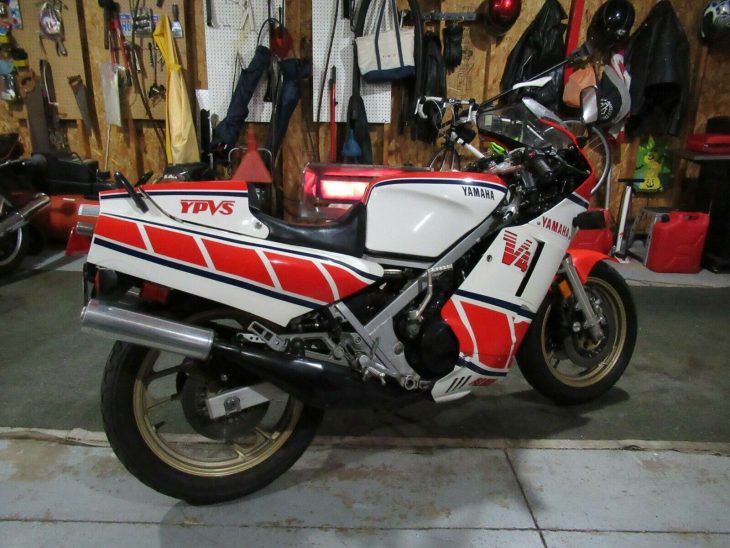 Appearing pretty stock, there's no readily apparent damage, but with the 1999 registration sticker inactivity might be an issue.  The ask is up there but in the middle of recent sales.  The senior rider from Michigan gives a few thoughts in the eBay auction:
All original. Never messed with. Been in my collection, stored inside with all fuel drained. Miles are 22,691, odometer as you know reads kilometers as these were never imported into the U.S. due to the EPA. She's a great ride and gets lots of attention. Time to let her go as I am turning 70 soon and have been letting a few of my prized bikes go. Tires are great.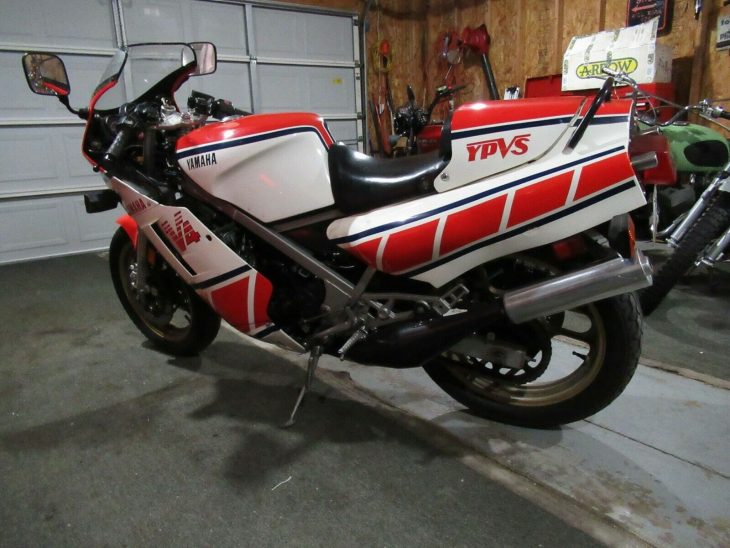 After being built for only a few years and selectively marketed, the RZ has an outsized reputation and a has had nice amount of import activity.  Yamaha stayed with the 500 two-stroke racer until 2002 when the FIM made them an offer they couldn't refuse.  It would've been nice to see more years of development in the street machine as well.
-donn