For Sale: 1995 Honda RS125 race bike
There have been quite a few race bikes coming up for auction lately; some are super rare, exotic factory machines, while some are complete unknowns like the EMC bikes Ian just posted. This is neither. This is an off-the-shelf racer that practically anyone could buy in the day. What makes it rare? It now belongs to a class fallen by the wayside, another senseless two-stroke assualt by the inexorable four-stroke march of progress. You heard it from RSBFS: Count this one on the endangered species list. First the bikes will be cheap and spares plentiful, and then the former will go way up as the latter become scarce.
The RS125 was produced from 1988 to 2009 (although the 2004-2009 bikes were nearly identical). That is a pretty significant run for racing machinery, and hence there are a fair amount of bikes available on the market today. Looking back at the impact the RS125 had on the world, this racing class produced a huge list of champions – you might have heard of a few of these guys: Loris Capirossi, Daniel Pedrosa, Andrea Dovizioso and Tom Lüthi. All won World Championships on a Honda RS125. There is no doubt that learning to ride an RS125 fast does much to hone your racecraft.
From the seller:
Just finished motor rebuild and only rode around the block 2 times and ran great. Will need carb adjustment to suit your environment. Brand new crankshaft comp, piston kit and replated cylinder, gaskets, seals, o rings, oil, ets. Spares include, Honda RS125 service and parts manual, front and rear sprockets, main jets, needles, slides , coil, new clutch plates and basket , bearings, new dunlop rain tires, tire warmers, good used crank and head, new front fender, seat tail section, front and rear Battle Factory stands, carbon fiber under tank air box comp. and more. Fun bike to ride, race, stare at or collect. This is a production road racer, there is no title and no warrenty. Dates on pictures are not correct, I took these pictures today.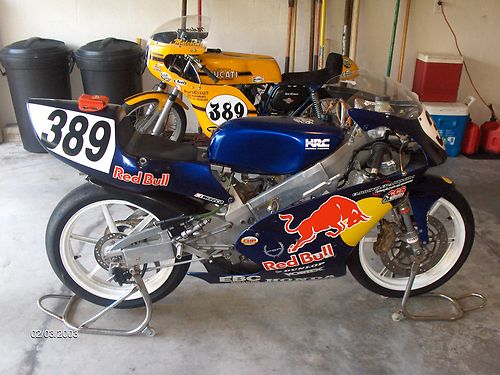 Look at the economics of it all: This RS125 has an openign bid of only $3k, with a BIN of $3,500 (cheap!). A Morowaki MS250H – a comparable four-stroke entry – will set you back $10,000 – $13,000. And Moto3 hardware such as the Honda NSF250R? Better bring closer to $30k, pal. The best part is that the RS125 will continue to be lusted after as a purebred racing machine; and when the world becomes nostalgic of the popcorn sound of a smoker, values will start to rise once more.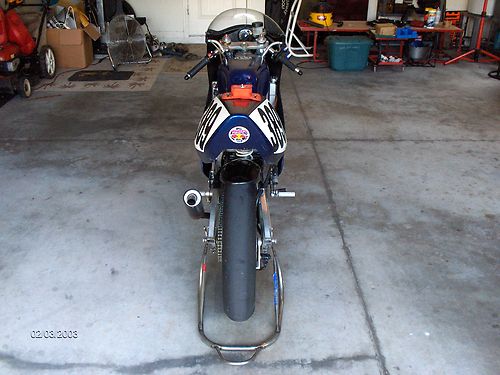 These things look like an absolute hoot to ride – check out these RS125 videos I found online. Great speed and great sound, even if they are not of this particular bike for sale. Video #1 comes to us from the Botniaring racing circuit situated in Southern Ostrobothnia, Jurva, Finland. This track is used for national races and is approximately 1.6 miles in length:
Video #2 is from VIR in the U.S., and shows a RS125-mounted rider playing with a Moriwaki. This is another fun video to watch:
This bike looks pretty good and comes with a decent supply of spares and miscellaneous bits to help you on your next trackday outing. Hard to believe World Championship level machinery is available at this price point but as they say, nothing depreciates faster than last year's race bike. That is, of course, until nostalgia kicks back in. For more info and pictures, click the link and jump over to the auction. Good Luck!
MI