Erik Buell finally convinced his overseers at H-D to use the turn-key Rotax twin, and it became the basis for Buell's most modern sportbike.  Unfortunately, a new management team saw the brands as diverging, and pulled the plug a couple of years later.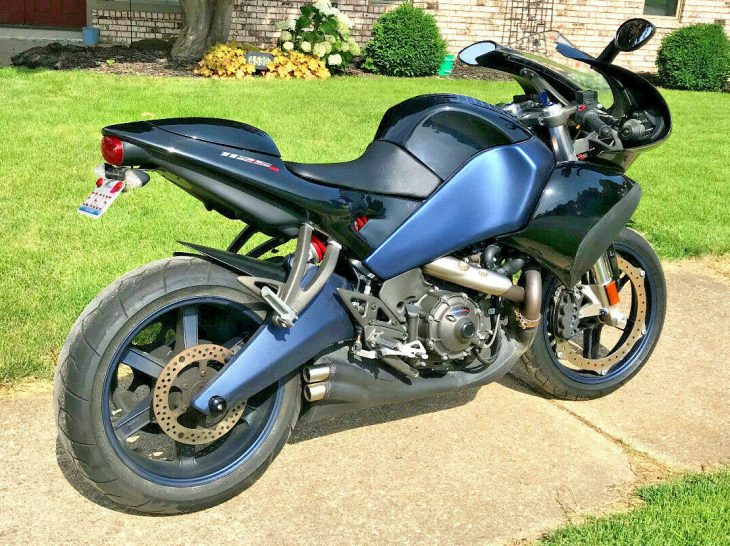 As an engineer, Buell stressed three themes in all his designs – lighter weight, mass centralization, and chassis rigidity.  The 1125R makes strides in each of them, with a stamped and welded aluminum frame which also serves as the fuel tank.  The 1125cc V-twin is an integral part of the chassis, providing the swingarm pivots and supporting the underslung exhaust, not to mention 146 hp.  The classic Buell Zero Torque Load front brake is larger than life at 375 mm, with the eight piston caliper mounted inside the rotor.  Harley pioneered use of belt drive instead of a chain, and it saves the 1125R a few pounds and quite a bit of maintenance.  The adjustable Showa suspension and alloy subframe could accommodate a theoretical passenger.
Like so many fairly extreme superbikes, this 1125R has been ridden just 2,674 miles and barely personalized, with only a license plate mount and levers to show.  Luckily the chain-driven cams of the Helicon engine don't suffer much during long rests, and should require just an oil change before setting off.  The matte blue frame and wheels accent the black bodywork nicely, and all look undamaged.  From the eBay auction:
This 1125R is stock with the exception of a license plate re-locator to tuck it closer to the rear fender and the levers have been replaced with shorter (and more comfortable) machined aluminum, black anodized – see pics.

Everything is 100% functional and in excellent condition.  There is a new cover included.
With a low starting bid, the new owner will get a big helping of superbike for the money, though support might be the elephant no longer in the room.  The drivetrain should be service-able by any indie with Aprilia experience, with special parts needing a little searching.  But you can only pick two, as the old adage says – performance, economy, or reliability.  Too bad the mother ship didn't find a buyer for their very sporty fledgling.
-donn