Bimota's fourth Ducati used the tried-and-true ( if not overpowering ) 904cc desmodue, but was a lightweight handler.  This owner hasn't belabored the cosmetics, but from the looks of the tires has used it as intended – on the wickedly technical Palomar Mountain Loop.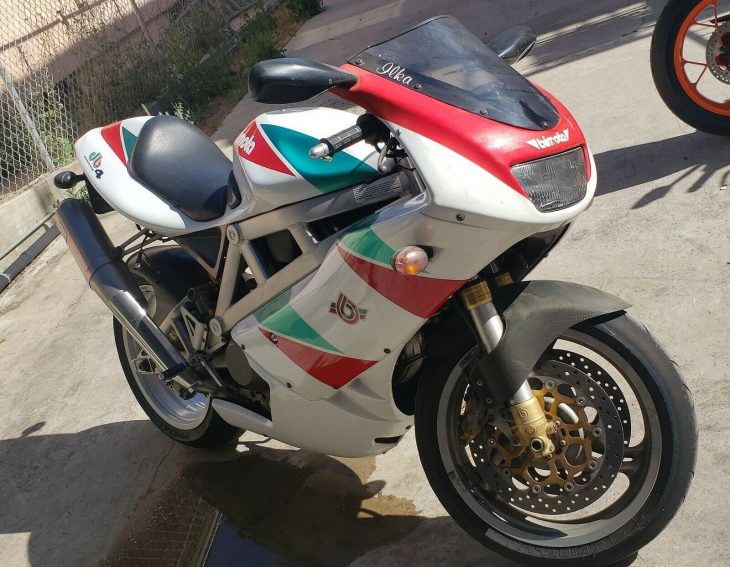 The DB4 design was no exception for Bimota, who typically stayed out of a factory mill and finagled their own intake and exhaust.  In this case they specified 38mm Mikuni carburetors instead of the factory fuel injection, and claimed 80 hp and 60 ft.-lbs. torque.  The race kit on this example includes flat-slide carbs and single muffler Corse exhaust.  A large part of Bimota's art is in the alloy chassis, split between the sharp handling geometry and gorgeous CNC work and welding.  Premium components are also part of the story, with 43mm Paoli forks, Öhlins monoshock and generously-sized Brembo brakes.  Not sure if the Italo-centric livery was a special edition, but DB4's are rarely seen without it.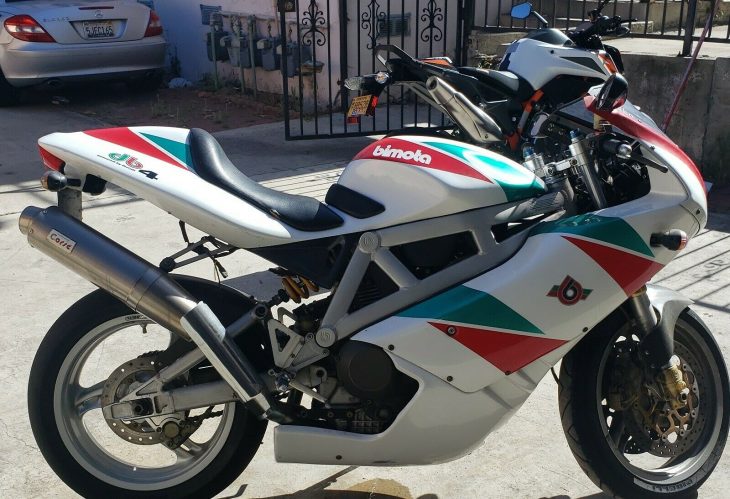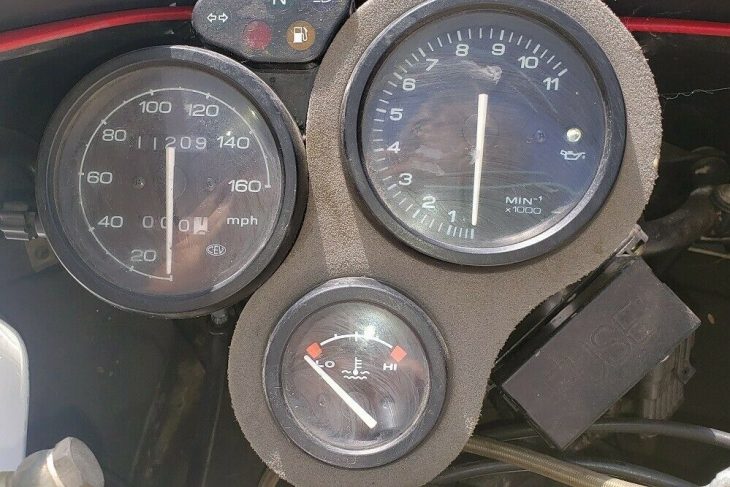 The owner has a long-term relationship going here but doesn't tell recent maintenance history.  From the overall condition and start-up – video – it might be best to factor in a valve adjustment, and of course tires.  The buy-it-now would be a lot easier to see if the seller had buffed this baby up a bit.  From the eBay auction:
1999 Bimota DB 4 with " race kit ".

Kit consists light weight Corsa exhaust, flat slide carbs, and Ohlins rear shock. 

 

Will install new tires at Buy It Now price. 

Current tires a bit old but usable. See pics.

 

Overall good shape, with minor scrape on right lower due to lean angle. ( Was not down )

I removed lower when I rode it and put back on to sell.

 

Has been run on Palomar Mountain, but not a track since I have owned it.

Put about 1500 miles on it with a ride to L.A. and running Palomar. 
At the time, Bimota was struggling with their own engine in the V-Due, and needed every success, even with the air-cooled supersport engine.  The DB4 was that victory, and tided Rimini over to the SB8 superbike.  While this DB4 could use a little TLC, it's from a less complicated time, when an lightweight 900 could carve a Supersport-sized niche in a legendary road.
-donn