Warning!
This post is in our archives. Links in this post have been updated to point to similar bikes available to bid on eBay.

In the face of increased competition its not really surprising that some motorcycle manufacturers are forced to focus on their strongest products and let their racing efforts "fall to the wayside".  Harley Davidson is probably the most well known brand to do this but on the Italian side, there is Moto Guzzi.  Moto Guzzi is actually the oldest European manufacturer in continuous motorcycle production and claims it has over 1000 racing victories including 14 world speed titles, 22 world records and 11 Tourist Trophies.  While most of the Moto Guzzi victories came well over 40 years ago, in the mid 1980's an American named Dr John Wittner decided to try something different and go racing using Moto Guzzis'.

Wittner may have been a dentist by trade but was an engineer at heart, and in the 80's he began modifying and racing a series of Moto Guzzi's in the American national endurance championship.  After his bikes won both the 1984 and 1985 U.S. Endurance Championship, Wittner was made an offer he couldn't refuse – to help Moto Guzzi develop a new world-beating superbike.  Wittner went to Italy to work for Moto Guzzi and many of the ideas from his race bikes were incorporated into the next generation of Moto Guzzis, including the "Daytona".  (The Daytona was revealed at the 1989 Milan show but in typical Italian fashion it took until late 1991 to go into production).
While the Guzzi Daytona may look like someones attempt to merge a Ducati with a Boss Hoss, it was a significant technological change for the company.  A detailed explanation of all the technical changes in the bike can be read here. Simply put the Daytona was the most powerful road-going Guzzi to that date, returning a top speed of 145mph and recently ranked by Guzzi fans as one of the top 3 most desired Guzzi models of the last 50 years.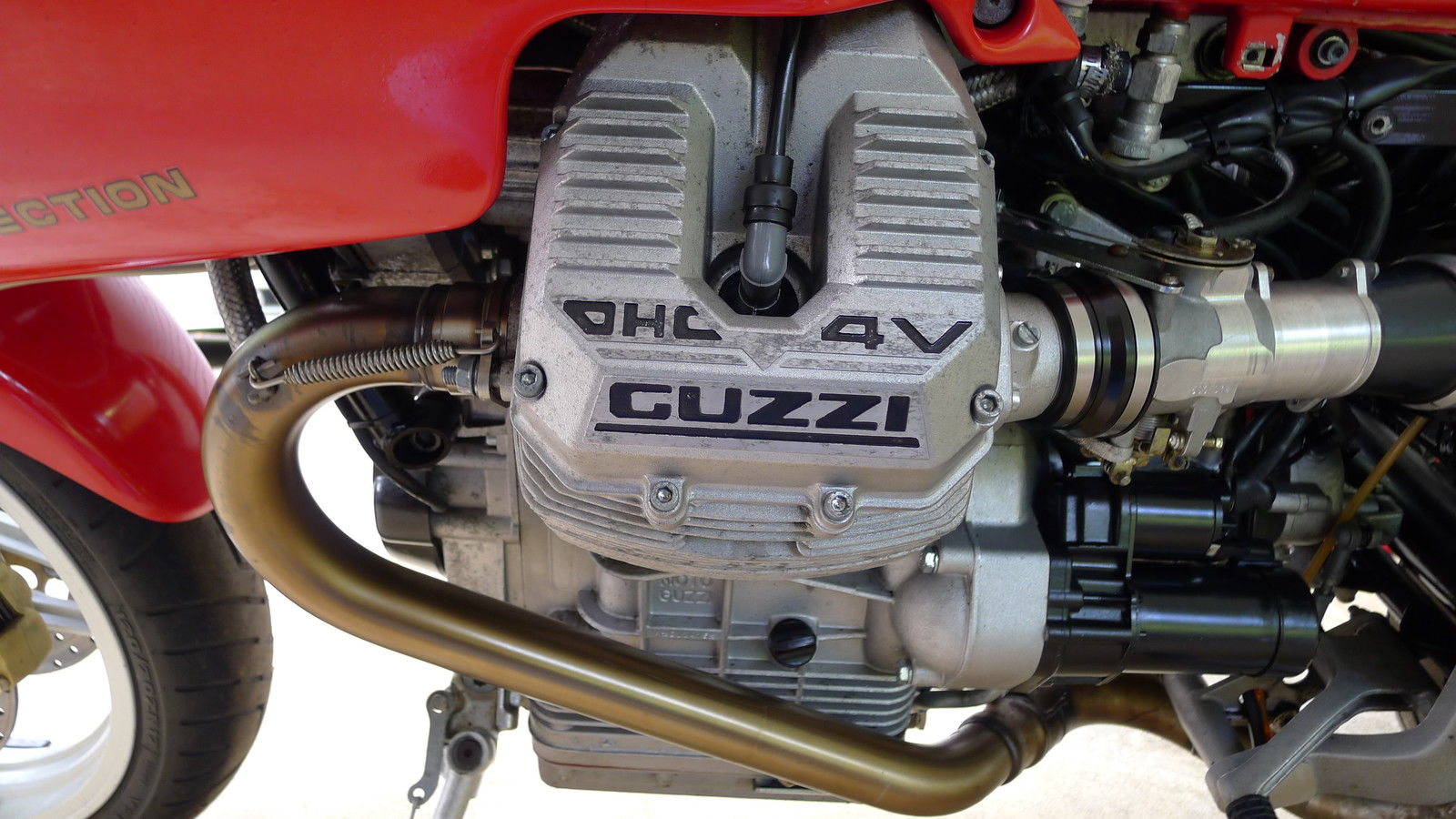 This particular Daytona looks exceptionally clean and well maintained and the seller has also done some euro-spec updates, including:
Stage B Termignoni headers
ECU chip and cans
A European fairing with built in crescent headlamp
White Veglia clocks/instruments
White wheels
The seller indicates some other items included in the sale:
"will include the original shop manual, an oil filter, fuel filter, custom stand built for this bike by Freeman Cycles at time of delivery, and a key fob that says of all things "Moto Guzzi" without any happy faces or bottle openers. And an oil pan gasket I think.  There's also a can of moly specifically to be added to the differential when servicing it. That crap is messy."
These bikes are known for retaining their value so if this one is on your bucket list, this might be the one for you.
Marty