Almost to show Piaggio what could have been, we continue to see gorgeous and rather sporty Moto Guzzi's with museum quality restorations.  Today's is in very rare white, which sets off the orange binnacle, raw aluminum and black beautifully.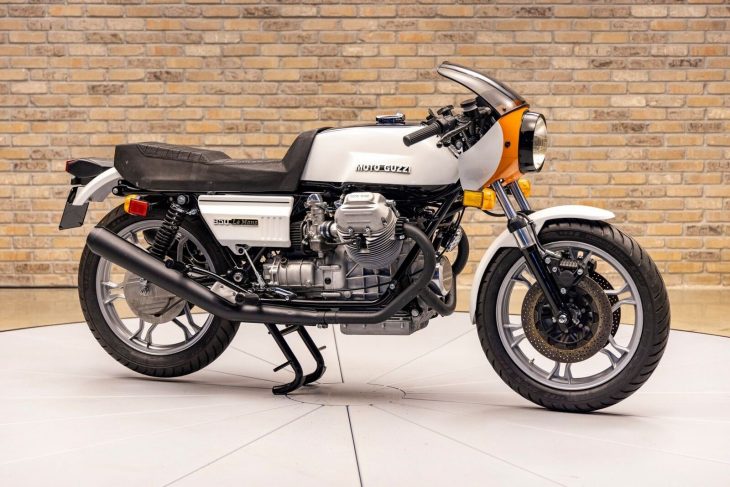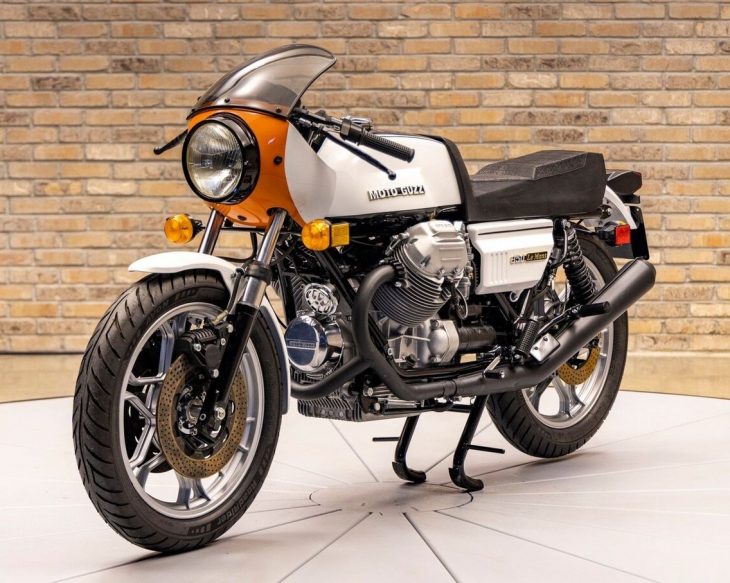 Hearing footsteps from the east, Moto Guzzi developed their new model with an overbored V7 engine, displacing 844 cc's and making 71 smooth hp at the rear wheel.  A backbone frame and the engine's low center of gravity were revered for their stability, and the geometry gave it good handling.  Guzzi hallmarks like shaft drive and linked brakes were practically new then, and both were well received.  Some Le Mans details like the neat fairing worked better than expected, and others like the one-piece molded seat were love-it-or-hate-it affairs.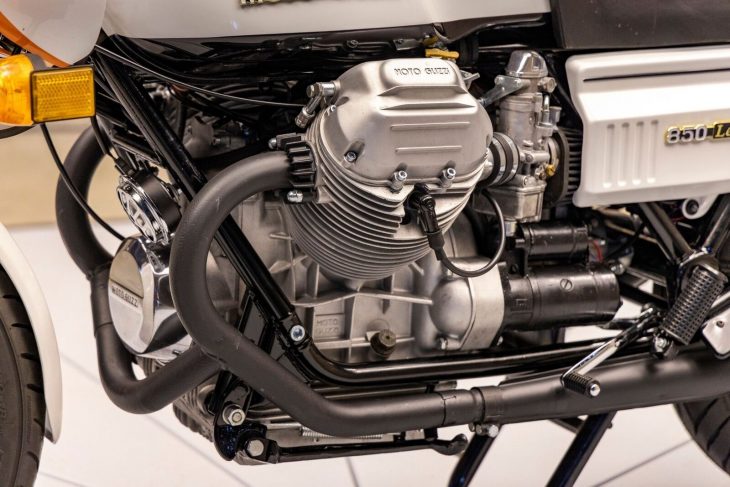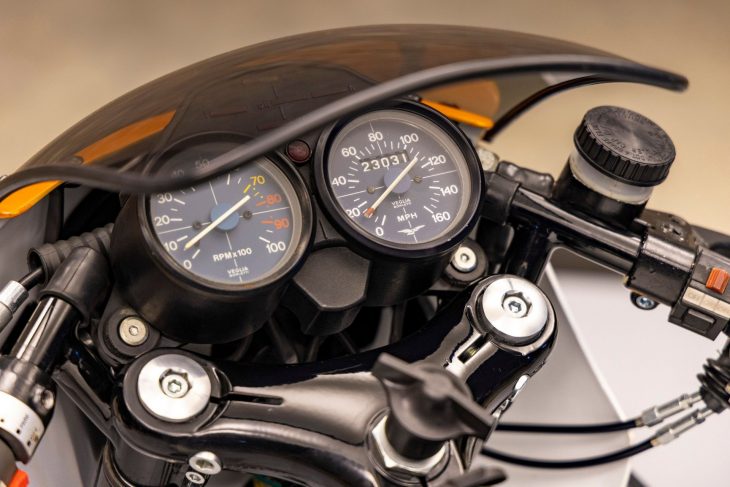 Time stopped for this Le Mans at around 23,031 miles, and the restoration is stunning.  No word about when it was or if the odometer turned after that, but at this level it's not much of a concern.  Not sure why the presenting dealer didn't find someone to buff those brake disks, but it does detract from a winning presentation.  Notes from the eBay auction –
Completely restored by a west coast expert and then placed in a private collection since
Immaculately Finished, Paint work is Beautiful and Hard Parts are all Powder Coated
Finished in beautiful White with Silver Wheels color combo
Original and Unrestored Factory Seat which is very uncommon
This Italian masterpiece starts, runs and rides outstanding
Powered by the 844cc Longitudinally mounted V-Twin
5 Speed Transmission with a shaft final drive unit
Extremely rare 1978 Model with only 1,738 examples being built worldwide
This example is one of the nicest we have seen
The Mark I was made for only a few years before fairing got larger and styling more angular.  Even then no challenge to a homologation special, and now almost vintage rather than classic.  Still an iconic cafe racer, for riders either old enough to have never had an energy drink or young enough to never have had a cortado.  Eminently collectible and extra special in white, Moto Guzzi could still be making such focused bikes.
-donn