Warning!
This post is in our archives. Links in this post have been updated to point to similar bikes available to bid on eBay.
Every post will be sent right to your inbox every morning when new posts are made. We will never sell our list or spam you. Plus you can click links to bid or buy right from the email and skip the site entirely. Subscribe to Rare SportBikes For Sale today!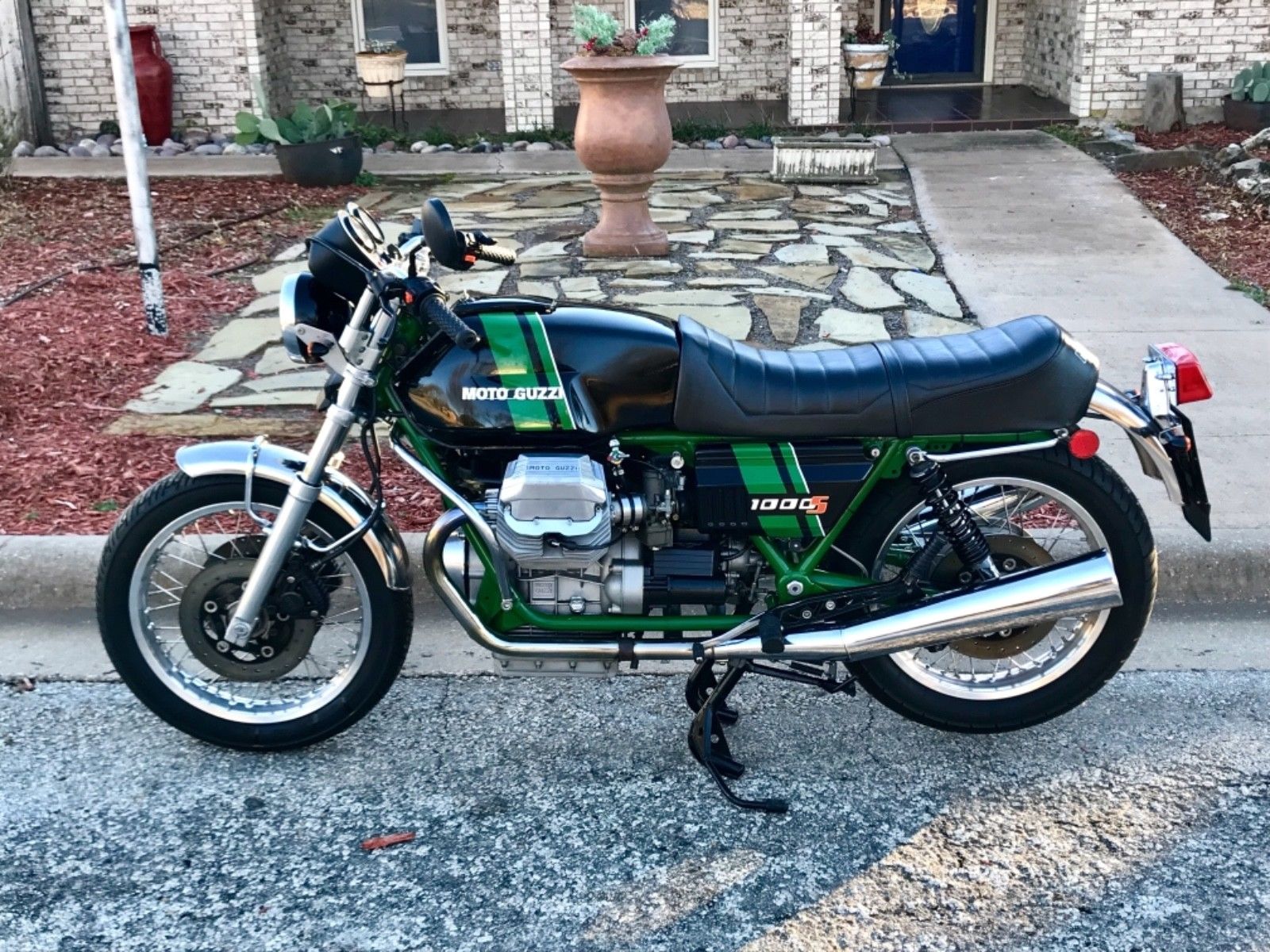 When you think retro-cool, it's hard not to picture Moto Guzzi. Long the archaic slugger in a room full of mixed martial arts experts, Moto Guzzi created (relatively) modern machinery faithful to the image built over decades. The elder statesman in nearly every motorcycle manufacturer conversation, M-G made their way by choosing their own path. And while some may argue their path was not too wisely chosen given that technology and competition have passed them by, the fact remains that Moto Guzzi is Europe's oldest motorcycle constructor still in operation. We will politely ignore the number of starts and stops and owners endured throughout the years, and focus instead on the highlights. Place this 1000S against, say, an original 900cc Ninja (a watershed bike by all sport bike standards), and the Moto Guzzi will be blown away in most performance contests. Yet that Ninja was introduced nearly a decade before the 1000S. Such tales tell of what is important in the long run, and this Guzzi looks absolutely classic and solid while today the Ninja resembles a love child from the age of plastic (although we love it dearly). Guzzis have a solid look, and a solid feel and a long term presence – and this does not come by accident.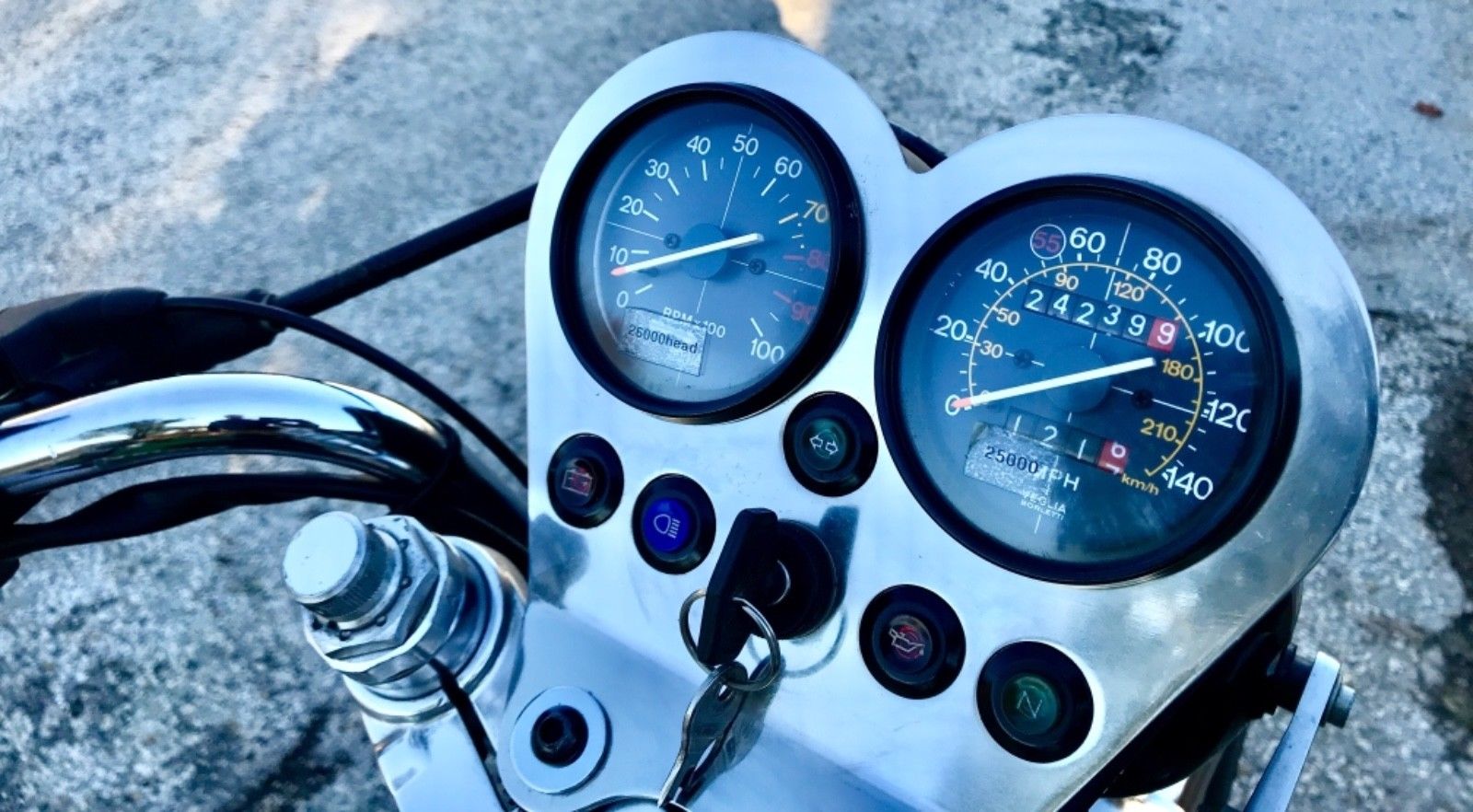 Powered by a lumpy, booming, 1000cc V-twin, the 1000S follows the classic Moto Guzzi recipe: Big slugs at low RPM, 2-valve head with big valves for good airflow, air cooled with carburetors for simplicity, and the classic crankcase webbing on the outside to give the whole motor/trans assembly a carved out of billet look. The lines are long and muscular, and there is just enough chrome to make the whole package stand out – without looking tacked on. Wire wheels add to the retro factor, but they are also robust and light. With its big tank, long seat and "old fashioned" round headlamp and stick-up square tail lamp, the 1000S looks like a bike from another era. And it many, many ways, it really is. Twin shocks work without any progressive mechanism, and beware the jacking effect of the shaft drive mid-corner. All problems of another era, pulled (unwillingly) in to the 1990s.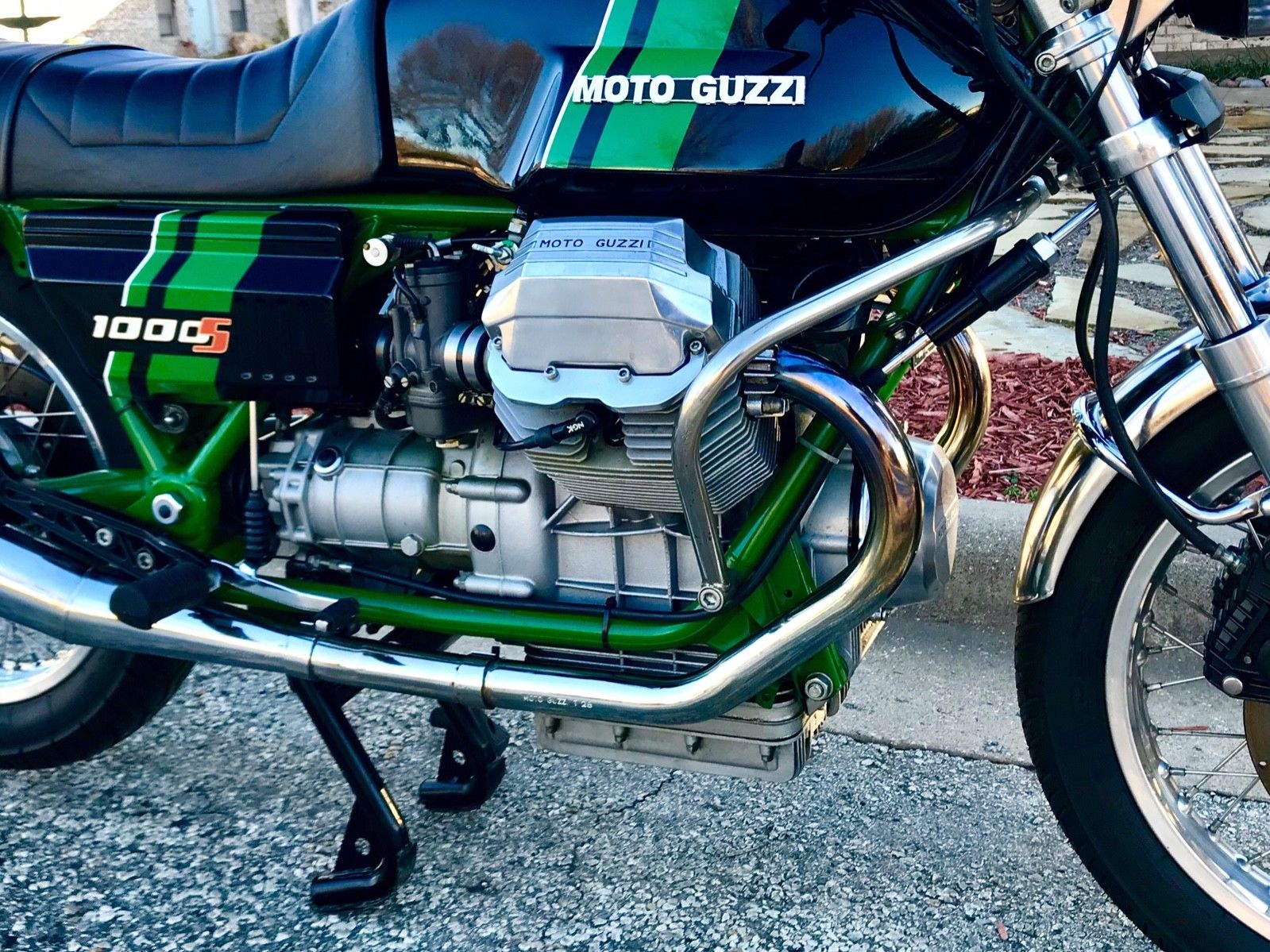 From the seller:
I have decided to part ways with one of my 1991 Moto Guzzi 1000s bikes.
This one is the sought after green frame and graphics
It is also the Big Valve model.
It has a little over 24k miles,
It runs excellent, just needs a new home.
Tires are like brand new, looks amazing.
This bike is show ready or ride the heck out of it, it's also an amazing runner!
One of the coolest bikes around for sure and rarely on the market.
I have another that I will be posting up for sale as soon as this one runs, along with others.
Clean and clear title,
I will gladly store the bike until shipping or pickup is arranged.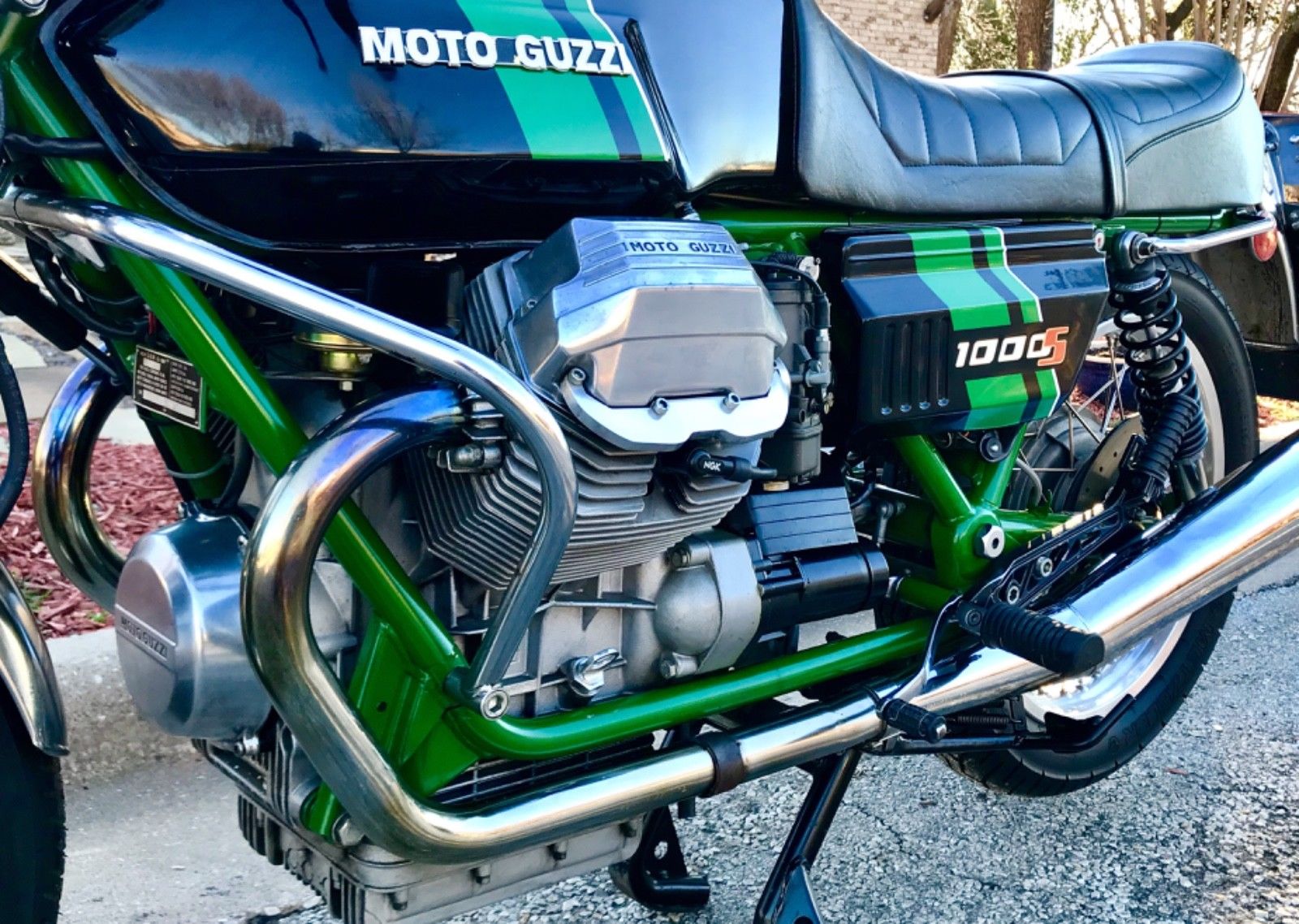 The first thing you will undoubtedly notice is the color. What is it about Italians and their love of colors not usually found in the palette of other manufacturers? Ducati celebrates the green frame 750 SS, Bianchi bicylces offers their own unique green color. Moto Guzzi dabbled in the color as well, creating a striking – yet relatively rare – shade of the spectrum. Aside from the retro aspect and the color, one cannot help but notice how clean this bike is. Stare at the pictures and drool away. This bike is seriously sano, and is well represented. It is also located right here in the U.S. of A. That's right – no overseas locales, strange importation deals, or foreign currency. Win!
Like a solid stock market choice, the older Guzzis are appreciating steadily. Classic lines are always in demand, and this particular example is no exception. With a Buy It Now of $21,000 USD, entry to this party is not cheap. But quality and longevity are rarely the basis for bargain hunters. Look carefully and remember back when you saw such a unique color combo Guzzi in this type of condition. You may argue with the "sport bike" part of it, but this example is every bit a RSBFS worthy addition. Check it out here, and then share your thoughts. This beast screams "want!" to me. Does it rev up the retro longings in you? Good Luck!!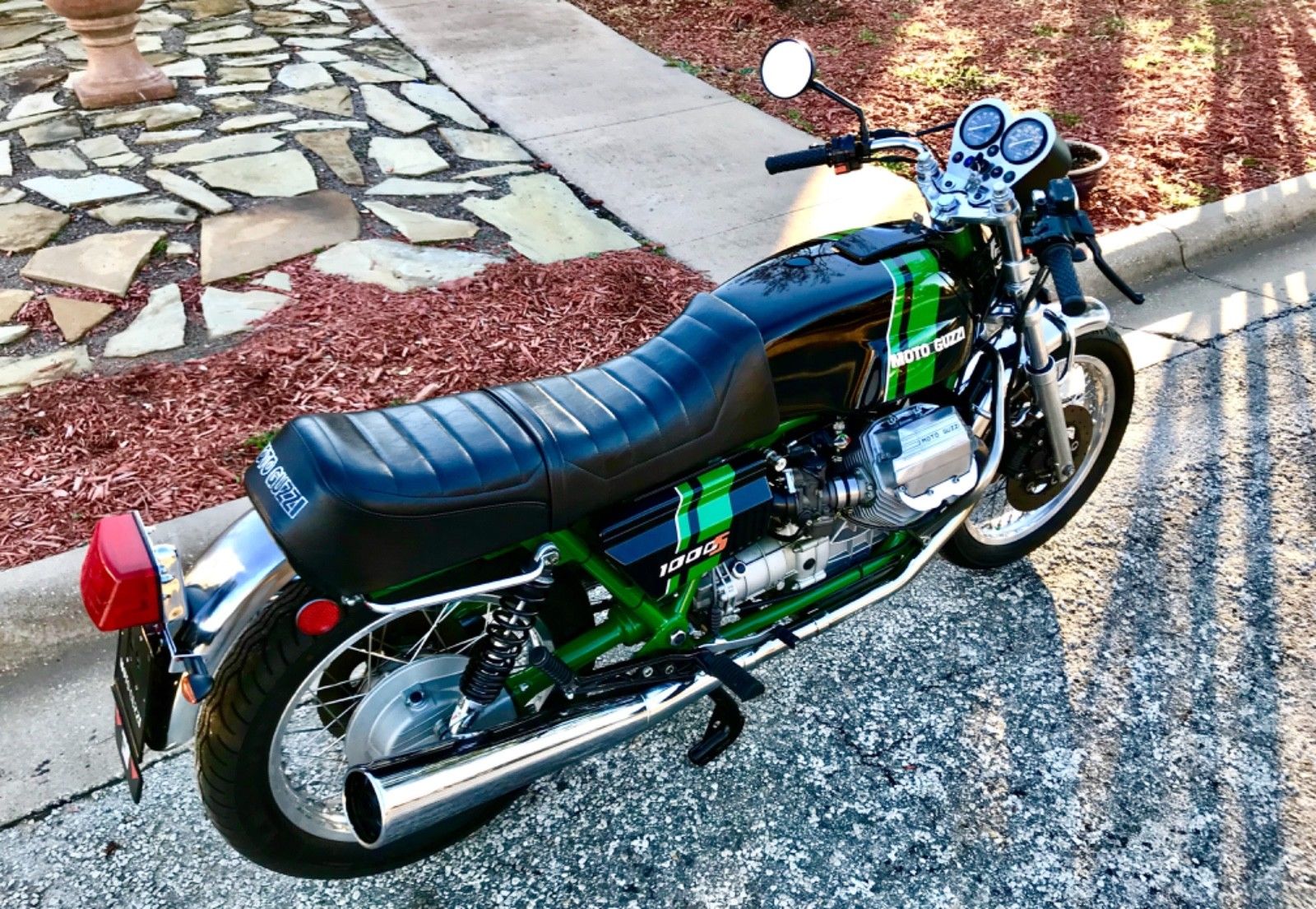 MI