For Sale: 1981 LAVERDA JOTA
When it comes to the pages of RSBFS, Laverdas are relatively scarce. Sure, you might find the occasional RGS Executive, but most of what we have posted are the more modern incarnations of Laverda, such as this 750S or this 750S Formula. But today we have the legendary Laverda – the 1000cc JOTA.
The Jota was the brainchild of U.K. Laverda distributors Slater Brothers. Convincing the factory that they knew what Laverda needed to produce, the brothers created the specification. As the Slater brothers had a history of offering modified Laverdas – especially those based on the new 1000cc three cylinder "3C" platform, what rolled out of the Laverda factory in 1976 was essentially a factory version of a Slater build. Add in a cool name – Jota is a native Spanish dance in triple time – and history was made. The model ran through 1982 before being discontinued and morphed into the RGS line.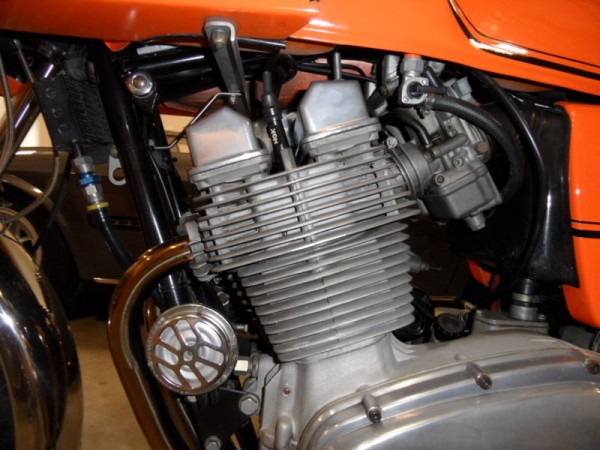 From the seller:
RARE 1981 LAVERDA JOTA ,2 OWNERS FROM NEW ,VIN ,LAV10006961 ,ENGINE NUMBER ,1000691 ,RUNS GREAT ,NEEDS NOTHING ,NO ISSUES ,SERVICED FROM NEW AS NEEDED ,REASONABLE RESERVE ,RECENT OIL CHANGE AND TUNE UP ,SOUNDS INCREDIBLE ,WE AT BUYERS EXPENSE CN SHIP WORLDWIDE ,SERIOUS QUESTIONS 503 -999-0790 FANTASTIC BIKE IN EXCELLENT CONDITION
This bike appears to be in excellent condition for its age. There is nothing quite like the cadence of an inline triple – either at idle or at full song. This bike, this legendary model, looks pretty deserving of a good home.
The auction for this bike is going on now. Interest has been pretty consistent since auction opening, and the current bid sits at $8,450 with reserve still in place. I have no idea where this one is going to end up, but it sure will be fun to watch. For more information and details, click the link and jump over to the auction. Good Luck!
MI