For Sale: 1983 Laverda RGS Executive
Quick – name a famous manufacturer of large displacement, 3-cylinder sportbikes. No, not the UK one. Think Italian. Benelli is a close guess, but not really known for bigger bore machinery in the US. Reach a little deeper into the history of Italian motorcycle manufacturing to pull out today's find: Laverda.
Founded in 1949 (although the name was associated with farm equipment engines since 1873), Moto Laverda S.A.S. started out as most motorcycle firms in post-war Europe: building econimical, small displacement bikes for transportation. Bikes grew as years went on, and by the 1960s Laverda was producing smaller singles and larger twins. It was the quest for power and speed – not to mention competition from within Italy as well as Germany and Japan – that led to the development of the famed triple.
More compact laterally than the Japanese fours or BMW boxers, the Laverda triple featured a 180 degree crank which put one piston at top dead center and two at bottom. This gives these bikes a characteristic lumpy feel at idle, with some vibration spread across the rev range. With 1,000cc power is rarely lacking, and although a bit tall by today's standards, the compact width aided in packaging and handling.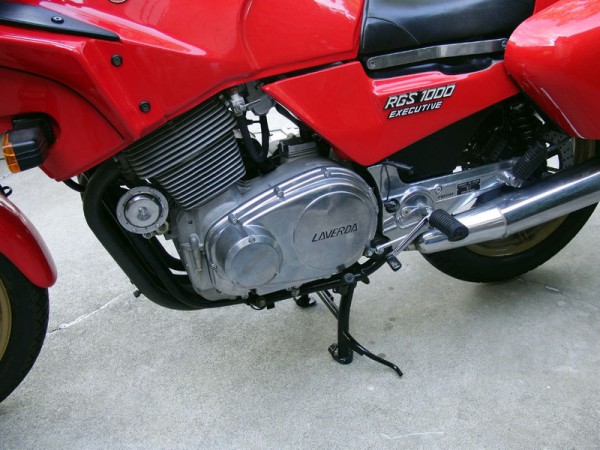 The Executive is the range-topping model of the 1000cc RGS line up. The differences between the Executive and the standard RGS: Fairing extensions that protect the rider's hands on cold mornings, the bars sit higher than on a RGS to provide a more comfortable sport-touring stance, but it is really all about those fabulous, color coded hard bags. Offering usable capacity in a highly stylized format, the bags on the Executive really make this model stand out. The initial run of Executive models came straight from the factory (with a special VIN to match), while the rest were dealer-added kits. Today, due to the fact that the base of an Executive is a stock RGS, many additional "Executives" exist than before – after all, these are all just bolt on bits.
From the seller:
The Laverda factory, back in the day, thirty years ago, sold a handful of RGS models badged Executive into the USA. They were silver in color. A very very small number survive. The following year, the factory decided to enable USA dealers to add the Executive bits to the RGS themselves by providing the various parts.
Not many of those survive either. This bike for sale is one of the latter. It is not one of the tiny few original silver factory built Executives. It is an Executive built by a Laverda dealer, somewhere in the Eastern USA (I bought from a collector in the midwest, a decade ago). Still rare, not silver.
From the seller:
Folks this is for a real nice example of a Laverda RGS Executive. If you are here you know what this bike is. I have had in my collection, finally had it professionally restored last year to mint condition. Recent injuries have curtailed my motorcycle interests, and several bikes such as this will be going up for sale.

The restoration included a complete tear down to frame. Frame refinished. Engine rebuilt completely with new rings, valve job, new horns, badges, whatever it needed. Of course, all new gaskets, etc. These efforts ran over $7K.

Forks rebuilt with RaceTech gold valve emulators. Back shocks are custom made RaceTech with black springs to look vintage. Forks and shocks cost over $1000 in parts alone.

Also, bought a Keihin flat slide carb. kit at the Laverda rally at MidOhio in 2008 and had installed and then dyno-tuned. This cost $2K. Not a small effort–and kept the original air box. Works like a charm. Have original carbs.

New tires, although over 5 years old at this juncture. In pics, striations on the dash plastic are reflections of light, plastic is perfect.

All the bayflex is in mint shape on the bike, a testimony to Massimo Laverda.

Wheels are in nice shape, to make the thing museum would need repaint. My goal was to make this bike my daily rider. Not to be.

The only issue of any moment is the tacho drive is inaccurate. Wolfgang has a resistor fix inline.

All in all, a really nice Executive. Not common in the USA, and the ones out there are pretty thrashed as the Brits say. This one is not, and has been meticulously restored to boot. Needs nothing.

So, do the math. You can buy a base RGS, non-executive for around 9K. Executives are rare so pricing is TBD. I have over 10 grand in costs in this bike.
From the seller:
I had a couple senior moments listing this. One, the carb kit is a Mikuni. I should know better, but I often confuse Keihin and Mikuni. I am not a Japanese bike enthusiast. Also, the back shocks I had custom made by Worx. Cost even more than stated. I think they were over 700 each just for the rear.

More facts:
RH throttle housing is a NOS suzuki part to operate the mikuni RS 36 carbs
brake and clutch hydraulics are all new with the hoses being stainless
it also has jota pistons, a DMC ignition and 530 chain conversion
frame had the headstock strengthened with add'l gussets
This Executive model has 26,820 miles showing on the clock – high from a collectable standard, but not out of line with the age of the bike. This seller has done a lot of work to bring the bike up to this standard, and from the pictures it certainly looks the business. Bidding has been moderate on this one: at the time of this writing the auction was sitting at $9,100 with a few days to go. At that price, somebody is going home with a beautiful bike very soon. Executives are $8-$10k bikes all day long. This one is in better than average condition, and I predict that the final price will reflect that fact.
For more information and to check out this unique Italian express, click on the link and check out the auction. Good Luck!
MI