For Sale: 1983 Honda CBX550F
I know what you are thinking: A CBX is an inline six cylinder monster that makes glorious noises, has power to spare, and is big enough to dwarf a full-dress Hog. And if you are a US-based rider, you would be largely correct. However did you know that Honda extended the mighty CBX line to include a 750, a 550, a 400 and a 250 as well? None of the other CBX models had the amazing straight six, but they were all from the CBX family, and all very rare to see here in the States. Today's bike is one of the middleweights: a Canadian variant CBX550F.
With an inline four cylinder air cooled engine, a four-into-one exhaust that mimics the older Honda CB400F Super Sport system, a larger sport-touring fairing and covered dual front disk brakes (no, that is NOT a drum), the CBX550 is a somewhat funky bike. Shipped to Canada, UK, Europe and the Australian continent – in fact, pretty much everywhere except the US – the smaller CBX filled the learner bike role as well as the semi-sporting motorcycle for the real world rider.
From the seller:
Only 13k kilometers (8k Miles)!!! You won't find a bike in any better shape than this one. The original owner kept it like a museum piece and only sold it to make more room in his collection. The second owner was an older fella who found out after buying it that he just didn't have the knees for riding anymore but kept it well lubricated and looked after. I am the 3rd owner and have enjoyed all the turned heads over the past year.

I have every original part that came off of the bike, and a few brand new spares. In the past year I have cleaned the carbs, cleaned up the electrical and put a new battery in.

Unfortunately my financial priorities have shifted and it is time for someone else to enjoy this classic.
This is an F2 model of the CBX550F series, which includes the CBX-inspired fairing. The seller has not included very many pics of the bike, so I dug out a few Honda brochures and pictures from the model launch to give you a better idea about this one.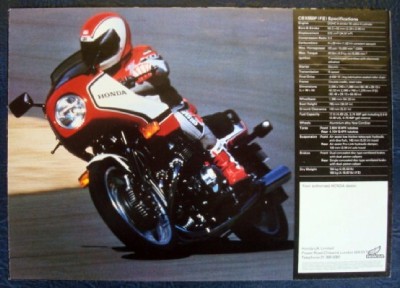 Overall this bike looks to be in good shape. It is a non-US model, so potential buyers should consider importation and documentation fees and hassles. Then again, if you look at the price of the auction, this could be a unique bargain that is very rare in the US. The current bid sits at only $500 with reserve still in place – so this bike could be going to a new home for not much cash if you plan it right. For more information and details, jump over to the auction. Good luck, eh?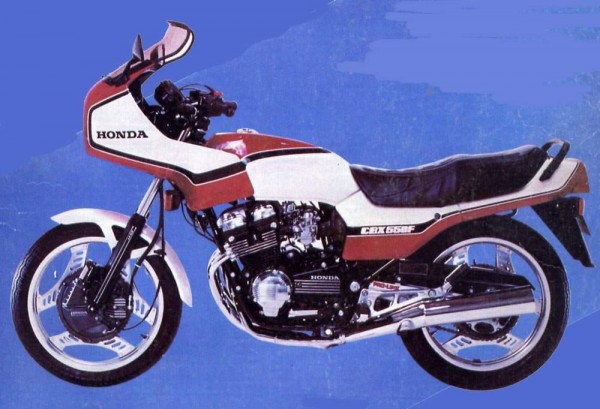 MI