For Sale: 1974 Honda CB750 Rickman CR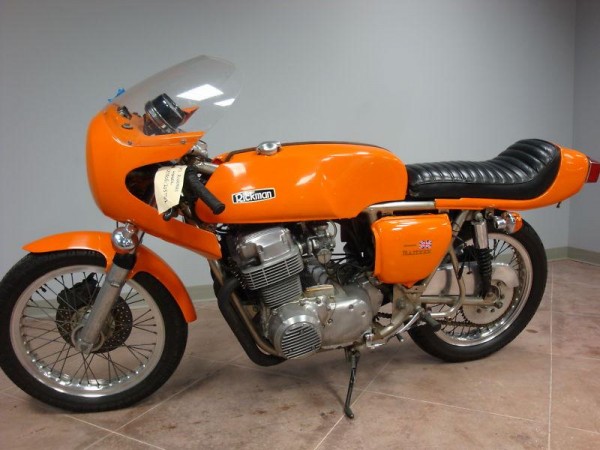 The brothers Rickman, famed for their motorcross frames, turned to street bikes as a natural evolution. Using Reynolds 531 manganese-molybdenum steel tubing, the brothers created a kit-bike package not unlike the early Bimotas – prospective buyers simply needed to add key bits from a donor bike (in this case a Honda CB750), such as engine, transmission, instrumentation, and electrical. The result was a motorcycle that handled far superior to the donor bike, albeit at a much higher cost.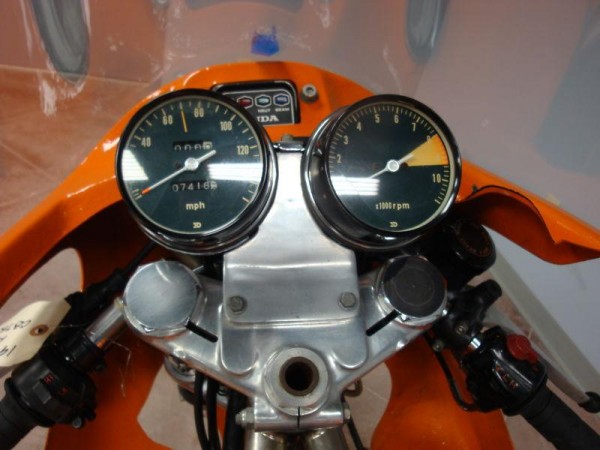 The Rickman CR today is very collectable, but due to the kit-bike nature of the package they are very inconsistent in terms of componentry and build quality. This particular bike appears to be the real deal, and is in great shape – although some work may need to be done to make it a runner.
From the seller:
This is it collectors!!

A fantastic unmolested all original 1974 Rickman CB750 much to nice to restore, even the original leather tank strap is in great shape. This bike spent most of it's life in a motorcycle theme restaurant before going to auction in Las Vegas a few years back. Was running nicely for a couple shows and short rides when put in my collection 4 years ago in in an AC controlled showroom. Will need fluids and battery if you want it to run or just hold on to this jewel.

No Title.. Bill of sale only Engine Number:CB750E-2057702.
Values on Rickman-framed bikes swing wildly depending upon condition. Expect to pay around $7k for a decent bike, and closer to $20k for a pristine, restored model. This bike fits somewhere in between those extremes; it is complete and in good condition, but may require some effort for those who are more interested in riding than collecting. For other RSBFS entries on Rickman bikes, check out HERE and HERE.
This auction is on right now and the buy-in price is currently at a paltry $2,500. That will not last long, and it will be interesting to see where the reserve is set. Either way, the bike looks great and is really a rare find. Click the link to visit the auction and
MI