One of the winning-est race bikes in history, the Honda RVF750 took the first three World Super Bike Championships 1988-90, the AMA Superbike, and countless endurance races and series.  It was homologated with the RC30, an exotic special built in very low numbers by Honda's racing department.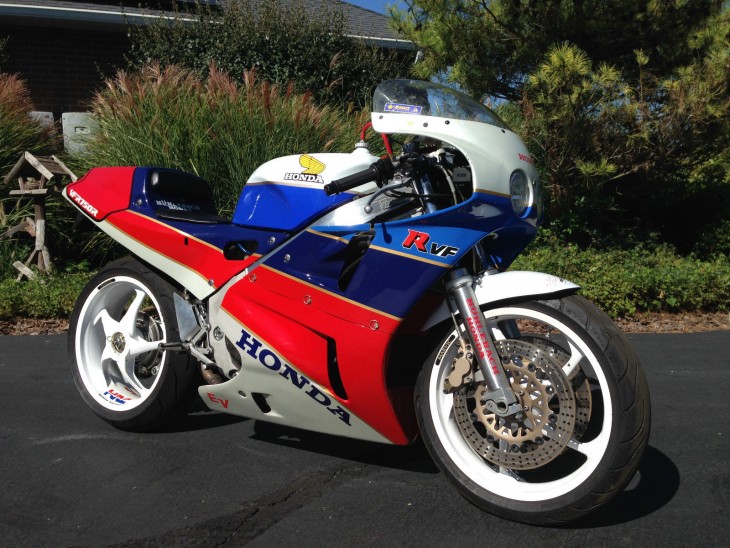 The V-4 750cc engine that powers the RC30 is a racer for the road, with 4-valve heads, gear-driven cams, titanium connecting rods, but most distinctively, it uses a different crankshaft and firing order.  Known as a 360-degree or big bang crankshaft, cylinders 1 & 4 fire close together, then the crank moves 270 degrees, then cylinders 2 & 3 go.  This leads to an explosive delivery of power, sounding completely different than the similar-looking engine in the VFR road bike, which fires 1-4-3-2 but with 180 degrees of crank rotation between each.  Check this Canadian RC30 fan site for the sound – http://rc30.yolasite.com/.
After a long rest, the current owner got the bike ready to ride and sell – from the eBay auction:
This bike (and it's 15 serial number older sister shown in the last picture) has been in my collection for over 15 years, I recommissioned it last year, cleaned carburetors, checked fluids, serviced it and got it ready for rides.  Please see the pictures of the bike as it is today.  It has Mavic wheels fitted at present, either these wheels or the original wheels for the bike can be fitted for the new owner. I have the main stand. Since you are looking at this auction I do not have to tell you how rare these bikes are.
The specifications read like the race bike they are, with a twin-cradle frame, 4 downdraft carburetors, 41mm Showa forks, Pro-Link rear, twin 296m disks up front, single 256mm rear.  110 hp and 53 ft-lbs. of torque push 1st gear up to 82 mph ( 11,000 rpm ) and sixth delivers around 150 mph.  A slipper clutch relieves the possible rear wheel chatter from the big bang crank.  The transverse V-4 keeps the engine weight low in the chassis.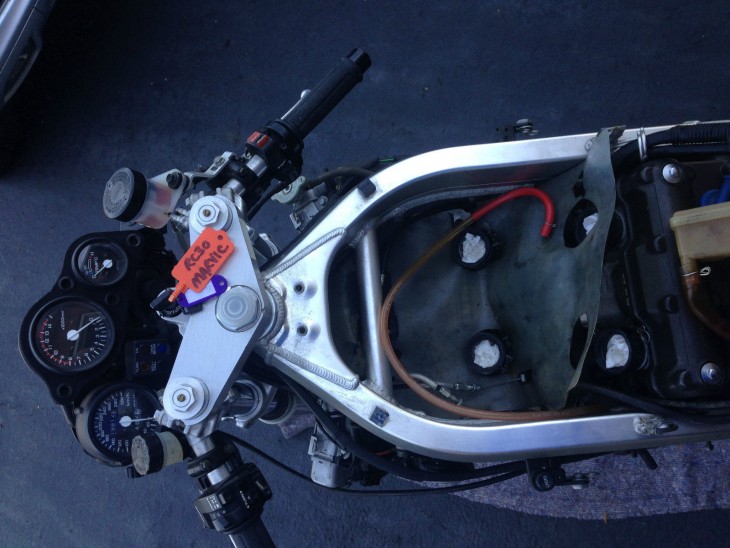 Areas that will keep an owner's attention are engine cooling, brake rotor wear, and obsolete tire sizes ( though this bike has a more current set of Mavic wheels fitted ).
Only around 300 were produced for the U.S. market in 1990, this example is a Swiss import.  Many European countries received the bike in 1988-89, but only the hundreds.  Truly exotic and certainly a handful, the RC30 is a super performer with a distinctive sound.
-donn