For Sale: 2007 Ducati 999S Team USA Edition
Sorry for the short trigger time on this one, RSBFS fans. There is not much time to go on this interesting piece of Ducati history. Sure, the Parts Unlimited "Team USA" livery looks good, and the 999s is no slouch in the motorsports department – but what makes this one interesting is that the tail section is signed by both Ben Bostrom and Neil Hodgson. If you are into signatures, this one is connected to some pretty good looking memorabilia.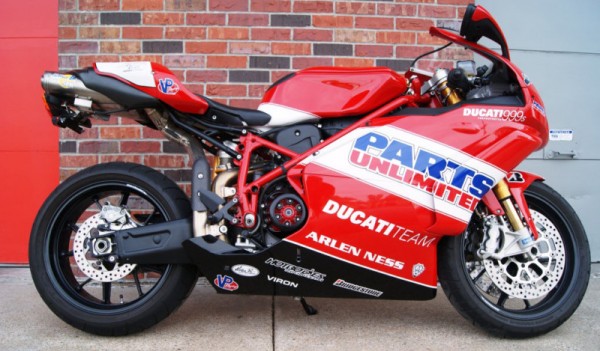 From the seller:
2007 Ducati 999S "Team USA" Special Edition in excellent condition with only 2440 miles! This was the very last 999 model Superbike produced by Ducati and was a Special Edition commemorating the 2006 Ducati AMA Superbike race team, in "S" model trim with lots of extras! Probably one of the best race-replica paint schemes ever produced by Ducati, this bike is STUNNING to look at! The tail section is hand-signed by Ducati AMA Superbike team riders Neil Hodgson and Ben Bostrom. Nicely accessorized with Leo Vince full race exhaust system with remapped ECU, SpeedyMoto billet clutch cover, billet adjustable rearsets, and Pazzo billet adjustable levers. This is not only a great bike to ride, it's a great bike to OWN as there was a very limited production run of these machines, it has already reached "Collector" status in the minds of many!
With super low miles and what looks to be in fantastic condition, this 999s is waiting for a new home. Currently priced at $12,495, it again forces me to wonder aloud at the monetary value a famous person with a sharpie can add to the sale of a bike. History shows that some scribbles do not often a premium price make, yet this is a very cool opportunity all the same.
For your chance to check this one out, click the link and jump over to the auction. This is a great looking bike with some neat history. Sorry we caught this one late – so be sure and move quickly!
MI