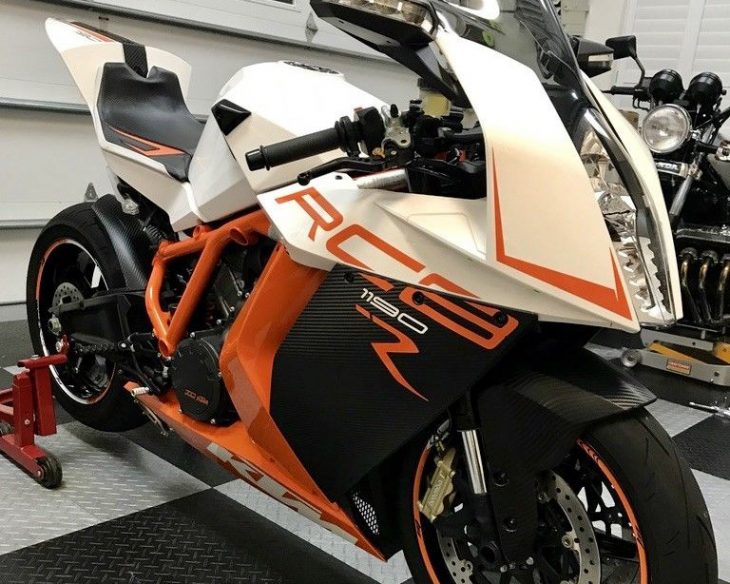 KTM's booming orange RC8 was a bit flawed when it was introduced, but still represented a hugely impressive effort by the first-time superbike maker. They'd worked out some of bugs of the new 75° v-twin using their earlier 990 Superduke that was a bit of a half-step between the supermoto Duke and the superbike RC8. KTM had plenty of experience winning races, but developing a new, large-displacement v-twin and gearbox is always tricky business, especially when you're used to building offroad singles. Getting Honda-levels of polish, a must in this market, was always going to be a challenge. Unfortunately, the RC8 launched with a crunchy, relatively unrefined gearbox and a slight power deficit. It was expensive as well, and it seemed that few buyers were willing to give an untested product from the upstart Austrians a real chance.
The design was striking and angular, with typically KTM styling touches like the bright orange frame, available orange-and-white color scheme, a weird, orange-tinted LCD gauge cluster and, wonder-of-wonders, humane ergonomics, even for riders over six feet tall! And if you didn't like the set up, you could always move things around to suit: the bars and pegs and even the seat were adjustable. Performance was on par with the Ducati superbikes of the period, but it lacked their hard edge and sophisticated [for the period] electronics. The high cost of the RC8, combined with a perceived lack of prestige, kept sales disappointingly slow. It's a shame, as the potential was clearly there, and the problems with the original RC8 were largely ironed out by the time the RC8R was introduced in 2009, with more power from the larger, dual-plug version of the engine that gave a claimed 175hp and an updated gearbox.
Unfortunately, KTM's management has declaimed superbikes as "having no place on public roads," ironic considering their wild Superduke R and its attendant "Ready to Race" tag line and promotional videos… They have publicly stated that the company will not produce a successor to the RC8R, which is disappointing, considering the performance and handling of their Superduke R. A modern RC8R based around that platform would be an impressive machine. It is possible to retrofit the 1290 engine into an RC8, but not an easy job for a do-it-yourselfer…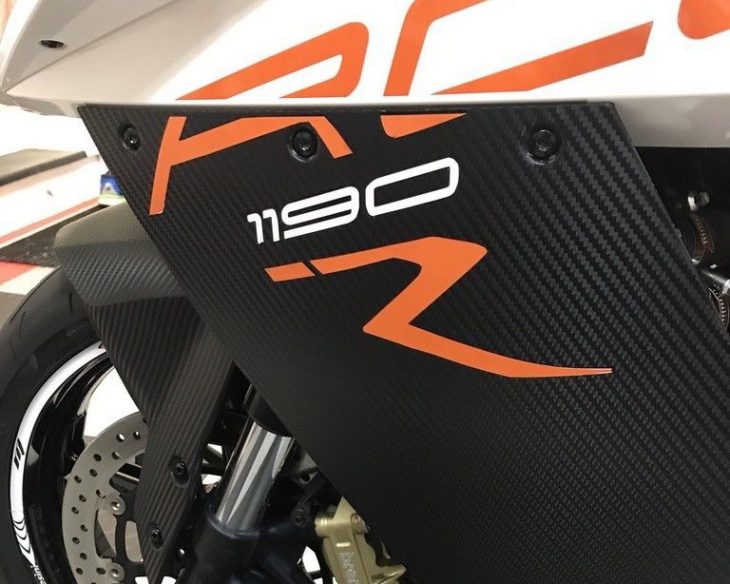 This particular example is basically brand new. Somewhere out there, I'm sure someone has a new-in-crate RC8R, but I very much doubt there are too many of these running around with miles as low, and in such nice condition: many period reviews praised the RC8's balance of comfort and superbike performance, so it's easy to see them being used as intended, instead of as garage ornaments.
From the original eBay listing: 2014 KTM RC8R for Sale
You are bidding on what may be the lowest mileage 2014 RC8R in the world. Loaded with upgrades and standard factory performance of the "R" model this is an exceptional sport bike you just don't see at every show, track day or cycle cruise. With only a little over 500 miles I found this brand new less than a year ago, however it was damaged in the shipping crate but never started, in fact it still had the factory shipping wax on the chain. I purchased this from the dealer and all it needed was replacement bodywork, I registered it in my name as the first owner and now its still under factory warranty! I also had the bike dealer prepped and fully serviced this year for its maiden voyage however Ive found that I have too many bikes to ride and although I love to walk by and look at it, maybe its better you ride it and enjoy. Its never been raced, been to the track, dropped and is just finished the break in mileage so its good to go whenever your'e ready, in fact the miles are so low you can still read the continental tire stamp in the tread.

 Original MSRP was $16,499 and this model year came with the slipper clutch plus 173 hp!

UPGRADES

Carbon fiber bodywork

Carbon fiber wrap

Pazzo levers

Billet quick action gas cap

Puig smoke wind screen

Competition Werkes fender eliminator

Jester 68 stainless exhaust (sounds great)

Luimoto custom seat

Etc, etc, etc. 

 

Bottom line, I purchased it with no mechanical issues, Zero (0) miles and only having cosmetic damage from inside the crate so Im passing the great deal I got on to you. I encourage you to come check it out as its near flawless to show or just ride. I like my toys super clean, they come with 3 keys, owners manual and service manual.With the upgrades there would be about $20K in this spectacular sport bike but I'm offering it for much less. If you need help shipping I can help facilitate that with your shipper, payment is your responsibility.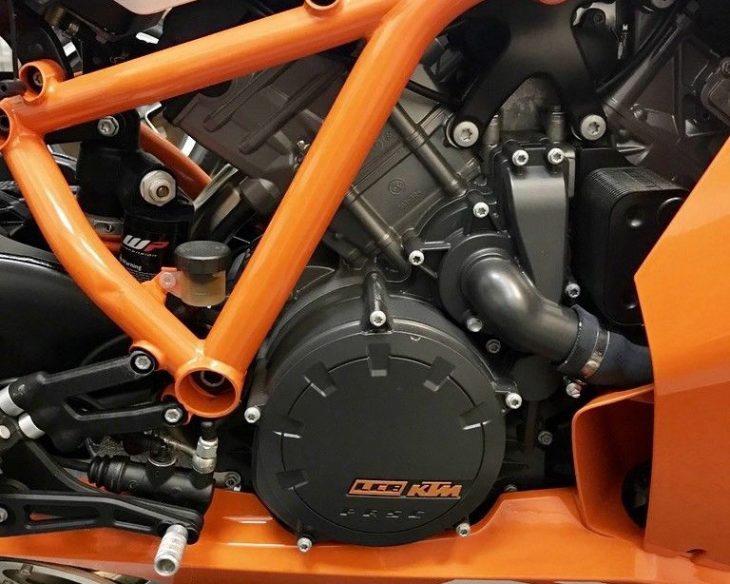 The seller obviously isn't revealing an actual asking price since the auction is still active, but the bidding is up to almost $8,000 at this time. The RC8 may have lagged slightly behind sportbike rivals at the time in terms of outright performance, but not by much, and the humane ergonomics made it a sensible alternative to bikes like Ducati's 1198. KTM doesn't quite have the superbike racing success or sex appeal of an MV or Ducati, but I think we're looking at a future classic and, as the seller indicates, this is one of the nicest, lowest-mileage examples available anywhere.
-tad