1997 Ducait 916
UPDATE: Sold – Sold – Sold!
Okay, so not very high on the rare scale, but I've always had a soft spot for this particular model. So- I decided to do a RSBFS 'quick spot' and show it some love.
This one has more shine than the sun and looks to be in stellar shape. I'd say in about 5-10 more years these will be gobbled up like hotcakes on Sunday morning as the now 30 year old's start turning 40 and have their mid-life crises and say "Man, I wish I would have bought one of these when….."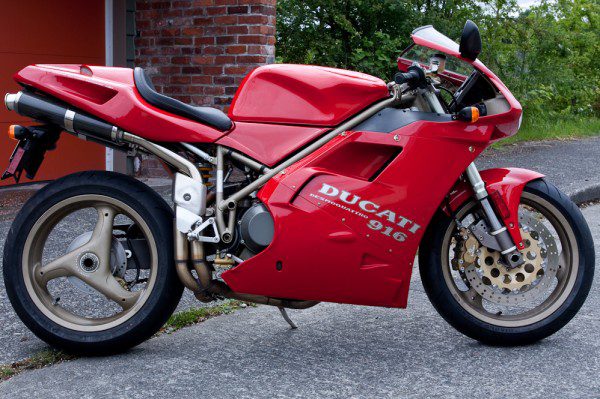 Stock bike… not hopped up or customized. Not covered with aftermarket carbon fiber. Runs great. Sounds amazing. Maintenance records since new. 19,350 miles. Full service (including belts) at 18,000 miles. New Pirelli Diablo Rosso tires less than 100 miles ago. Barely a blemish anywhere on the bike. You would have to look far and wide to find a nicer early 916. 1997 was the last year with the original graphics and bodywork. Bike currently has HeliBars, a Corbin seat, and Yoshimura carbon exhausts… BUT… it comes with the mint condition stock seat, bars, and exhausts.
Cheers!
dd