From the "jeez, if you're going to post your bike for sale, couldn't you at least wash it" files comes this Honda NSR250R MC28. Early NSRs have become relatively common on this site recently, with containers full of them coming over from Japan, now that they've become relatively easy to register in some parts of the US. But the MC28 version is still pretty rare here, as it isn't yet 25 years old and is pretty much the ultimate development of the successful NSR formula. The MC28 features many trick parts, like the single-sided swingarm and Honda's PGM-IV electronic ignition that interpreted throttle position, gear-selection, and rpm to create three-dimensional ignition maps for each cylinder and to adjust their RC "Revolutionary Controlled" Valve for improved power and midrange response.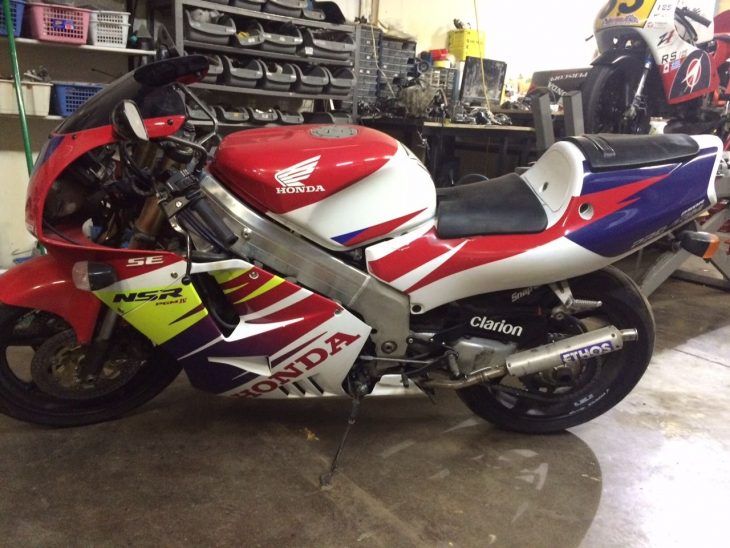 All that technology served a 90° liquid-cooled 249cc v-twin backed up with a six-speed cassette gearbox. As has been discussed at length, these were restricted to 45hp in their home market and, depending on the model, it can be a real pain to release their full potential. Especially in the case of the MC28: that very cool PGM-IV ignition system uses swappable ignition maps stored on "smart cards" and, unless you can track down a nearly unobtainable HRC card with "race" maps, you're kind of stuck. Supposedly, work-arounds do exist for this issue, but be sure to consult with an expert and proceed at your own risk…
It may be hard to see under that layer of dust, but this is a pretty nice bike, a few superficial scratches aside. The seller indicates that quite a bit of work has gone into it.
From the original eBay listing: 1996 Honda NSR250R MC28 for Sale
I won't start by saying that is a GP replica and is a fast bike for a 250cc. If you are interested in the bike you know about it….

The bike has a complete engine rebuilt
all Honda parts
rebuilt complete crank (all the bearings)
all seals
all gaskets
clutch
tires
chain & sprockets
the rims are powder coated
all electrical working
PGM4 on the bike with one card

Fairings are OEM Honda not after market and they are in great shape no cracks at all

I have the bike for 3 years and I have done only 1500km on the engine. The bike is stored indoors all year and I start the bike every 5-6 weeks. I am just changing the fork seals this week (the one tube has a very small leak). The bike needs nothing just a rider to enjoy the ride. I have rebuilt the bike myself I have register and plate it here in Canada ON. The bike come complete from japan in boxes and I assembled it here. With the bike I have some parts that they come with it. 1 set of complete exhaust (you have the option Dog Fight or Ethos) The bike comes with stock.

1 set of front forks USD from a VFR400 NC35. You need to get the upper and lower fork clams and you install them on the bike. The bike comes with stock forks. As you see on some of the pics the forks and the exhaust I had them on the bike but the bike is complete stock now. The bike is located in Toronto Canada.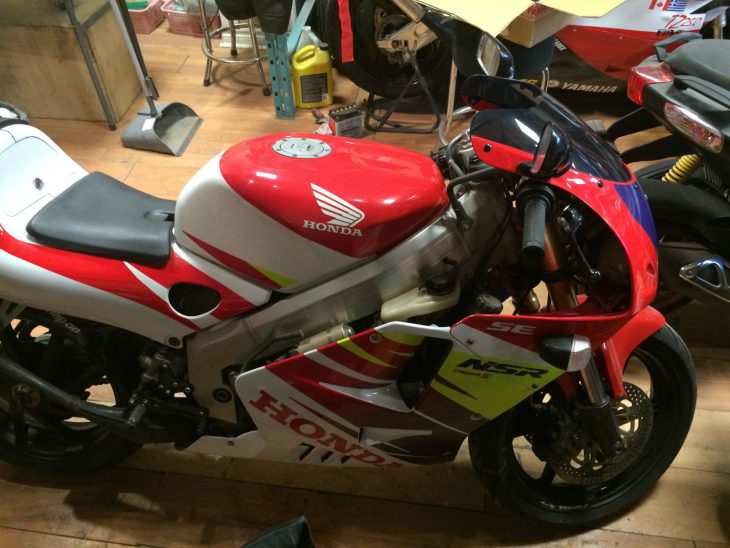 Bidding is up north of $6,000 with the Reserve Not Met, which is no surprise, considering what earlier NSRs go for these days. Even more so than usual, be sure you know what you're doing before you buy this if you plan to register it for road use. It's still a few years away from that magical 25-year mark, but maybe now's the time to scoop one up for your collection, with an eye to registering it down the road.
-tad