1986 GSXR750R Limited Edition in AL
These bikes need no introduction.  On your mark: get set:  gooooooooooo!  How fast can you write that check?   This Limited has appeared on Craigslist down in Pell City, Alabama which is about 30 miles East of Birmingham.  From a quick scan of the pictures it appears to be in good condition and not heavily modified.  I do notice a pipe, case cover and updated wheels.  I wish the seller had included the mileage:  always at the top of the list of buyers questions.
Here is what the seller has to say:
Offered for the first time ever. I am only the second owner, haven ridden this Classic for 22 years. This Limited has never been wrecked and has been garage kept since new. If you are a collector, or you want to ride the first and most rare sport bike in the world, this is your bike.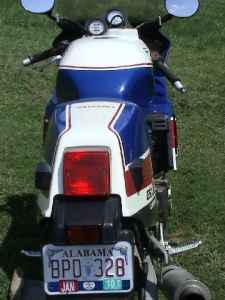 The seller has the bike listed for $8,900.  That sounds right in the ball bark if the bike is in good shape and has relatively low mileage.  I'm assuming the seller still has the lower fairing and it would be a plus if he had the original wheels as well.  I wouldn't wait long if you are interested.  I don't think these stay for sale very long at all.  Check it out here.
IK