When my wife peers over my shoulder while working on RSBFS and spots me lusting after one of these she usually states that it looks just like my bike, a 93 750SS. On the surface she's attempting to be naive, but what she's really trying to do is prevent me from adding another bike to our single car garage. While the 750SS shares the same headlight and turn signals, that's where the similarities/shared parts end. My bike was the entry level Supersport model but the 888 SPO Superbike was the top offering in the U.S. for 1993.
Most of you are already aware of what makes the 888 a special mount but here are the cliff notes for those that don't: Derived from the Pierre Terblanche styled 851, these bikes were a combination of 888 Strada and SP5 for the U.S. market to homologate for AMA racing. 4 valve heads, liquid cooling, Ohlins rear shock, solo seat, and more. Most of this technology would later find it's way into the more stylish Massimo Tamburini designed 916.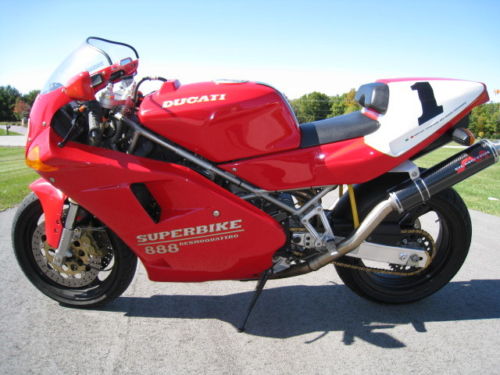 Up for auction is my 1993 Ducati 888 Superbike SPO. The SPO was created to homologate the 888 for AMA Superbike competition. Here's your opportunity to own a hand-built classic Ducati.

This motorcycle is very clean, well maintained, and cared for. Low miles. The condition of the bike is great. I have enjoyed riding it. Very minor paint chipping near edges (see pic) which seem to be common with these older bikes, but overall, the bike is in fantastic shape. Only problem I had was the overflow coolant tank leaking which was replaced.

– Full Sil Moto spaghetti exhaust system with Carbon Fiber cannisters.

– Eprom fuel chip mapped by Bruce Meyers @BCM Ducati.

– Carbon fiber tank guard.

– BONUS…I had Doug Polen sign the tail section and then had it clear coated.

THE LIQUID COOLED 4 VALVE/CYLINDER V-TWIN MOTOR WITH EXHAUST SYSTEM SOUNDS INCREDIBLE AND RUNS VERY STRONG.
The seller notes that this example is sorted with a "spaghetti" exhaust system and matching custom chip. The spaghetti exhausts, which are a complicated twisting mess of header pipes that flow beautifully, which are very rare now and very desirable. The last one I saw for sale was for a Supersport model and it was nearly $2k! Topping it off with a signed tail by Doug Polen makes this a real enthusiast's treat.
There are a few chips noted and seen on the nose, but with under 6k miles this example should look fantastic as described. Being off season I'll be curious to see where this auction ends — mostly because it would look great sitting where the 750SS now takes up space in the garage and I'd like to know what kind of savings are required to make it possible!
dc