Update 5.15.2013: Previously listed last September this Rothmans failed to sell with an opening bid of $7k. It's back on eBay and has already reached reserve passing $5600 as of this writing. Good luck to buyers and seller, and thanks for the heads up Jared! Links updated. -dc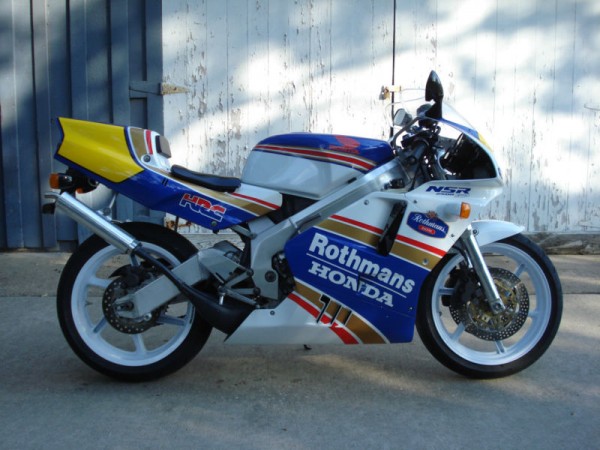 I love me some 250cc two-stroke action and this NSR draped in now controversial big-tobacco based livery is even more fantastic. If only tobacco companies could sponsor racing in this fashion again, we might see MotoGP return to the days of Swantz/Lucky Strike, Rainey/Marlboro, and Spencer/Rothmans. This NSR represents racing of days gone by, so get it while you can.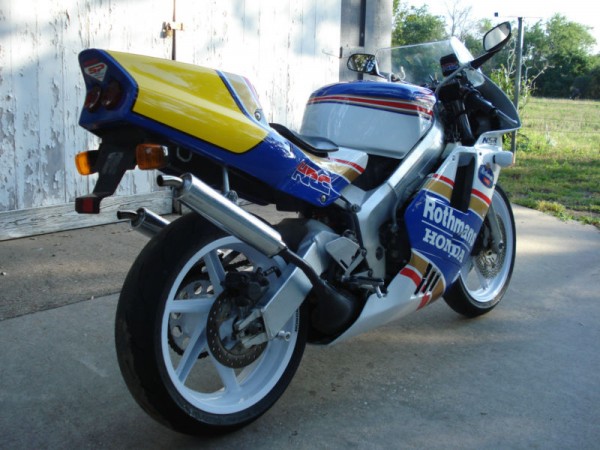 The NSR250 comes wrapped in SP body work, but I don't believe it to be a true SP. Yes, the fairings are OEM SP pieces, but the lack of description indicates that it is probably an SE model. This particular bike has graced the pages of RSBFS a couple of times in the past from different locations. Check out the seller's description for more information regarding the work that has been done to this one.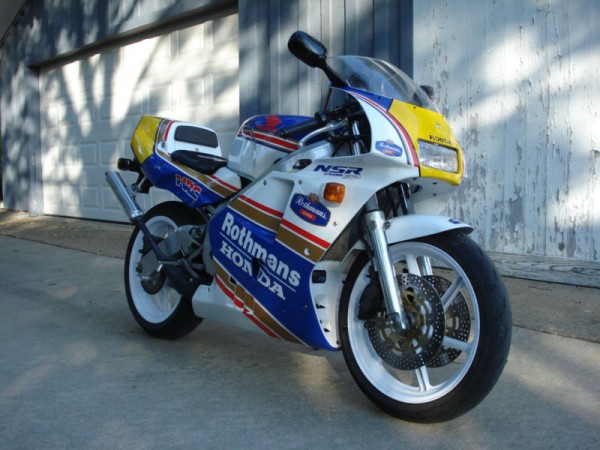 Its with great regret that I have decided to sell my NSR. This bike has only 8666.3 km's original. The bike has been fully restored all NEW OEM Rothmans bodywork, including winshield and all the correct stickers in the right places. Engine was fully rebuilt including new OEM crank that was further balanced and blueprinted by Falicon ($1,400 total for just the crank). Cylinders were Extrude Honed and the cases were polished internally.New clutch basket. Suspension is stock except the it was rebuilt and revalved with Race-Tech components. The idea for this restoration was to make the bike look bone stock, but internally to be better than original. The only parts that are not original is the fairing brace (included), valve stems, and the chain (RK double o-ring Gold chain). Chain, sprockets, master cylinder, and battery are also new. The entire key/lock set was replaced with new. Much of the hardware on the chassis, and all the hardware on the engine, was replaced because the original cad plating looked dingy (some still need to be replaced). This bike was restored to be collector quality, yet still rideable and reliable. I have put less than 200 miles on it since the restoration. I have most the paperwork to get a title, just haven't had time to finish it up. Price includes all the spares I have and manuals (service, parts, and HRC). I have the original Japanese manual as well as an English translated manual, copies of all receipts for the restoration, and 2 box loads of Honda OEM replacement parts.
An NSR250SE wrapped in OEM Repsol SP bodywork recently sold for $10,400. I think this one could go for close to that if someone wants it, but realistically I see this bike going for somewhere in the $9k range if everything checks out. However, this one doesn't have a title, and as we know that won't help. This one has some engine modifications and restoration and is not bone stock. But, it is an NSR250 in good condition and attractive livery. They don't come about too often. You can check this one out and decide for yourself by clicking here.
-JS