Location: Oxford, Mississippi
Mileage: 31,000
Price: Auction, currently $2,025 and ending soon!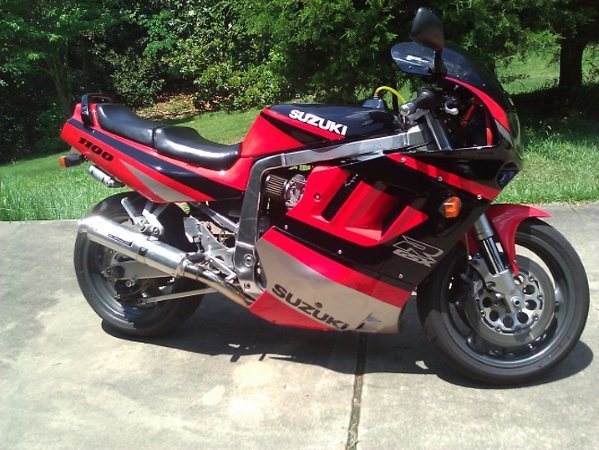 Okay, this post hurts a little bit, for I am not a wealthy man and cannot take this home. To let you know what this bike is to me, you should know I have a poster of it on the wall in my garage that I have held onto for 20 years. More than a half a dozen moves to various cities in various boxes in a multitude of moving vans, and the poster remains. Quite simply a bike that set the standard.
This looks to be a very clean example of the air and oil cooled classic Suzuki GSXR-1100. Introduced in 1986, the early versions of this bike had a chassis that really wasn't up to the 137 horsepower task. However Suzuki made improvements to accommodate the power over the years, so this bike's handling should be much improved. In 1991 this motor was a brute and is still considered one of the best ever.
From the seller:
This is a stunning example of the classic air/oil-cooled GSXR.

Features:

Rebuilt Rear shock (with receipts)
Bridgestone Battlax tires installed last year and repainted rims
zero gravity smoked screen
Russell braided stainless brake and clutch lines
New Sunstar Sprocket and RK Gold Chain
Original owners manual, Haynes manual and documents
Yoshimura Exhaust
K&N filters
Dynojet jet kit

This bike has always been loved and well maintained by serious bike enthusiasts. I have ridden it approx 3,000 miles in the last two years and it is a fabulous machine: fast, with a sonorous exhaust note, great handling and receives attention wherever I take it. It has the original paint in fantastic condition.There is a small crack in the upper fairing below the steering damper otherwise the bodywork is very clean. Many people mistake this bike for new! I am a lifelong car/motorcycle nut and have lavished my attention on this machine – If you are looking for a classic GSXR this is the one to get.
I invite all questions and you are welcome to inspect the bike. I am located one hour south of Memphis.
This machine will not disappoint.
More photos here and many more in the auction:
To find an example this clean of an early GSXR-1100 these days in becoming rare indeed. Mileage may be a little high for this bike, but if it's cared for it should still provide miles of enjoyment. The engine's reliability is legendary. The modifications and maintenance seem smart and it even includes the owners manual.
I happen to believe that all liter bikes owe something to this bike. So if Suzuki is your brand or you just enjoy legendary, groundbreaking sportbikes, then do what I can't and !
-RN