1990 Kawasaki ZXR 400
Location: San Francisco, CA
Mileage: 29,000
Price: $5,500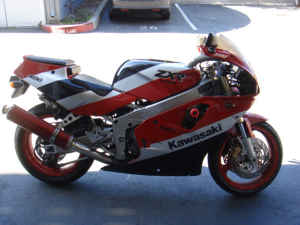 Since I'm a huge fan of both Kawasaki and 400cc motorcycles this one really does it for me. The pictures don't do much for it, but is typical for a CL post and should be expected. But, if you have an interest in a bike like this, you owe it to yourself to check it out. Because the opportunity to pick one of these up doesn't come around very often.
These have roughly 60hp, came equipped with USD forks, a 6 speed transmission and generally rank higher on the "Trick" scale when compared to a 90 FZR400. If I could have my druthers I'd pick the ZXR400 over my beloved FZR, but since the ZXR's weren't offered state side we were never afforded the choice. I think I can count on one hand how many of these we have seen on RSBFS and a few of those were across the pond.
From the CL listing:
Up for sale is a rare kawasaki zxr-400, this is is 1990 H2 model with red/black/ silver paint. You will not see this one around very often. This bike has a clean title, and california registration. The current registration is paid up till next year.

Background about this bike:

The current mileage is 47,xxxx km or 29,xxxx miles, I am the third owner of this bike and have barely ridden it since i owned it. Because of the rareness of this bike I have been riding it less than ten times a year. The carburetors have been serviced and runs really well. Under my ownership, the bike has not been down, but the first owner has had low speed downs once on each side and everything has been repaired. The second owner never rode it and kept it in the living room as a trophy bike.
Cheers!
dd